Pacific County FD1 using grant to design new vertical tsunami evacuation center
---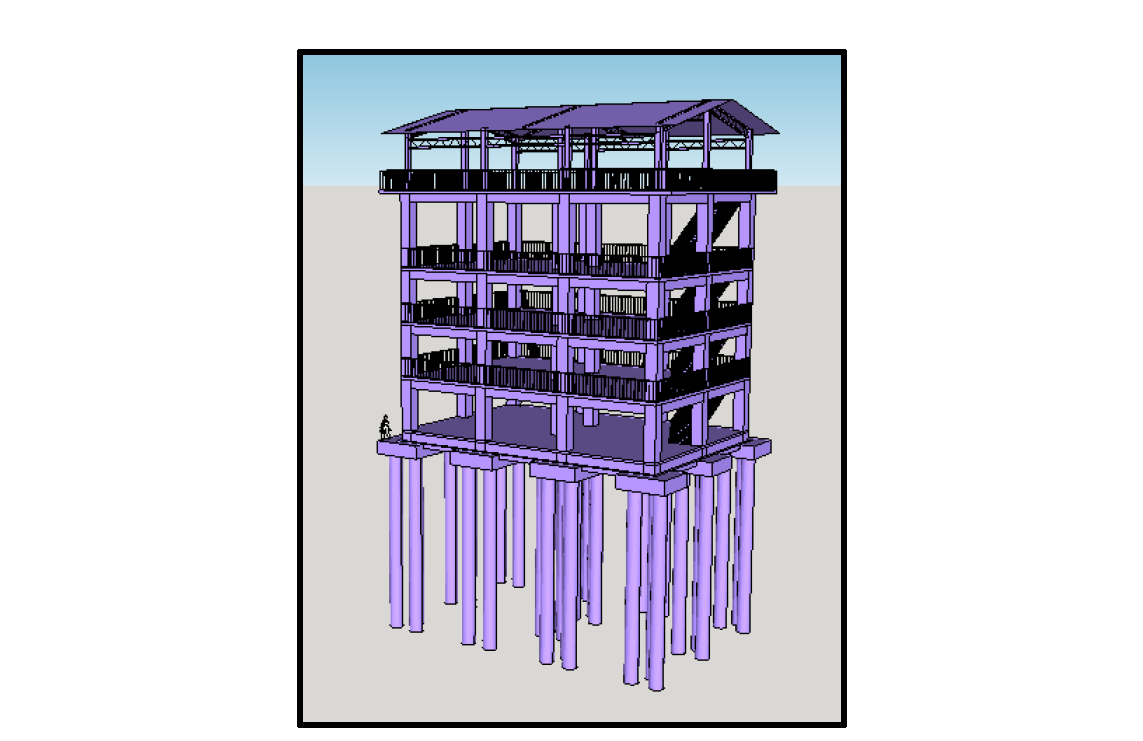 This generic sketch of a tsunami vertical evacuation tower shows what a tower looks like along with the pilings needed to keep it safe. (Taken from 2016 Project SafeHaven Update).
Pacific County FD1 using grant to design new vertical tsunami evacuation center

Pacific County Fire District #1 is exploring design options for a new tsunami vertical evacuation structure that would serve as a place for the public on the Washington Peninsula to go if faces with the threat of a tsunami. The structure may be incorporated into the fire district's plans to build a new regional fire training facility for the Long Beach Peninsula.
The fire district is working with Washington Emergency Management Division on the fine details and utilizing a $90,000 federal hazard mitigation assistance grant for a Feasibility Study to begin preliminary, site-specific design and development work on the unique structure. The state is providing $15,000 to match the grant and the Fire District is providing $15,000 worth of funds and support.
The Feasibility Study will determine the scope and size of the facility and is spearheaded by Assistant Chief Brad Weatherby who developed the original grant request and provides his extensive firefighting experience to the development of the final design chosen for project.
The Fire District will use its initial design and modeling work to develop a robust grant application for funding the full design and construction phases of this project.
"Our initial design and modeling work will analyze exactly how our proposed vertical evacuation structure will meet the evacuation needs—and for how many," Chief Weatherby notes in his original grant application, adding that there isn't any natural high ground in the proposed evacuation area. "This site will provide a structure for day-to-day training opportunities for local first responders. It is important to the fire district and the community at-large that the vertical evacuation structure site include a multi-use facility that's relevant and engaged in community functions on a regular basis."
In Westport, the Ocosta School District used taxpayer dollars to construct a vertical evacuation structure along with its gym at Ocosta Elementary back in 2016. That was the first such structure in North America. The Shoalwater Bay Indian Tribe has started construction on its own tsunami vertical evacuation structure, using $1 million of its own funds plus a $2.2 million federal pre-disaster mitigation grant. That was the first time a grant had been awarded for construction of a tsunami vertical evacuation structure.
Tim Cook, the State Hazard Mitigation Officer for Washington Emergency Management Division, says he's optimistic there will be more grant proposals in the future for vertical evacuation structures in tsunami inundation zones.
"We know there is a really big need for tsunami vertical evacuation structures on our coast and we know these projects qualify for federal dollars," Cook said. "Pacific County Fire District #1 has joined a handful of other coastal communities in developing these life-saving projects and we're committed to supporting them throughout the process."
Cook and others worked with EMD's Geologic Hazards Supervisor Maximilian Dixon on a Tsunami Vertical Evacuation Manual geared to help local governments navigate the process to get construction dollars to build more tsunami safe refuges.
---