Now accepting applications for 2023 class
---
Now Accepting Applications for the January 16, 2023 class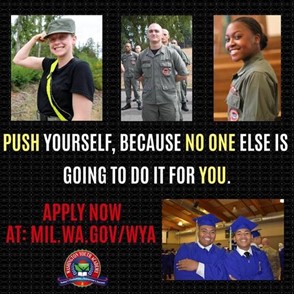 The Washington Youth ChalleNgE Academy is seeking youth who are dropped out, behind in credits or not on track to graduate on-time. Applications can be completed by clicking on the "How to Apply" link.

The WYCA is an academic intervention for youth 15.5-18, who are behind in credits, dropped out of high school or at-risk of dropping out. The goal of the program is to give teens a second chance at graduating with their class, become a responsible and productive citizen, improve their life skills, education levels and employment potential. The program incorporates a highly-structured, quasi-military format, emphasizing discipline and personal responsibility, in a positive, safe and secure learning environment

Youth can earn eight credits (12 credits if bilingual) toward their high school diploma in safe and professional learning environment. The Youth Academy emphasizes the holistic approach through eight program components. Cadets are expected to learn, apply themselves and be graded on their performance in Academic Excellence, Service to Community, Leadership/Followership, Physical Fitness, Health and Hygiene, Life Coping Skills, Responsible Citizenship and Job Skills.
We Believe in Second Chances.
---