How To Apply
Got questions? Fill out this form. The admissions office will contact you.

The Washington Youth Academy is a FREE, PUBLIC school and, for half a year, requires the cadet to live in housing we provide in Bremerton, Wash., but any resident of Washington state is allowed to attend.

For selection into the program, the applicant must meet the following minimum requirements:
16-18 years of age at the time of entry into the program.
A high school dropout or at risk of dropping out due to credit deficiency or other risk factors.
A resident of Washington State and a U.S. citizen or lawful permanent resident, permanent resident alien or green card holder
Unemployed or underemployed.
Not currently on parole or probation for other than juvenile status offenses, not awaiting sentencing, and not under indictment, charged or convicted of a crime that is considered a felony when charged as an adult.
Free from use of illegal drugs or substances, and free from the illegal use of drugs or substances upon enrollment.
Physically and mentally capable to participate in the Program with reasonable accommodation for physical and other disabilities.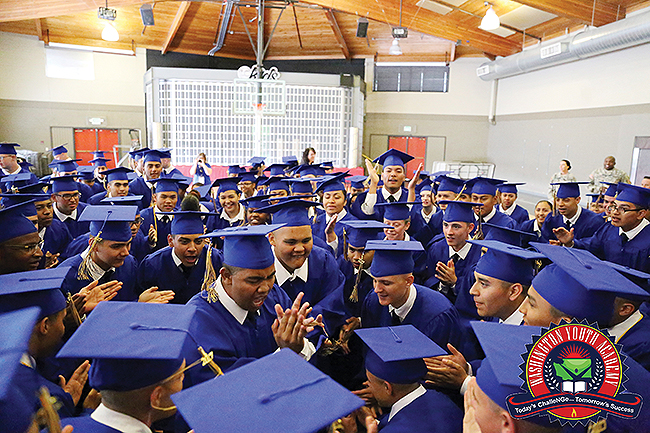 How to Apply
The Washington Youth Academy accepts applications year round. To apply, please download, read and complete the required forms. Please note that a mentor is required to fill out a portion of the application. Double check that no questions or signature blocks have been left blank.
Submit the above forms, along with a COPY of the following items pertaining to the applicant:
Social Security Card.
Proof of U.S. Legal Residency
Government-Issued Photo ID
High School Transcript.
High School Graduation Credit Requirements & Credit Evaluation (completed by your school counselor).
Student Background Check
Front and Back of Medical Insurance Cards.
Once complete, mail or drop off your application to the following address:
Washington Youth Academy
Outreach & Admissions
1207 Carver Street
Bremerton, WA 98312
Completed applications will be submitted to an admissions panel for consideration. If you meet eligibility requirements – you, your parent/guardian(s) will be invited to attend a mandatory on-site assessment day prior to the class start date.
---
Please read the application completion requirements on page 2 of the WYA Application. Email or call admission staff for application deadline.
Next Class Start Date
For Cycle 20-1: Jan. 18, 2020 Applications for the January class are due Dec. 7, 2019. Applications will continue to be accepted after the deadline, as space allows.
Applications and materials at this link.
Please contact the following for additional information.
For those North of I-90, as well as in Kitsap and Mason contact:
Elizabeth Bergmann
Phone: (360) 473-2615
Toll Free: 1-877-228-8947
Email:elizabeth.bergmann@mil.wa.gov
For those South of I-90 or in Grays Harbor, Jefferson, Clallam, Thurston and Pierce counties contact:
Kelly Ingalls
Phone: (360) 473-2617
Toll Free: 1-877-228-8947
Email:Kelly.Ingalls@mil.wa.gov