New 911 director brings Coast Guard experience to state job
---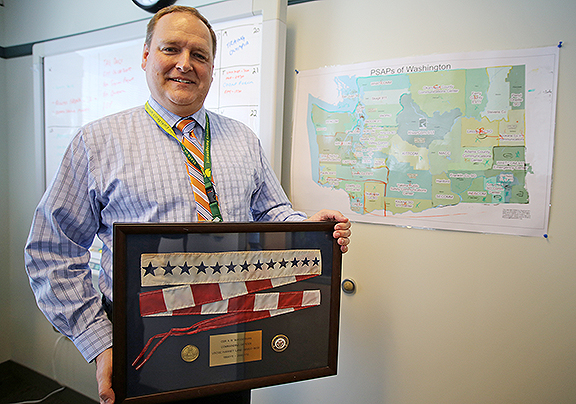 New 911 Director Adam Wasserman stands in front of a map of the public safety answering
points across the state. The retired U.S. Coast Guard commander is holding the command
pennant that hung above the USCGC Harriet Lane based out of Virginia, the last vessel he
commanded before retiring.
New 911 director brings Coast Guard experience to state job
Growing up in Colorado, Adam Wasserman's life was devoted to his friends, family and football. It was football that led him on a path to the U.S. Coast Guard Academy. And it was a career in the Coast Guard that eventually led to his new job as the state enhanced 911 coordinator.
It's a position he started a couple months ago.
"There's yet to be a day when I haven't felt excited about coming to work," Wasserman said.
Wasserman was a standout quarterback playing for a top division high school, who had already received a scholarship to an in-state university in Colorado when he was approached by the U.S. Coast Guard about the possibility of playing football for the Academy in New London, Connecticut.
"Here I was a mountain kid and I knew how to swim, but I'd never even seen the ocean before," Wasserman said. "But I loved the chance. And when I graduated from the Academy, I got assigned to my first ship – and then the rest of my career I spent mainly on ships."
As a graduate of the U.S. Coast Guard Academy, Wasserman automatically became an officer.
In his 22 years in the Coast Guard, he was assigned to five different ships and was the commanding officer of two of them. He'd find himself stationed in Astoria, Oregon; Puerto Rico, Seattle, Hawaii, Mississippi and Virginia. His most recent position was as the Fleet Operations Manager for the Coast Guard's Atlantic Area, where he led an entire fleet of 27 ships.
"Getting to know the differences and the special needs of every ship underneath me has definitely prepared me for this job in 911," Wasserman said. "So, now I move into 911 and now I have 39 counties – they don't report through me, but we certainly help each and every one of them – from the smaller counties that only have a couple people on staff to the big counties with multiple centers."
He also worked heavily with contracts, which will help him as the state continues moving forward building a new Next Generation 911 network through a $45 million contract with Comtech TCS.
The new network will transport calls from the call-maker to the call-taker and be custom designed to make sure it's accessible to all types of devices/methods for contacting 911.
Wasserman takes over for former state E911 Coordinator Ziggy Dahl, who helped facilitate the contract before he left in December.
--> April 9 to 15 is Public Safety Telecommunicators Week. Read the governor's proclamation.
"The state office was in a good spot so it's not like I had to come back and do my own disaster recovery," Wasserman said. "The staff here is amazing. They run the show. Our main job is to manage the network, to oversee and coordinate all the counties and their connection to the network."
The new next generation 911 will be able to do videos, photos, texts, emoji's even.
"When an operator has a video then the firetruck coming on to the scene will be able to get a quick look before they come on scene or if you get a picture of a license plate of someone speeding away from an accident, you'll be able send that and police can use it right away," Wasserman said. "When you text Dominos that you want pizza delivered, they can not only take your order but also know where you are. 911 should have the capability, too."
The state also helps coordinate some of the money that comes in that taxpayers pay on their phone bills – 70 cents per bill goes directly to the counties while 25 cents per bill goes to the State E911 Office.
"Every phone generates tax dollars," Wasserman said. "That equates to about $25 million a year and with that money we purchase the network and help offset costs. For the smaller counties, some of our funding helps to go for call takers and operation costs. For the bigger counties, we'll pay for training and the network, which is the big cost."
Besides his 911 duties, Wasserman will also help coordinate disasters in the policy room of the state Emergency Operations Center. That's an area where his Coast Guard experience will prove especially useful, according to Washington Emergency Management Director Robert Ezelle.
"He has several years of emergency management experience running several key programs and demonstrated an innate ability to foster strong partnerships in the emergency management community," Ezelle said. "He is very familiar with the National Response Framework and has worked closely with FEMA, Department of Defense, Department of Homeland Security and other federal, state and local agencies conducting emergency operations in response to some of the nation's biggest disasters including Hurricane Katrina."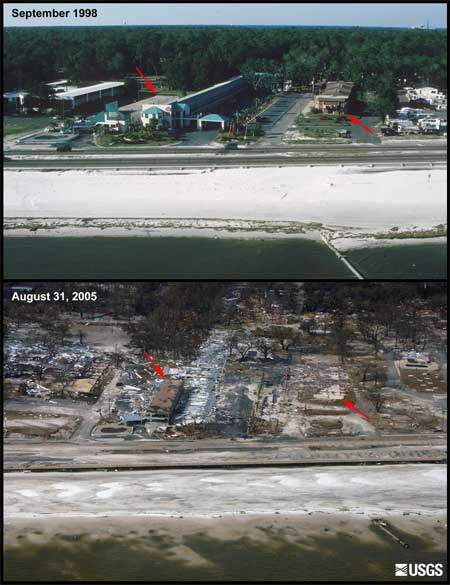 Disaster photos provided by the U.S. Geological Survey. Adam Wasserman
was deployed with the U.S. Coast Guard to help relief efforts in Gulfport,
Mississippi following Hurricane Katrina. These photos show what the damage
looked like. In the top image, taken in 1998, notice the Deep South Motel to the
left and the apartment building to the right. The bottom image shows the same
location on August 31, 2005, two days after Hurricane Katrina made landfall.
This photo shows that a small portion of the motel is only structure left standing
in the area.
Following Hurricane Katrina, Wasserman said he was second in command on a vessel based out of Mississippi. He said he was on leave when the hurricane struck, but reported back as soon it was clear he'd be needed. His son's school was destroyed and for two years he and his family practically lived apart, with his family relocating back to Washington state – which is where his wife is from (and one of the reasons they decided to come back to the state following his retirement).
"Our ship went through Gulfport, Mississippi, which was devastated," Wasserman said. "Immediately after the storm went through, there was rescue work. There was just so much of the area that was gutted. From land, our Coast Guard ship did communications and my guys also went into town and helped bring food and water."
Besides his experience at Hurricane Katrina, he said he also helped with response activities for typhoons when he was based in Hawaii and other hurricanes and storms when he was commander of the USCGC HARRIET LANE, a 270-foot medium-endurance cutter home-ported at Base Support Unit Portsmouth, Virginia..
"The Navy sends their vessels out of the way, but in the Coast Guard, we chased the hurricanes across the Atlantic," Wasserman said. "The people in the Coast Guard are just outstanding. And I'm seeing the same thing in emergency management and the 911 community. The people here are dedicated and it's such a passionate community, where people stay and do this work for the service of their communities."
Want a movie tip? Retired commander Adam Wasserman says check out the 2016 movie The Finest Hours with Chris Pine and Casey Affleck about the heroic rescue of The Pendleton in New England back in 1952. He also recommends a visit to the Columbia River Maritime Museum in Astoria, Oregon if looking for a day trip.
---