Nation's first tsunami vertical evacuation center breaks ground
---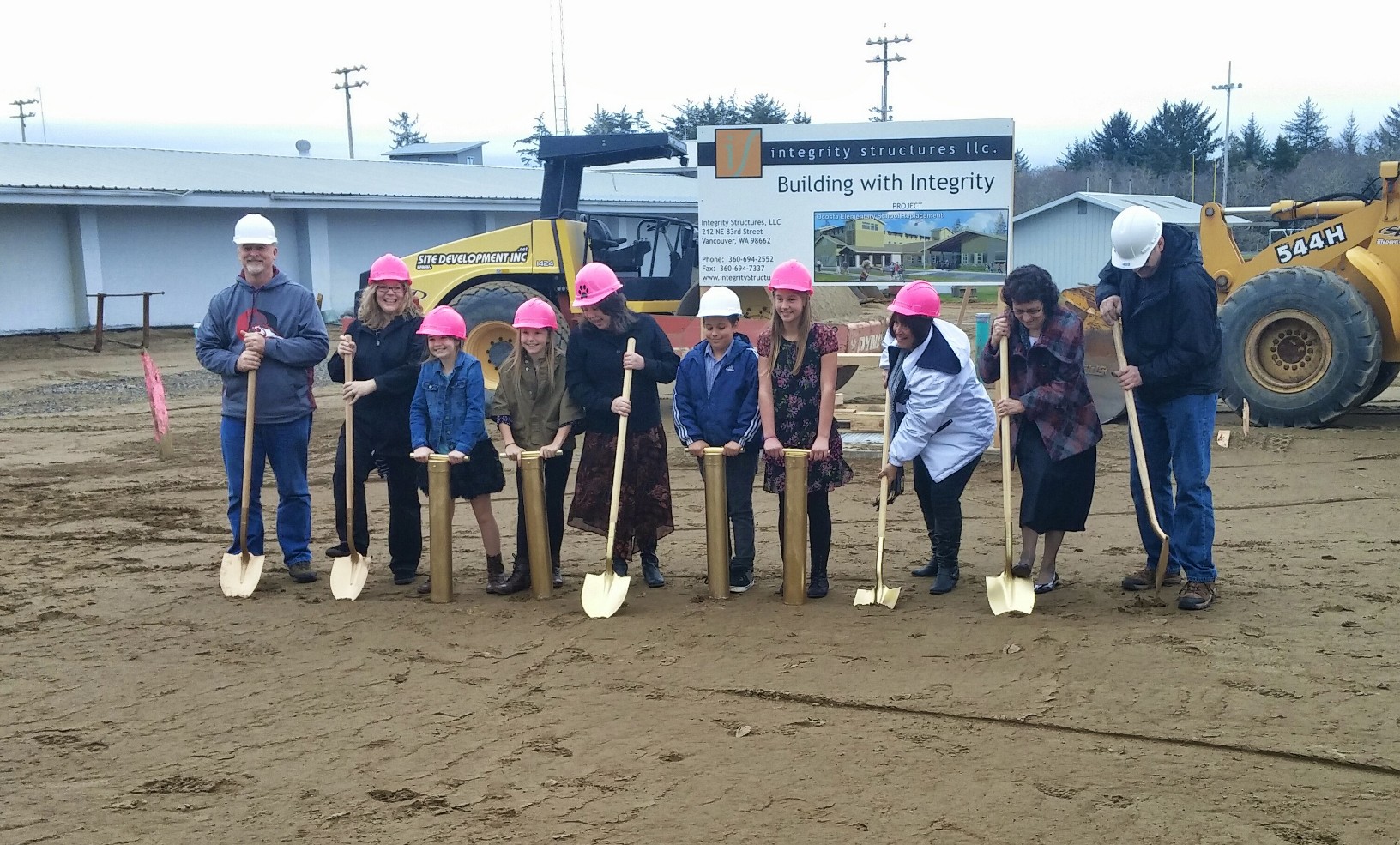 Youth with golden clam guns and residents with golden shovels break ground at Ocosta School District.
Breaking new ground on nation's first tsunami vertical evacuation site
Hundreds of people turned out to celebrate the groundbreaking of the nation's first vertical evacuation center on Jan. 15 at the Ocosta School District near Westport. In fact, the site is the first in North America.
School children stood tall with shiny golden clam guns, posing next to a who's who of participants with golden shovels that helped make the new building possible. Pilings will be driven 50 feet down and the building will be constructed using sound engineering methods that will allow the roof and upper level of the new structure on the school grounds to survive multiple tsunami waves.
District officials said the building will be ready by the end of August, but won't be ready to be occupied until after the Christmas break of 2015.
"And so you really do need to have some kind of vertical evacuation that you can get to quickly, certainly here on the coast. So this is a great thing to see happen here," said Major Gen. Bret Daughtery, the Washington Adjutant General in charge of the Washington Military Department, including the Emergency Management Division which played a critical role in the development of the structure.
John D. Schelling, the Interim Mitigation & Recovery Section Manager for the Washington Emergency Management Division, notes that taxpayers in the Ocosta School District had rejected a new building on the ballot two times.
"But the school district saw the need, saw our reports that a vertical evacuation center was needed along that coastline, and decided to try again," Schelling said.
In April of 2013, 875 residents cast their ballots in favor of a new bond measure for the dual-purpose school building, granting approval by 69.78 percent – a remarkable turnaround from previous efforts. The $13.8 million bond, to be paid off within 20 years, replaced an outdated "round" elementary building with a tsunami refuge for students, staff and community, modernized the existing elementary addition building, increasing parking and modifying bus, auto and pedestrian circulation, according to the text of the bond measure.
Besides the direct support of the taxpayers and the School District, including Superintendent Paula Akerlund, the project wouldn't have been possible without an Emergency Management Division-led effort on the coast called "Project Safe Haven."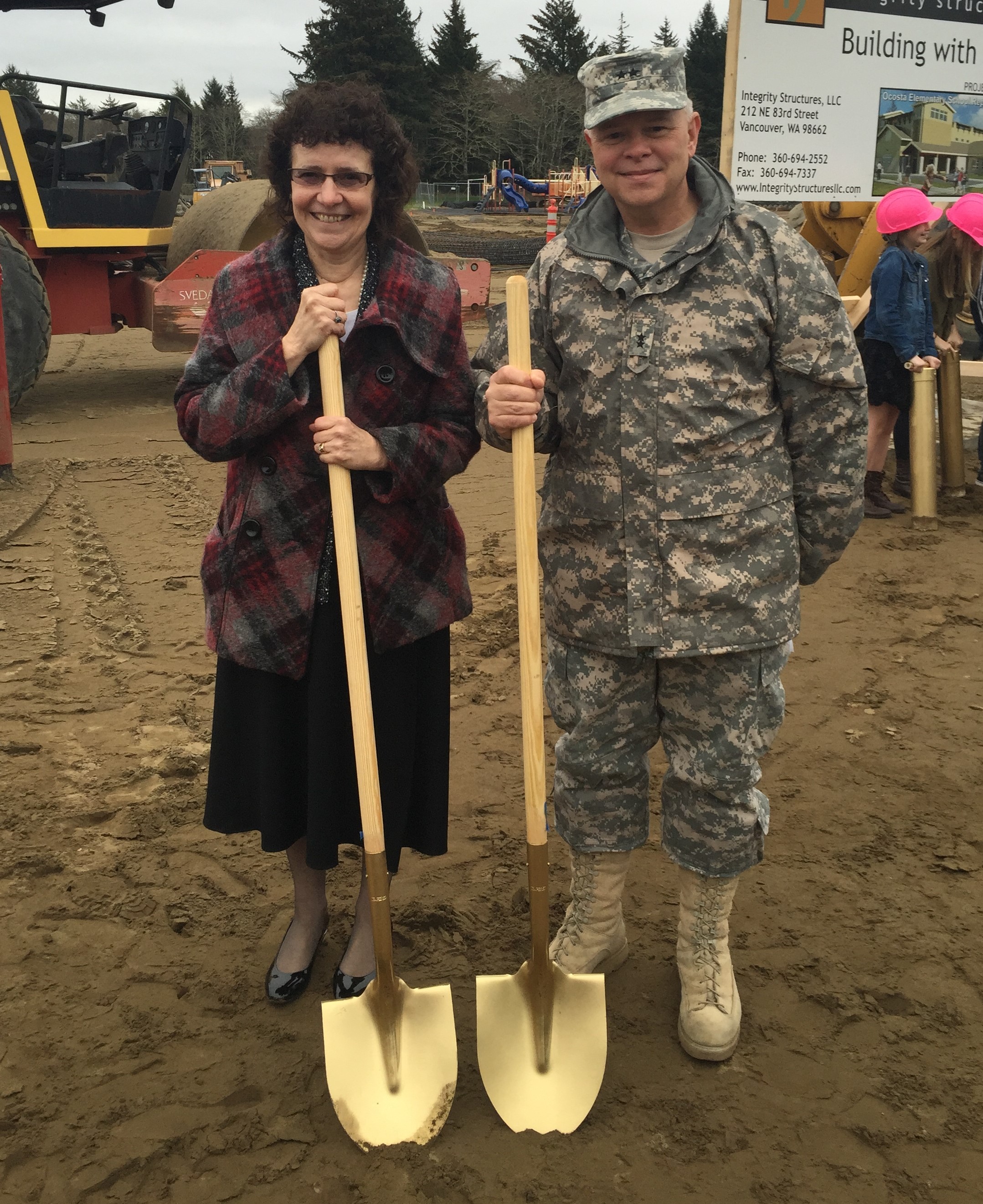 Superintendent Paula Akerlund stands with Daughtery.
Project Safe Haven was a grassroots, community driven, public process that identified areas for future vertical evacuation structures. Partnering with local residents, its mission was to develop a community responsive vertical evacuation strategy along the Washington coast. Initiated between 2010 and 2011, Project Safe Haven was a collaboration between between 2010 and 2011 with funding from National Tsunami Hazard Mitigation Program grants, Project Safe Haven was a collaboration between the University of Washington and the Washington Emergency Management Division with assistance from the Federal Emergency Management Agency, the National Oceanic and Atmospheric Administration, the U.S. Geological Survey, the state Department of Natural Resources and community stakeholders.
Reports were created looking at potential vertical evacuation sites at Grays Harbor , Clallam County, Pacific County as well as the Makah and Quileute Tribes.
The Grays Harbor report notes that the genesis of the vertical evacuation structures in the Westport area started with small meetings in March of 2011.
The thought, at that point, was for a series of towers and berms to be constructed along the coast line – a similar strategy recommended for other areas.
The problem, however, was in the funding.
"Intentionally designing any type of structure to serve as a tsunami safe haven is a relatively new concept for the United States and no official guidance for engineers or planners existed until late 2008," the report states. "It is likely that funding for implementation of this plan will require a combination of federal, state, local, private, and/or non-profit sources to realize full implementation in a timely manner."
That led to conversations about using vertical evacuation centers in a dual-purpose way.
One person had an idea to craft a vertical evacuation center with a senior center or build a parking structure for a seafood plant that could also be used as an evacuation center. Maybe a new grocery store could be built with access on the roof.
"Basic building structures such as fire stations, and public works facilities such as garages and maintenance buildings, without more costly public spaces and amenities, can provide safe haven zones on the roofs and upper storage lofts," the report states.
Project Safe Haven recommended multiple spots along the South Beach
of Grays Harbor County for vertical evacuation structures.
For instance, at Ocosta, an 11-foot berm was suggested to be built. But ideas emerged in the report to construct outdoor recreational sports and play areas, with the roof structures serving as the safe zone platforms or to have maintenance buildings or shed be converted into tower structures – or to use a new building to double as an evacuation site.
Ultimately, school officials in the Ocosta School District suggested rather than utilizing a berm that crafting a new building that could be utilized as both an instructional facility, as well as a vertical evacuation structure would make the best sense.
There was a sense of urgency of planning since the Project Safe Haven work was being done precisely at the same time of the Japanese tsunami and earthquake that took place on March 11, 2011. The tsunami didn't impact the Washington coast, except for debris that would come later.
"Grays Harbor County has high risk/low frequency tsunamis triggered by a magnitude 9-plus Cascadia subduction zone earthquake" the report concludes. "The last Cascadia earthquake to trigger such a tsunami was recorded in 1700 AD. The rate of occurrence is every 400 years. As a result, the concept of vertical evacuation as a strategy to provide refuge and high ground for evacuation along Washington's coast could not be timelier. The preferred strategies developed for the four Grays Harbor County communities reduce their vulnerability by proposing vertical refuges that are accessible to a significant amount of the population. The strategy was created through a process that builds upon the community's strengths and minimizes its weaknesses, to make them safer and more prepared. In the future, the preferred strategies may be revisited and modified as needed."
Major Gen. Daughtery said at the groundbreaking that he hoped the Ocosta vertical evacuation site would be the first of many along the coast.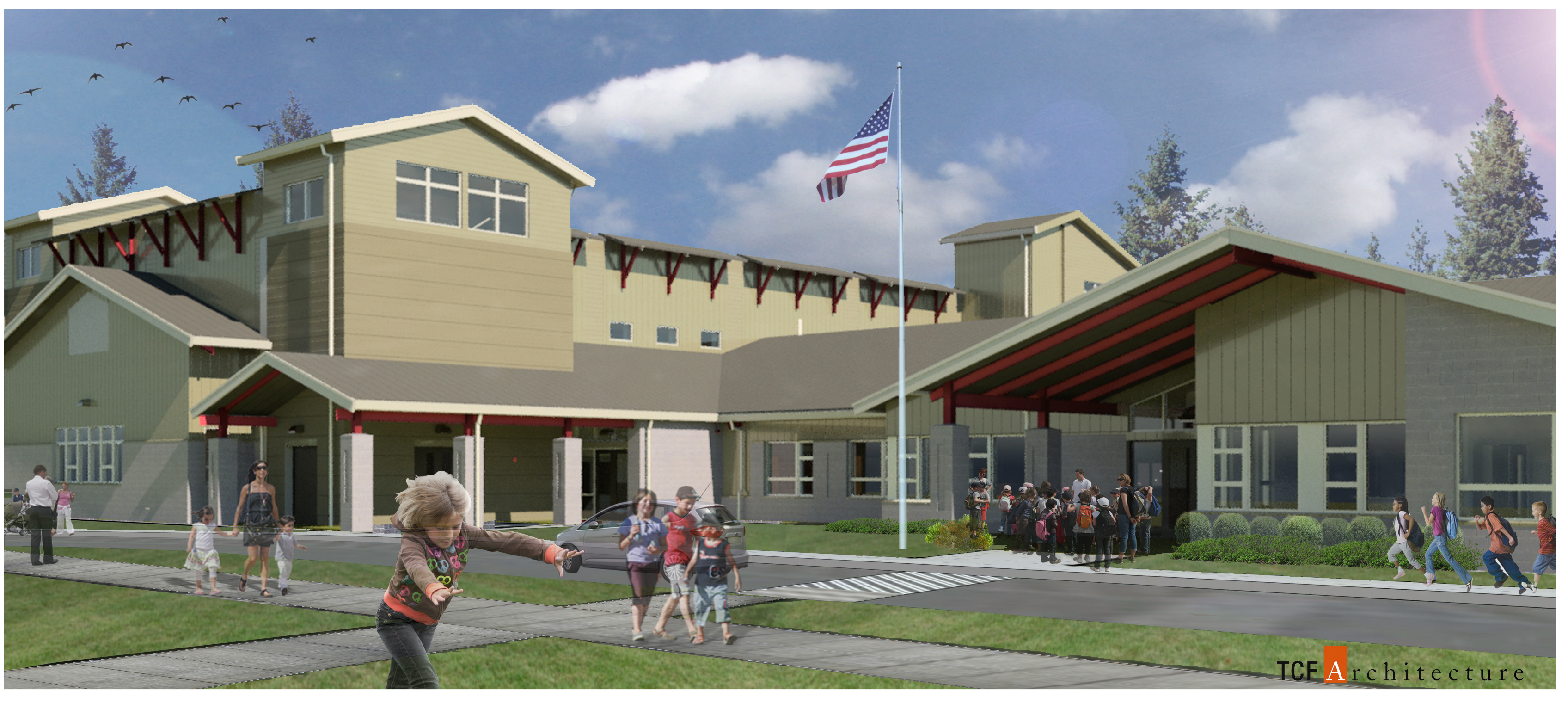 What the tsunami evacuation center is expected to look like when finished this fall.
---