Lessons learned from 1985 Colombia lahar
---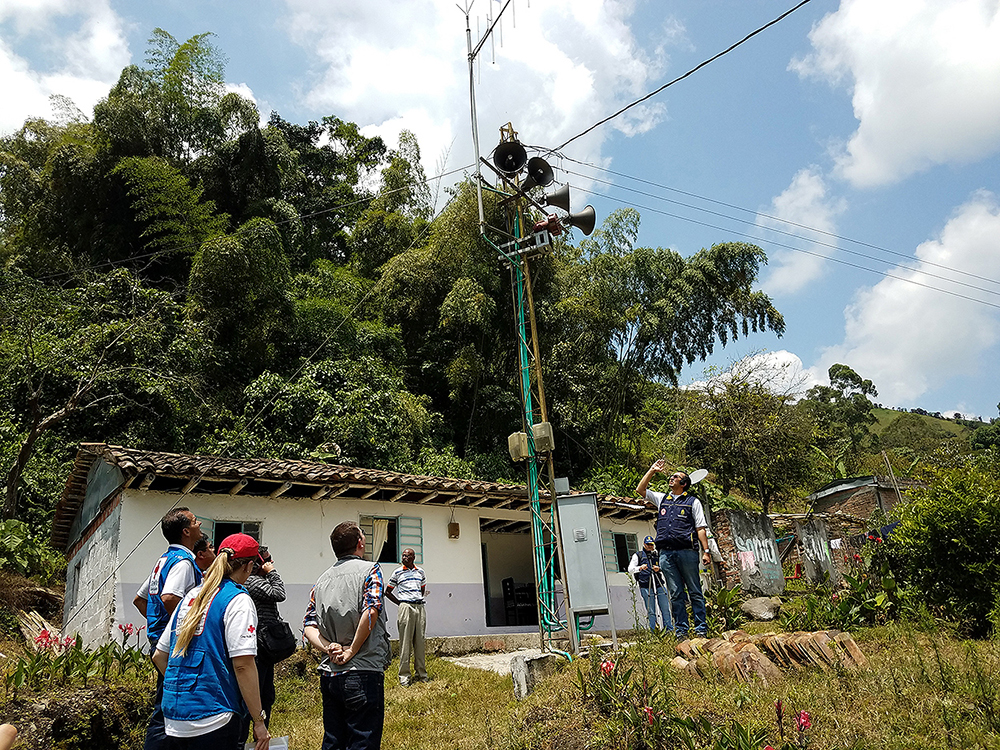 This lahar warning siren is found along the Rio Claro with the back-up operated by the person who
lives in the house next to it. (Brian Terbush photo)
In the valleys of Armero, Colombia, Brian Terbush says he was taken aback by what was left – buildings mired in mud and debris, left alone for three decades, not a soul present, except for a group of Washington state officials and some guides to provide some context.
Terbush, the volcano program coordinator for the Washington Emergency Management Division, was part of a binational exchange with officials from the country of Colombia in the northern part of South America.
For about a week, Terbush and a delegation of emergency management professionals, firefighters and scientists saw firsthand the devastation that happened back in 1985 when the Nevado del Ruiz stratovolcano erupted and sent a massive lahar downriver destroying the city of Armero and the surrounding area, killing 26,000 people.
"It is now overgrown ruins, although you can see the original cobblestones on the streets and you can see drag marks where rocks entrained in the lahar were dragged through the cobblestones," Terbush said. "There's the remains of a hospital, of homes. You get a feeling that people once lived here. But no one's ever come back to live here."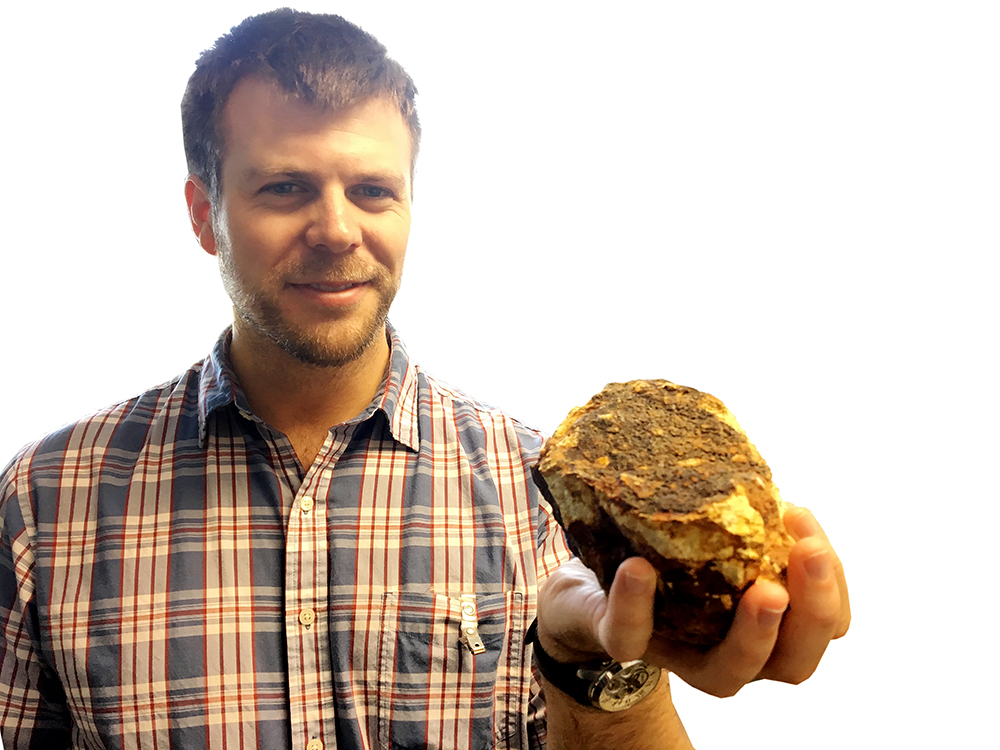 Volcano Program Coordinator Brian Terbush for Washington Emergency Management Division.
He's holding a hydrothermally-altered rock, which has been structurally weakened by hot acidic water
found in many active volcanoes. The rock was found near the Nevado del Ruiz stratovolcano in Colombia.
The volcano is very similar to Mount Rainier, which has the potential to generate its own lahars –basically mudflows that originate from melting snow during an eruption coupled with debris, such as rocks and trees, and move fast down creeks and rivers.
This is the second trip sponsored by the U.S. Agency for International Development Office of Foreign Disaster Assistance since 2013, where representatives from Washington state and Colombia have swapped specialists and talked about volcano preparedness activities. Officials from Colombia arrived the first week of May, with stops around the Cascade Mountains, tours of Camp Murray and a public presentation in Orting, which has long been preparing for a potential lahar to come off Rainier.
On May 4, in Orting, the delegation even joined residents of Orting as they practiced for a lahar drill.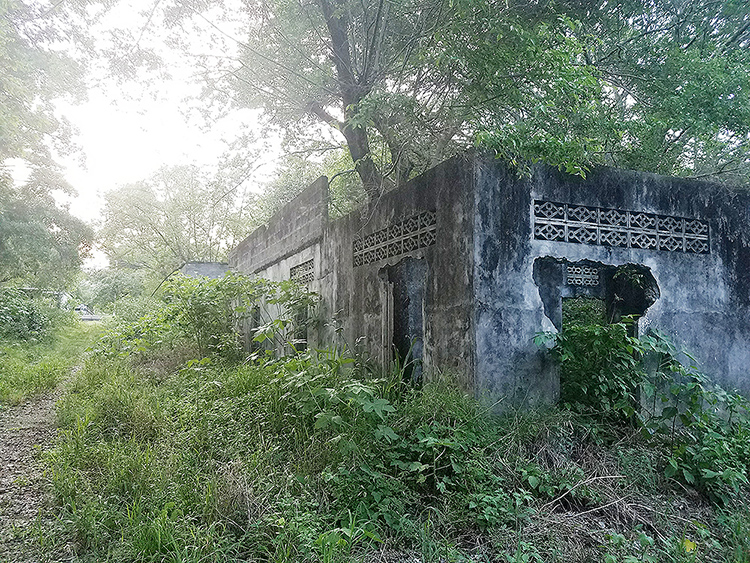 The main highway cuts through the ruins of Armero, with a ruined hospital
on one side and some ruined former houses on the other side (Terbush photo)
The timing comes as Washington Emergency Management Division teams with the U.S. Geological Survey and other partners during volcano awareness month. Gov. Jay Inslee recently issued a proclamation in honor of the month, corresponding with the anniversary of the Mt. St. Helens eruption on May 18, 1980.
Experts from Colombia are especially interested in learning about the memorials set up in honor of the victims of Mt. St. Helens, Terbush said, to help better memorialize the victims of the 1985 lahar.
"Standing in the ruins of Armero was a profoundly moving experience," Terbush said. "I now understand the magnitude of a threat we face in Washington. With the continuously improving Alert and Warning systems we have in place, we can hope that people will be warned of oncoming lahars, but it is critical for them to understand the nature of this hazard so that they take appropriate protective action. A lahar has the potential to destroy anything in its path. When a lahar is coming, they need to be concerned for their own and their family's life safety above that of their property, as there is nothing that can be physically done to halt the advance of the flow."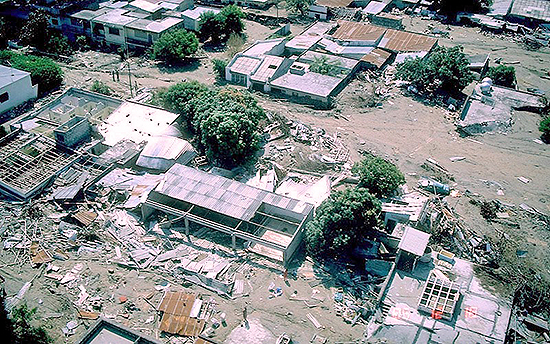 The mudflow is visible in the city of Armero in 1985 (USGS photo).
Terbush says that there were miscommunication issues that happened in 1985 – which have given way to a template of how not to deal with a volcanic disaster.
"That night, ash was falling, but the public was receiving mixed messages and no coordinated messages," Terbush said. "It took two hours for the lahar to come down. They had the systems in place to tell the mayor what was happening, but there was no evacuation order given and some people were receiving messages that they'd be fine – even though the volcano was clearly erupting and the ash was falling."
Today, there are sirens in place along lahar routes in Colombia – similar to what's present in Orting and elsewhere around Mount Rainier. Mount Rainier also has a clear coordination strategy to help guide the 150,000 people, who live on former lahars in river valleys below the volcano.
"A volcano doesn't even need to have a huge eruption to cause huge devastation – it is just the melting of snow and a little bit of rock collapsing," Terbush said. "The 1985 eruption was just snow melt – not even the glaciers and nothing explosive like Mt. St. Helens. …
"You hear a lahar will come through," Terbush adds. "You hear it will cover everything, but where you see the mud move through, people can't live there anymore. And I think that's something people don't realize about the scope of the disaster. I certainly didn't understand that. You're going to want to pick up and get out of there and think about your life safety, not your property. That's the most critical message I saw from sitting there."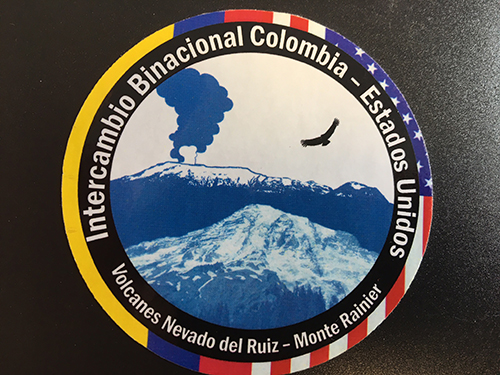 The patch shows Mt. Rainier and the Nevado del Ruiz.
Terbush says he really likes what the school children of Colombia do to educate themselves and their parents about volcanic dangers. Terbush says he met an educator that developed curriculum for students of various ages, and led teacher workshops on the material and how to incorporate it into the classroom.
"Every two years, groups of high-school students living in an area of each active volcano gather together in a conference format, to present information to the other students," Terbush said. "This sharing helps promote understanding of volcanic hazards to the youngest generation throughout the country."
The survivor stories from the 1985 lahar are what sticks with Terbush.
"It was a huge tragedy," Terbush said. "Some of the people we talked to lost their entire family. They were the only ones to get out. I just can't imagine that, but hearing it personally from these victims was very powerful. Additionally, we talked to some of the responders who arrived and they just said it was something they were never prepared to deal with, called it terrifying – people buried in mud, walking away head to toe in mud.
"It is our responsibility as an organization to ensure that the information is given out to the public in as many ways as possible, so that it is available to all stakeholders," Terbush added. "While some people will respond to a pamphlet, and others will respond to their children telling them about the hazards. For some, the educational material that will reach them is not out there yet, and we need to develop it."
Learn more about volcanic threats at mil.wa.gov/volcano
---