JBLM "Military Saves" Town Hall Educates Public on Importance of Financial Readiness/Planning
---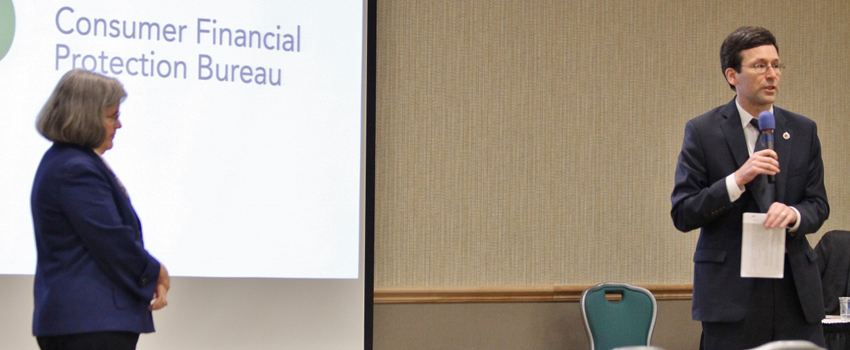 Attorney General Bob Ferguson speaks at the town hall.
JBLM "Military Saves" Town Hall Educates Public on Importance of Financial Readiness/Planning
With the goal of educating service members on the importance of financial planning and personal readiness, Joint Base Lewis-McChord conducted a town hall meeting at the American Lake Conference Center as part of the annual Military Saves Event on February 26.

"The more we can do to educate people on the importance of financial readiness and having a good financial foundation, the better off we will be in eliminating some of the ills that truly have a mission impact upon us," said Joint Base Lewis-McChord commander, Colonel Charles Hodges.

According to the Military America Saves website, the program is a component of the nonprofit America Saves and a partner in the Department of Defense's Financial Readiness Campaign, which seeks to motivate, support, and encourage military families to save money, reduce debt, and build wealth.

Holly Petraeus, director of Consumer Financial Protection Bureau's (CFPB), Office of Service member Affairs, highlighted the importance of Military Saves and better educating service members on the CFPB.

"When we find out about people breaking consumer financial protection laws to harm servicemembers, we'll help CFPB enforcement teams take action against them," said Petraeus in a letter addressing the public on the CFPB website. "And we plan to make it easy for military personnel and their families to contact the CFPB with questions or complaints about consumer financial products and services."

Petraeus was joined at the town hall by Washington State Attorney General, Bob Ferguson, who discussed how his new Military & Veteran Legal Resource Guide is a pertinent resource for service members to learn more about consumer laws, employment laws, legal proceedings & assistance and other veteran and military laws.

"Speaking directly with consumers, including those who serve our country in uniform, is critical to making sure they know our office is a resource for them," said Ferguson.
"As Attorney General, one of my primary missions is to protect Washington consumers, and in particular military personnel and their families, who make many sacrifices in service to our country."

Examples of predatory debt collection tactics were discussed and examples were given of how the CFPB is working to close loopholes in the Military Lending Act, such as forcing certain protection rights like a cap to the interest rates for lending to military (maximum of 36% for servicemembers comparable to loan rates as high as 390% for civilians).

"Education. this can't just be forced fed onto you," said Hodges. "Education is important but you've got to take some personal responsibility to educate yourself on the things that are available to make you financially solvent."

The importance of education was echoed amongst the Washington National Guard as well.
"Every member of the Washington National Guard should be aware of the Consumer Financial Protection Bureau and the Washington State Attorney General's Military & Veteran Legal Resource Guide," said Director of Manpower and Personnel (J1), COL Kevin McMahan. "These are outstanding resources designed to help those who serve or have served our community and nation. The information presented here today is extremely informative for our Airmen and Soldiers, but more importantly for their families. Budgets and financial planning should be an entire family mission."

Hodges reiterated the importance of financial readiness and long-term financial success (or failure) amongst servicemembers and their families being based upon education and what is done early on.

"We've pulled the horse to water, we've tried to make him drink and they'll still spit it back out," said Hodges. "At some point it takes the individual soldier, the individual family member, the individual service member to take on that personal responsibility to go out there and learn about what's available and obviously we are here to help."
---