Innovation and collaboration abound in Camp Murray COMEX
---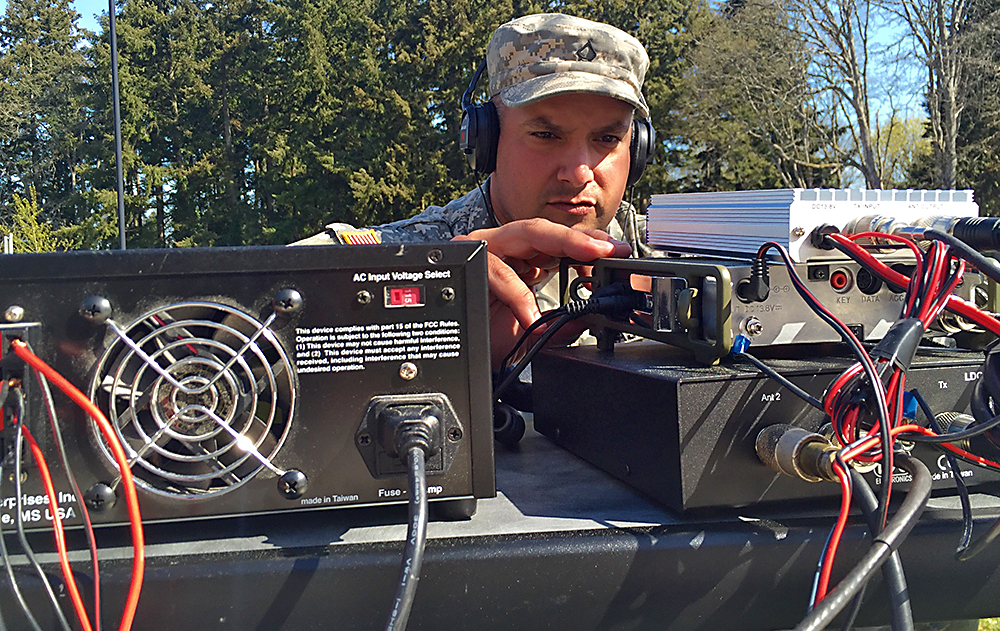 Washington State Guard Private First Class Jared Morrison establishes connectivity with the Joint

Incidents Site Communications Capability during a communications exercise at Camp Murray

April 2. (Photo by Maj. Tawny Dotson, Washington Air National Guard)

Innovation and collaboration abound in Camp Murray COMEX
By Maj Tawny M. Dotson
Public Affairs Officer, Washington Air National Guard
In the spirit of collaboration a communications exercise started March 30 and ended April 3 at Camp Murray that brought together more than 150 people nationwide to test communications interoperability across military and civilian agencies. The Vital Connections-Cascadia COMEX focused on preparing for June's Cascadia Subduction Zone exercise, but ended up with a natural opportunity for innovation.
WA Vital Connection – Cascadia 2016 was sponsored by the U.S. Northern command in conjunction with the Washington Military Department and State Emergency Operations Center. Col. Larry Hager, the director of command and control communication systems for the Washington National Guard, led the five-day exercise, bringing radio experts together.
Hager described the most innovative aspects of the conference including both a first-time use of the 60 meter (5 megahertz frequency) band for radio communications with both military and civilian participants successfully communicated by voice on an HF radio network and also able to send email across an HF radio network.
"We were able to send an email from Camp Murray to National Guard Bureau and a few others states over HF radio," said Hager. He highlighted that this helped the participants to practice sending data over nontraditional networks.

The exercise brought together agencies across the spectrum of emergency response to test communications systems such as radio, satellite and video along with providing training on interoperability. More than 50 service members received training in the Raytheon ACU cross banding system over the course of the exercise.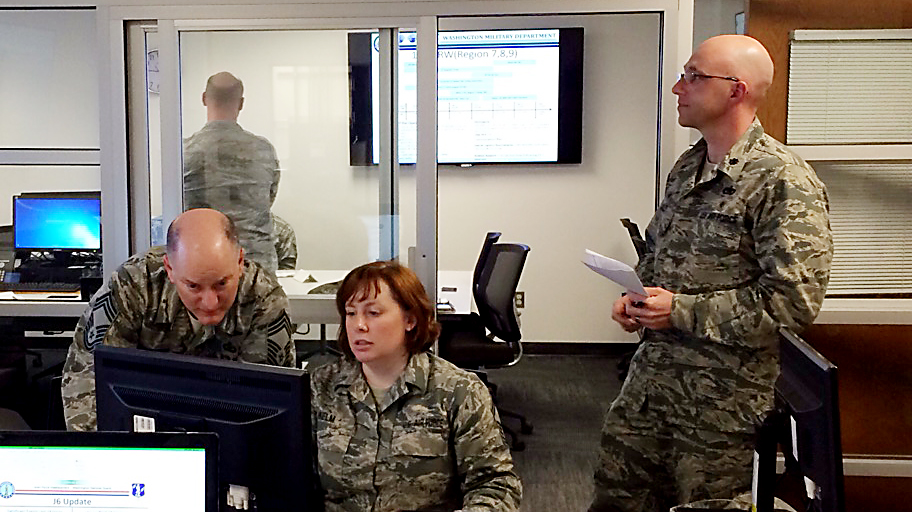 Airmen from the 141st Communications Squadron participate in

Vital Connections-Cascadia COMEX from Fairchild Air Force Base

on April 3. (Courtesy Photo)
The Vital Connection program, sponsored by NORAD/NORTHCOM, provided the support necessary to make the COMEX a reality.

"Without their help we wouldn't have been successful," said Hager. "Their (Vital Connection) sponsorship, expertise, participation and help really made this exercise possible."
Participants included the Joint Incident Site Communications Capability (JISCC) from the Washington National Guard along with key civilian agencies. Snohomish and Pierce County's Emergency Operations Centers participated from their home locations in addition to FEMA's Region 10, Army Northern Command, Army North and the military service components on the west side of Washington, according to Maj. Yeng Lacanlale, who is a part of the Joint Forces Headquarters J6 office and participated in planning. Additionally, the cities of Maple Valley and Seattle, and Clallam, Clark, Cowlitz, Grays Harbor, Jefferson, King, Kitsap, Lewis, Mason, Pacific, Skamania, Spokane, Thurston and Whatcom counties took part in along with the Kansas and Idaho National Guard, Air Force and Army MARS. The North West Regional Aviation, Washington State Patrol, WA ARES/RACES and Harris Corporation also joined.

The exercise was designed to practice the first step in emergency response efforts – communication.

"The first thing in a major event that people need to know is information," said Lacanlalae. "They need to know where to go and what to do. It's a lifesaving medium for folks and that's the purpose of the event."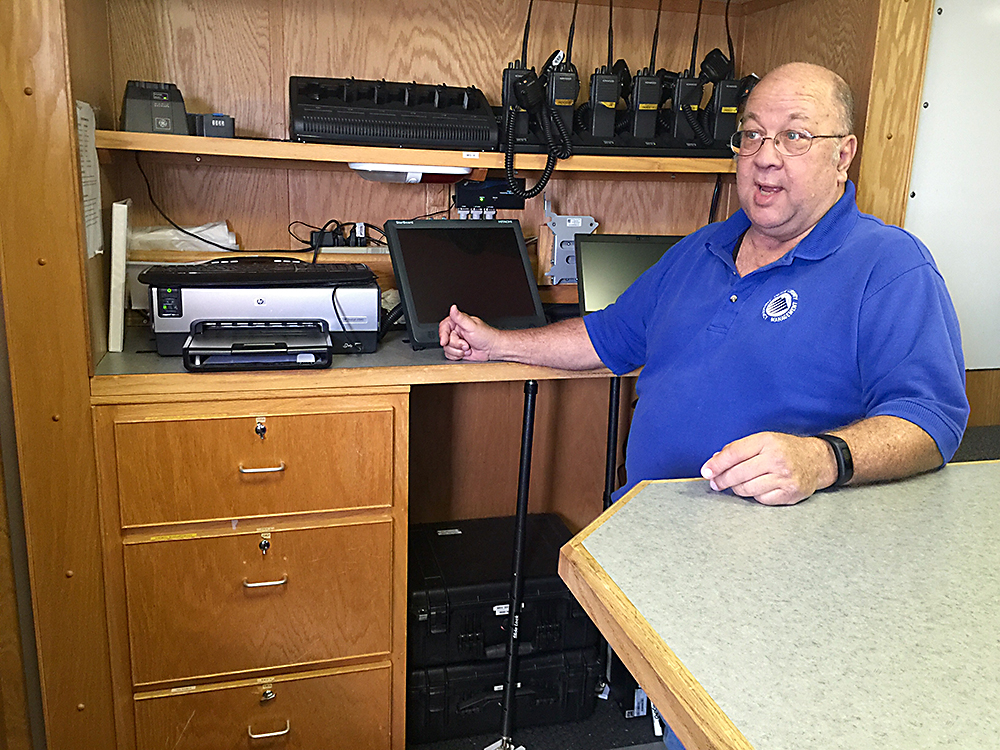 Greg Martin, Pierce County Emergency Operations Center volunteer,

explains the video feed capabilities in the Mobile Operations Command

vehicle,a renovated RV that has the basic needs of an office and offers

communications support during emergencies. (Photo by Maj. Tawny Dotson,

Washington Air National Guard)

The Pierce County Emergency Operations Center's Mobile Operations Command came to Camp Murray as a part of the communications testing. Staffed by both paid and volunteer staff, the MOC provides a place to hold EOC operations including power sources, communications, and planning space.

"Really it's a mini-office on wheels. It has wi-fi, satellite, TV, radio and data connections to ensure we can talk with our partners. It also has the basic things you would need in an office including a printer, computers and desk space," said Tom Sharpe, alert and warning specialist for the Pierce County EOC.

While the MOC is a renovated RV, the military's JISCC is a tent that houses the communications equipment, but the two have many things in common that added value to meeting in one location. The JISCC and the Pierce County MOC demonstrated communications interoperability for the June CSZ exercise including using the Geospatial Information Interoperability Exploitation Portable or GIIEP System to project video and radio feeds. According to Hager, the GIIEP is a website sponsored by NGB and Space and Missile Defense that allows a video feed, live or recorded, to be displayed online. This allows anyone with access to the website to view the video or photo imagery on the site and can be projected from something as small as a smart phone.

"When you're in the middle of disaster and need a friend it's too late to go looking for one," said Hager. "This exercise was key in being able to network and interface with the people you need to work with during a major disaster. You don't want to be exchanging business cards for the first time in the middle of an event."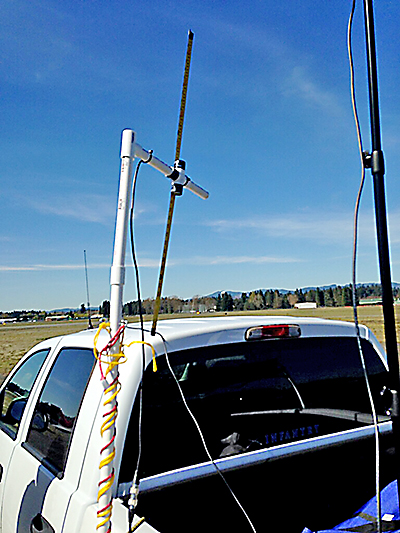 Exercise participants got creative making antennas out of available materials.

Here, a Washington State Guard member made an antenna out of PVC pipe

and a tape measure. "Radio experts who understood the theory were practicing

ways to make antennas and make them work," said Hager. "There wasn't really

intent for that to occur, that was just a byproduct." (Courtesy Photo)
---