State Partnership Program: A historic visit to the Kingdom of Thailand
---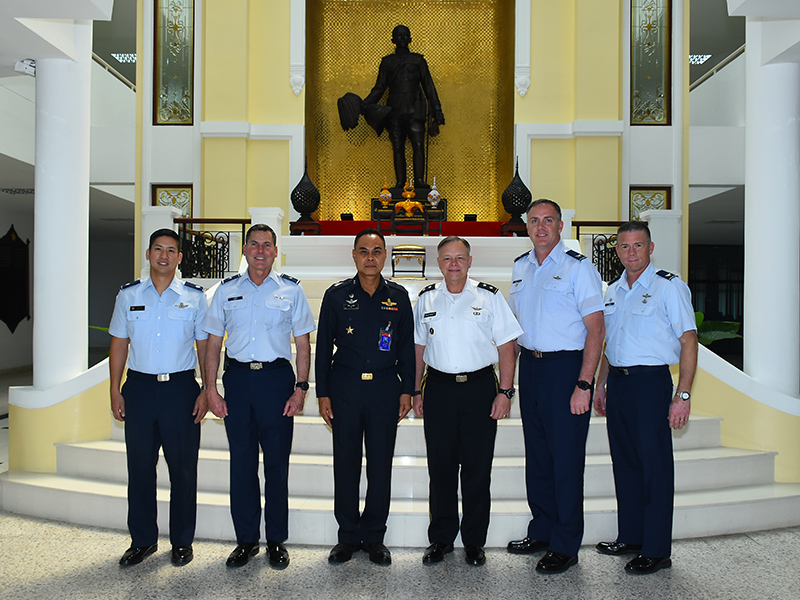 State Partnership Program: A historic visit to the Kingdom of Thailand
One of the most important tools for a National Guardsman to possess is the ability to build relationships – not only in their community but across the world. Having strong relationships helps Service Members provide better resources and training, spread information during emergencies and build strong alliances with foreign militaries.
In 2002, Washington joined the National Guard State Partnership Program (SPP), formally partnering with the Kingdom of Thailand. Since then, hundreds of Washington National Guard soldiers and airmen have flown the exhausting 22 hours from the Pacific Northwest to the country that is at the center of the Indochinese Peninsula to take part in subject matter exchanges, conduct joint training and develop enduring relationships that build on more than 150 years of collaboration and friendship.
"We had one of the best partnerships in the National Guard with Thailand. It set the standard for so many years," said Brig. Gen. John Tuohy, the assistant adjutant general and Washington Air National Guard commander. "Those relationships were so strong and it paid dividends."
Due to political unrest in early 2014, however, the Washington National Guard was advised to suspend all senior leader visits and restructure the program. The program was kept alive by junior and non-commissioned officers, who maintained relationship building.
Then, in early 2016, Lt. Gen. Anthony Crutchfield, Deputy Commander, U.S. Pacific Command (PACOM), traveled to the Kingdom, making him the first three-star general officer to enter Thailand in nearly two years. His visit was significant to his former battle buddy, Maj. Gen. Bret Daugherty, The Adjutant General of the Washington National Guard, because it meant the commander of the Washington National Guard could reestablish regular visits with a country that has close ties with the organization.
"His [Lt. Gen. Crutchfield] visit meant that it may have been time to go back and start rebuilding those relationships," Daugherty said.
Joining Daugherty and Tuohy on the trip were Col. Gent Welsh, joint chief of staff, Washington National Guard, and Col. Jeremy Horn, commander, 194th Wing.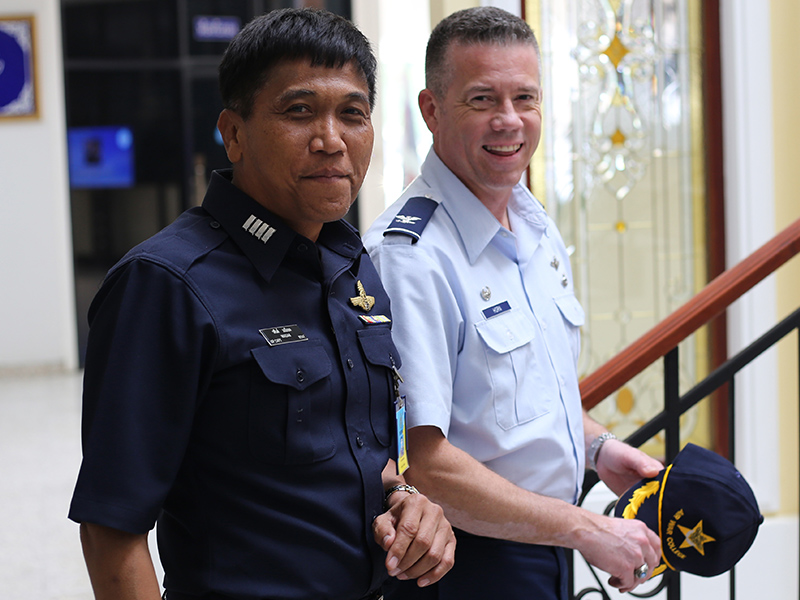 Visit to the Royal Thai Air Force War College
One of the most prestigious professional development schools in the U.S. Armed Forces is the War College, where senior officers, typically lieutenant colonels and colonels, learn advanced strategic and tactical skills working with other components and U.S. allies to develop the best military officers.
The Royal Thai Air Force also provides top level education for its senior officers at the Thai Air War College located at Don Muang Air Base, just outside of Bangkok.
"We have graduated over 2,000 officers to date, mostly from Thailand, but some from China, Japan and the U.S.," said Air Vice Marshall Noi Parkperm, Royal Thai Air Force War College.
Traditionally, the Royal Thai Air Force also sends senior officers to the U.S. Air Force War College, an exchange program that allows Thai officers to bring back skills and knowledge. One such officer was Sr. Col. Wera Petatulo, who was a classmate of Welsh.
"Because of our SPP relationship, [Sr. Col.] Wera and I were paired up," Welsh said. "It worked great and helped us develop that personal relationship as well."
That relationship helped arrange the meeting between the Air vice marshall and Daugherty.
"It was good to hear about what they are doing here and maybe how we can work with them at the Air War College," Daugherty said.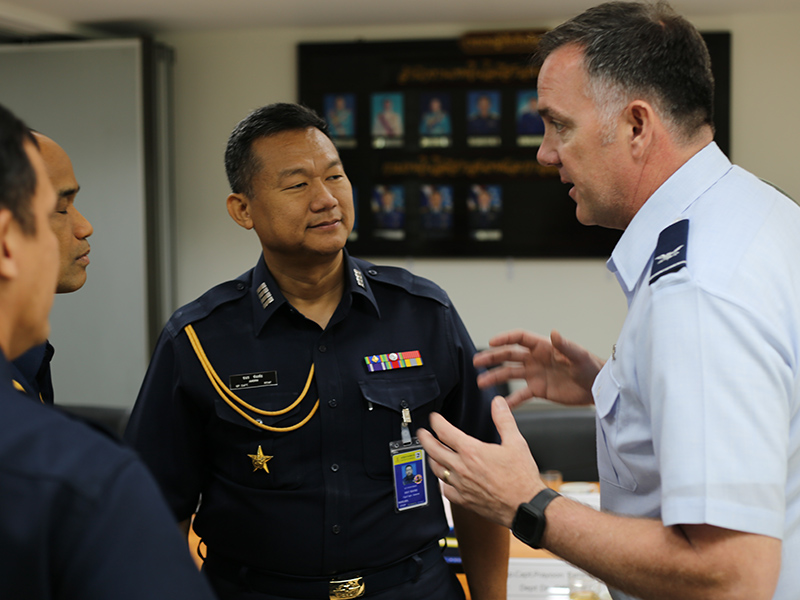 Information and Communication Technology
The Washington National Guard's 262nd Network Warfare Squadron has been featured as one of the premier cyber defense units in the U.S. Air Force. A recent visit from the U.S. Secretary of Defense has thrust the unit into the limelight and has given the once quiet group of airmen a chance to really show their skills to the public.
The Royal Thai Air Force's Information and Communication Technology Division performs a similar mission as the 262nd, and after talking with Horn, the two units may have found a chance to share best practices and skills.
"We have airmen that not only perform these duties over drill weekends but also in their civilian jobs at Microsoft or Amazon," Horn said. "We bring a wealth of knowledge to the table in the cyber defense field."
Due to the high demand of cyber defense professionals and the education requirements that come with the positions, the Royal Thai Air Force's Information and Communication Technology Division is one of the smallest units in their military, but it also conducts an important mission.
"With the advances in technology and the constant threat of digital attacks, the Royal Thai Air Force is always testing and practicing," said Gp. Capt. Amorn, Royal Thai Air Force. "We hold special contests each year to find hidden talent. Last year, a medic won."
The Information and Communication Technology Division is required to meet the same certification that all U.S. Department of Defense cyber experts have to achieve.
Earlier this year, the SPP program held a cyber security subject matter expert exchange at Don Mueng Airfield to discuss best practices. Col. Charles Jeffries, commander, 252nd Cyberspace Operations Group, took part in the exchange to share his experience from his full-time position at Microsoft. The engagement consisted of sharing knowledge and concepts as well as a discussion about potential future engagements.
"We bring a level of expertise to the fight that our active counterparts don't always have," Horn said. "Our Guardsmen do this job on the civilian side as well as in their Guard duties. Being able to share that with our Thai partners is wonderful."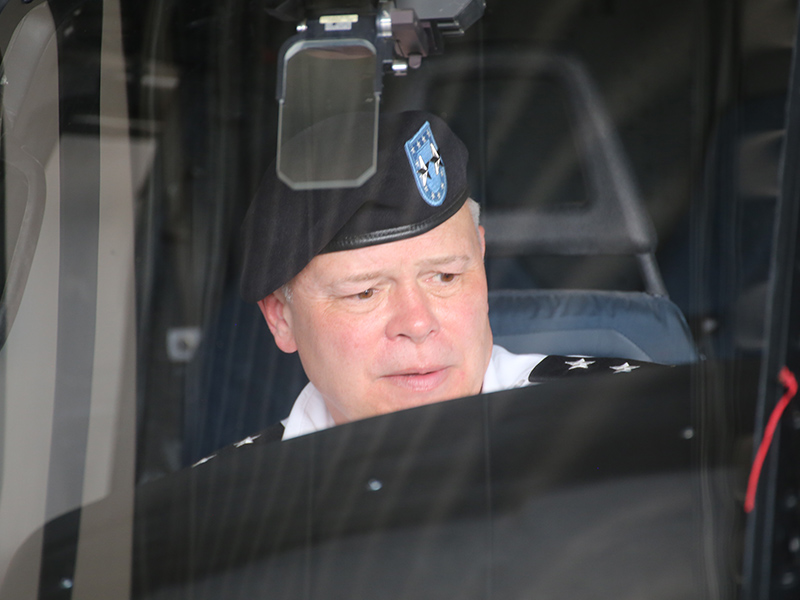 Preparing for natural disasters
A staple mission of the National Guard is the homeland response after a natural disaster. Guardsmen have to be prepared for any type of disaster, as does the Royal Thai Army, which is always training and rehearsing for natural disasters in the Kingdom.
"We deal with floods, wildfires and other natural disasters," said Maj. Gen. Dhanes Gelapruck, Deputy Director of Civil Affairs, Royal Thai Army.
Part of Daugherty's visit to the Royal Thai Army Civil Affairs group was to discuss an upcoming subject matter expert exchange that will focus on homeland response and disaster assistance in April. Teams from Washington will discuss the work done during the historic 2015 wildfires.
"We are excited to share our experiences and give you any kind of help in providing training for wildfires," Daugherty told Gelapruck in a meeting at the Royal Thai Army Civil Affairs headquarters. "You can come help us this summer during our wildfires."
Wildfires have become a serious problem in Thailand as climate change in the region has led to longer droughts and drier conditions in the northern provinces. Similar to the National Guard, Royal Thai Army members are tasked to fight the fires under the direction and guidance of the Ministry of the Natural Resources and Environment (similar to the Washington Department of Natural Resources).
"We are excited to have you here in Thailand to discuss forest fires, but we are excited to visit you during Cascadia Rising to learn about earthquake preparedness," Gelapruck said to the group from Washington state, referring to the massive exercise drill to be conducted in June across the Pacific Northwest.
Like the Pacific Northwest, the Kingdom of Thailand is generally vulnerable to earthquakes, as the country sits along 13 major fault lines that have been active over the last few years, according to the Meteorological Department of Thailand. In May 2014, the Mae Lao District of Thailand was hit by a 6.1 magnitude quake, killing two and injuring 32, as well as damaging more than 8,500 structures in the area of the quake. High rise buildings in Bangkok required inspections after the earthquake due to excessive swaying.
"This is a great chance for us to work together, share resources and assist one another when these massive earthquakes do happen," Daugherty said. "We are there to support one another during our times of need."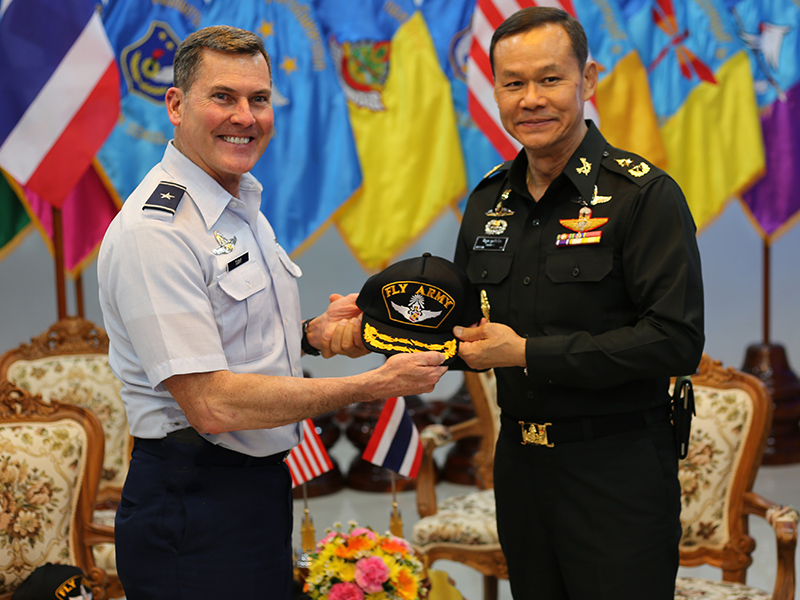 Flying with the Royal Thai Army Aviation
Thai aviation can trace its heritage back before World War I, when an aviation section was established inside the Royal Thai Army. That small group of aviators paved the way for today's Royal Thai Army Aviation Center in Lop Buri Province, which is home to multiple units, an aviation school, more than six helicopter platforms and provides a broad span of mission support elements.
It is also a place that the Washington National Guard has become very familiar with over the last few years, as aviators from the 66th Theater Aviation Command have assisted with everything from aviation maintenance to standards and safety.
"We have played a major role in Thai aviation and that partnership shows," Daugherty said. "We share many of the same platforms and it is easy to work with the Thais to get their helicopters at the same level as ours."
The Royal Thai Army uses the UH-60M Black Hawk and the LH-72a Lakota as two of their primary helicopter platforms during natural disasters.
"We enjoy sharing our experience with water bucket operations with the Thais," Daugherty said. "It is taking our lessons learned after two bad wildfire seasons and applying it to their training plans."
---