Guardsmen help battle wildfires in Central Washington
---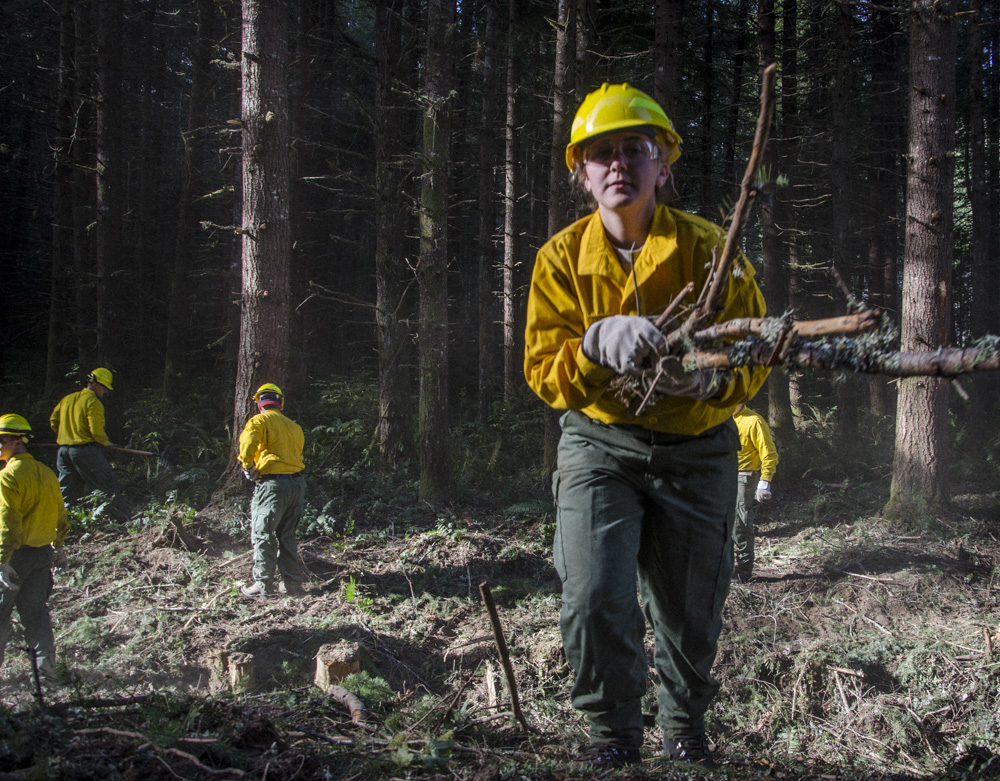 Washington Air National Guard Senior Airman Rachael Crofoot removes debris from a roadside to create a firebreak to help contain fires near Enumclaw, Washington, on Sept. 10, 2017. Washington National Guard soldiers and airmen have been called into service by the governor to protect the lives and property of Washington residents threatened by wildfires. (U.S. Army National Guard photo by Sgt. Matthew Sissel)
Multiple wild fires burning across Washington state have led to the activation of service members from both the Army and Air National Guard to help assist with the fire response.
Of the more than 300 Guardsmen mobilized statewide, more than 100 are attached to the Norse Peak fire near Mt. Rainer National Park to assist the 600 fire personnel working to control the fire.
"We have three hand crews actively fighting the fire protecting structures and people's land," said Capt. Daniel Baker, officer in charge of Washington National Guard personnel supporting the Norse Peak Fire. "They are removing brush from the path of the fire to eliminate fuels for the fire. They clear wood or organic material that can burn, for a preventative measure of fighting the fire and to keep it from spreading."
Along with the hand crews many other guardsmen are contributing to the fire response.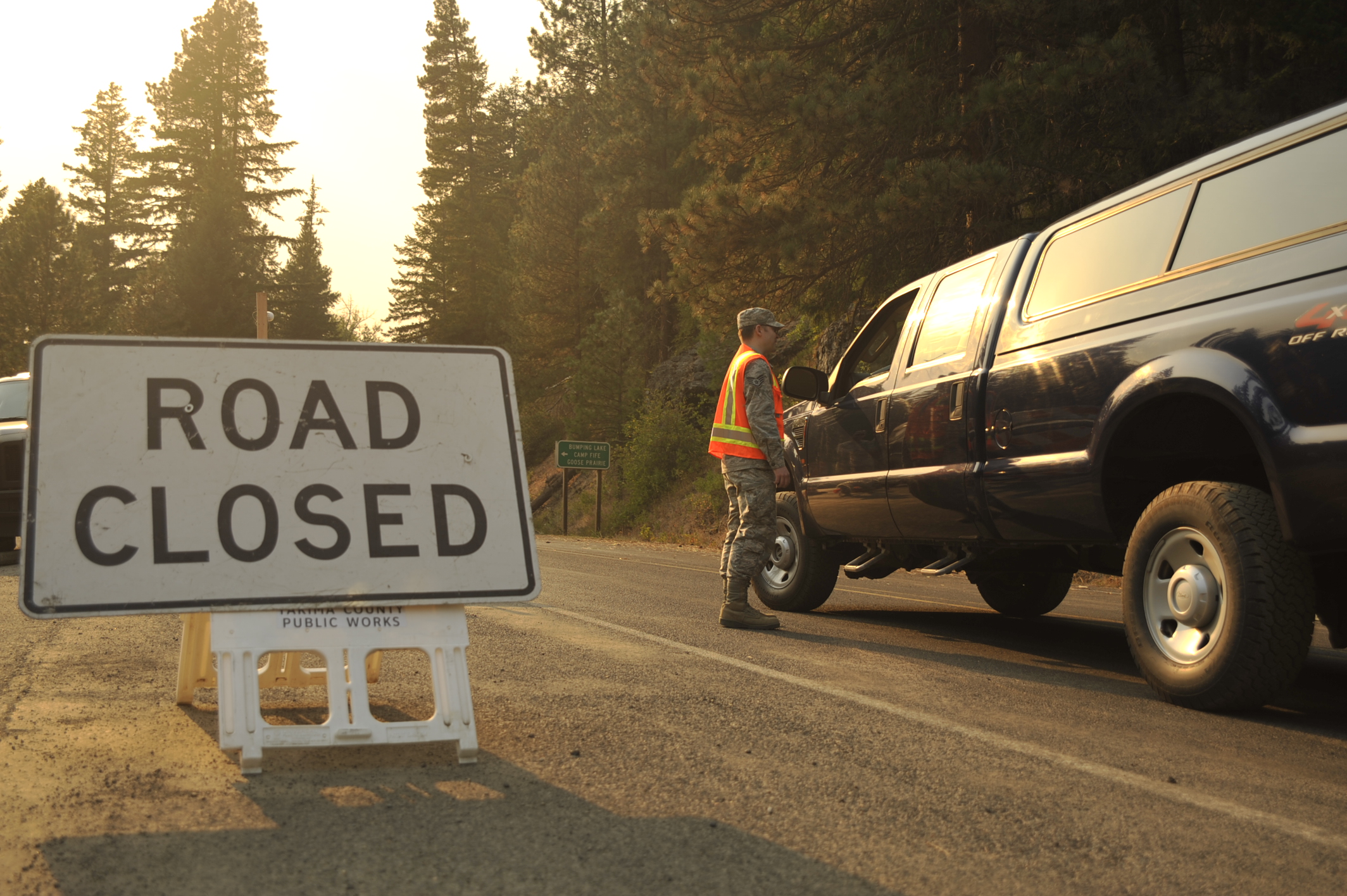 Staff Sgt. Richard Benson, 143rd Information Operations Squadron intelligence analyst, provides security at a check point for the Norse Peak wildfire near Mt. Rainer National Park, Washington Sept 13, 2017. More than 100 Army and Air National Guardsmen have been deployed to support firefighting operations on the Norse fire. (Washington Air National Guard photo/ Tech Sgt. Tim Chacon)
"There are both Army and Air National Guardsmen doing security operations here at checkpoints on the roads and [fire camp]," said Baker. "They make sure only authorized personnel are coming onto the site."
The guardsmen at the check points along the roads are also able to keep travelers out of potentially dangerous areas and redirect them to safer routes.
A portion of the fire intersects with the Pacific Coast Trail, a hiking trail that runs 2,650 miles from Mexico to Canada through California, Oregon and Washington. Hikers along the trail are often unaware of the dangers around them.
"We have had several hikers come through here and we had to stop them," said Spc. Jackson Meekins, 303rd Cavalry Squadron who was manning one of the security check points. "If they want to continue on the trail we have someone come pick them up and drive them to an area that is safe for them to continue on the trail. Some of them are pretty upset about it, because they hike a long way and want to complete the whole trail, but it's for their own safety they don't travel through here."
Encounters at the checkpoints have been mostly pleasant and are of an informational nature.
"Mostly it is curious visitors who want to know why the road [or area] is closed and when will it be open again," said Senior Master Sgt. Sheri Poland, 262nd Network Warfare Squadron industrial control systems flight chief. "Some interactions are a little complicated because at some locations people can access the area on one side of the road but not the other."
Despite making up a small portion of the total force, Washington National Guardsmen are making a big impact due to the quality and amount of work they are doing.
"The feedback we are getting from the Department of Natural Resources and the Spokane County fire department has been really positive," said Baker. "They are very impressed with what we bring to the table, how fast we catch on and how hard we are willing to work."
Despite the long hours and difficult work conditions the guardsmen continue to work hard and stay positive.
"Everyone here is really motived and happy to be out here. For a lot them [both Army and Air Guard] this is their first time on state active duty and it really gives them a better understanding of what we do and an appreciation of what it means to serve," said Baker.
"Hopefully the incident management teams we have worked with will tell their counter parts and peers how hard we work and about the capabilities we can bring, so we can better work together in the future," Baker continued. "We want to take the lessons learned here and share them not only across the task force, but across the state."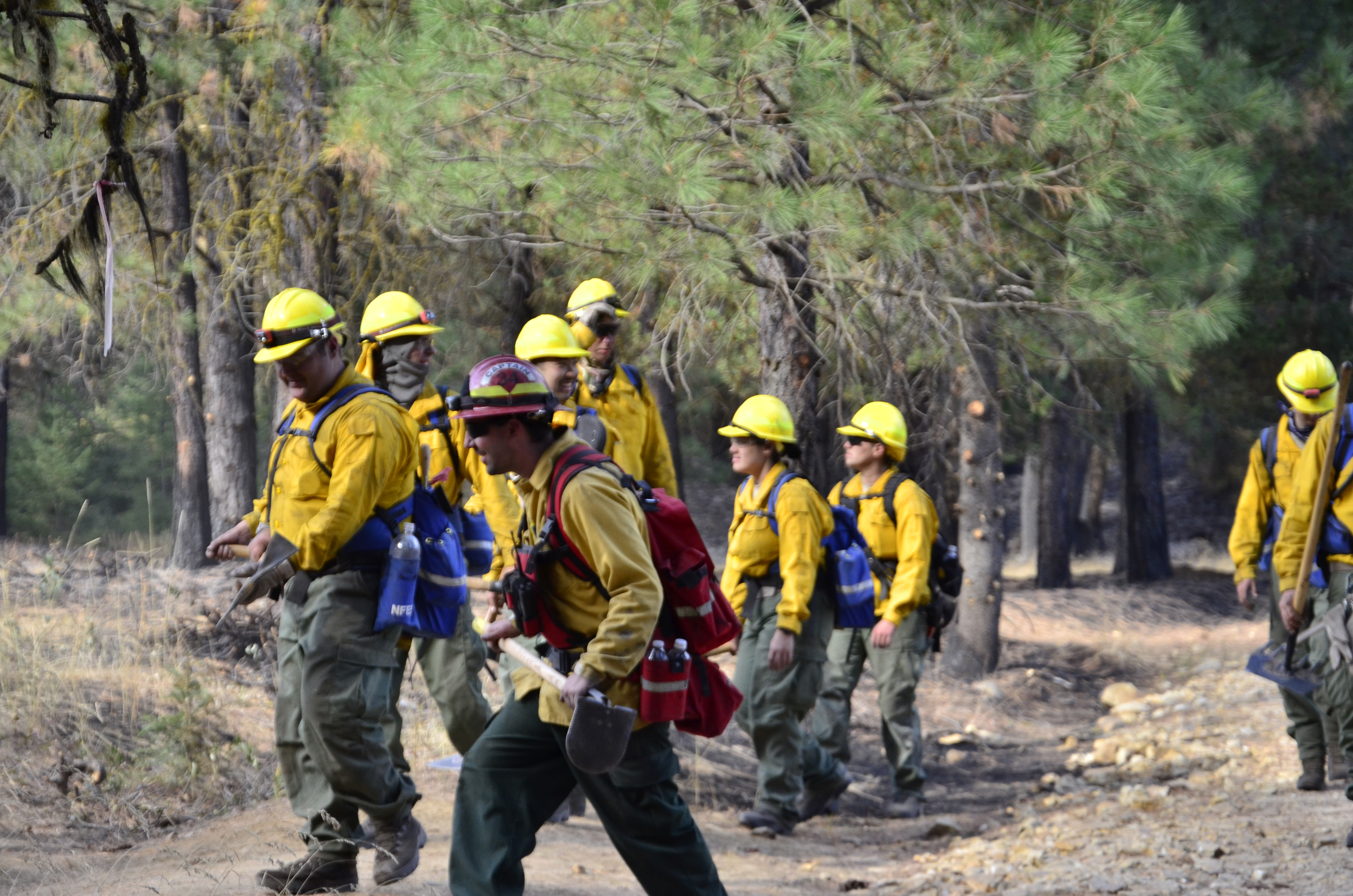 Soldiers of Third Platoon, 176th Engineering Company move toward their transport after a 12 hour shift of mop-up duties on Jolly Mountain, Cle Elum, Washington, September 9, 2017. Soldiers of the unit were mobilized to support firefighters conducting structural protection operations and forest fire fighting duties. (U.S. Army National Guard photo by Sgt. Jodi Eastham)
---