Airmen to support Hurricane Relief Efforts
---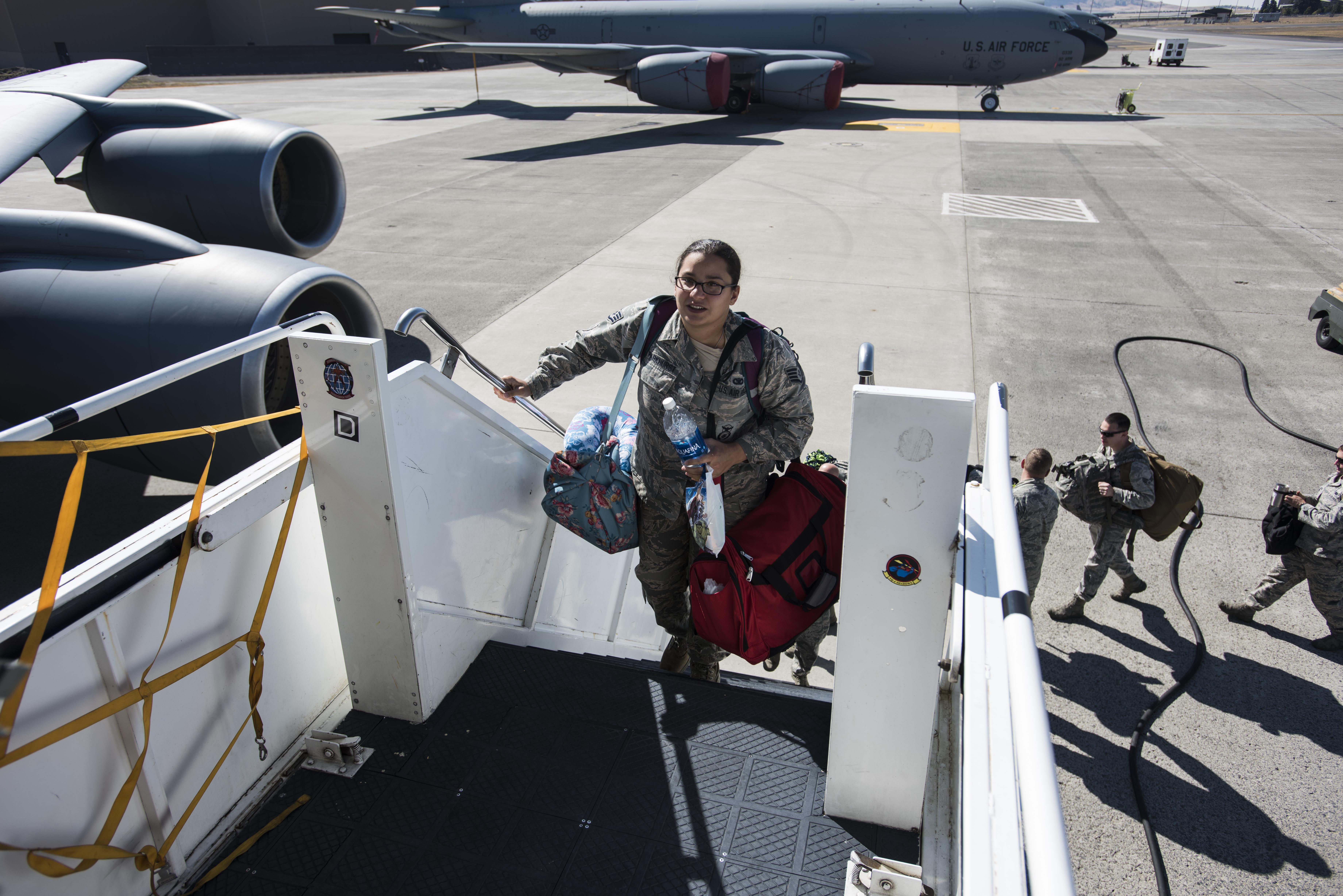 Staff Sgt. Emma L. Parkhurst, 141st Security Forces specialist, boards a KC-135 "Stratotanker" in preparation for deployment to the U.S. Virgin Islands, September 24, 2017, Fairchild Air Force Base. Wash. The Security Forces personnel will be providing security for military that are providing assitance to the recent hurricanes that swept through the Carribean. (Washington Air National Guard Photo by Tech. Sgt. Michael L. Brown/Released)
FAIRCHILD AIR FORCE BASE, Wash. – 16 airmen assigned to the 141st Security Forces Squadron, stationed at Fairchild Air Force Base, departed yesterday morning for the island of St. Croix in the U.S. Virgin Islands to provide security support in response to the aftermath of recent hurricanes.
"We are always ready to serve our neighbors and our nation," said Col. Johan Deutscher, commander, 141st Air Refueling Wing. "I am proud to say that for every request, national or local, that we have received, we always have volunteers, no matter what our airmen are asked to do, they always say yes."
Once on the island, the security forces team will be providing security for a Disaster Relief Bed-down System (DRBS). A DRBS is a temporary base camp shelter system designed to support up to 150 personnel with lodging, showers and other basic amenities.
"I am looking forward for the opportunity to help the local population," said Technical Sgt. Mark Green, 141st Security Forces Squadron. "I hope to help ease their pain and make things a little better."
Over the last two weeks, the 141st Security Forces Squadron was tasked with supporting fire operations in Washington.
"We are really excited to recently have had the opportunity to help locally with fire support and now assist another community in need," said Maj. Shannon Yellin, commander, 141st Security Forces Squadron. "Our airmen leaving today work in the local community as teachers, fire fighters, medics and law enforcement so we are sending a diverse and great group to help a community in need."
The Washington Air National Guard members will remain in St. Croix as long as they are deemed necessary to support the mission.
---