Guard, EMD prepares with community partners for flood season
---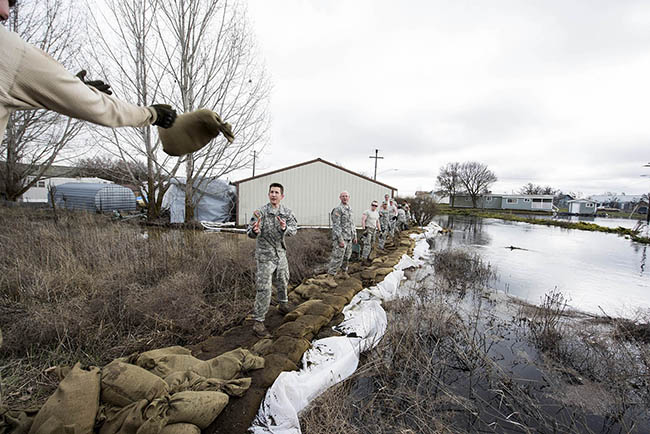 During times of disasters, Washington National Guardsmen routinely finding themselves working directly with emergency management professionals from across the state. Pre-coordination and synchronizing is key to finding success in these types of high stress situations. That's why the Washington National Guard Joint Forces Headquarters staff meet with 10 county emergency managers and planners from the Washington Emergency Management Division for a flood response workshop on Jan. 4, 2018 at Camp Murray.

"It isn't like the movies, we don't just roll into a situation," said Brig. Gen. Jeremy Horn, Commander, Washington Air National Guard. "We need to know what you need and, most of the time, it starts with knowing what we have."
During the half-day workshop, emergency managers learned about the Guard's capabilities, what the expected time frame for response could be and how the Guard could work directly with emergency management officials to provide counties the best option at the lowest cost.
"We want the counties to call us, and we will work to make sure they have utilized all local and state resources before we get the Guard involved in the disaster," said Alysha Kaplan, Mitigation Response & Recovery Unit Manager at the state Emergency Management Division. "We work with the Guard to ensure that we aren't pulling in traditional members while pulling them away from their civilian employer for no reason."
The meeting focused directly on counties that experience flooding traditionally.
"We have been working tirelessly on planning for a Cascadia Subduction Zone Earthquake, and we are getting great at fighting fires, but it is everything in between that we need to focus on," Horn said.
The Washington National Guard sent 40 soldiers from the 1041st Transportation Company to Sprague, Wash. in March 2017 to assist with sandbag filling, but hasn't seen a major activation for floods in 10 years.
"We want to provide the citizens of Washington with the best buy for the tax dollars," Horn said. "So, getting it right here, helps us get it right out there."
One way the Guard is getting it right is with the creation of "Mission Ready Packages." These are assets the Guard can call rapidly to get moving in the event of a disaster. These range from trucks and soldiers or airmen to the disaster relief bed-down system that was recently deployed for hurricanes in the south east United States.
"These packages are just examples of what we can do," said Maj. Marco Brettmann, Joint Force Headquarters, Operations. "We work with the emergency managers to provide the best assets available."
The Washington National Guard also is regionally aligned to deal with disasters in all corners of the state, with armories in 33 cities in Washington and full-time staff ready to deploy as needed.
"Our Rapid Response Force for floods can have eight full-time members move out to a disaster within 12 hours, operate for up to 72 hours, while providing enough time for us to get our traditional members in-processed, geared up and out the door," said Brettmann.
---