Fractured Grid tabletop focuses on recovery after the big one
---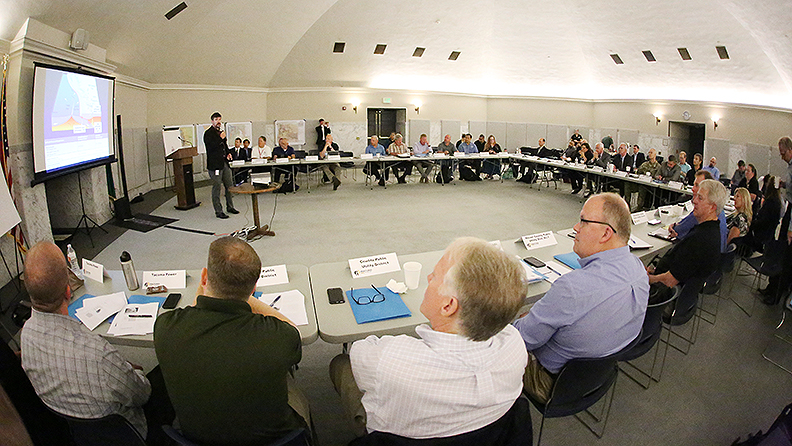 Earthquake Program Manager Maximilian Dixon talks about the devastating impacts of a 9.0 earthquake on the state to a tabletop of the power industry and state and federal officials.
Fractured Grid tabletop focuses on recovery after the big one
OLYMPIA – Dozens of officials from power utilities gathered on Aug. 23 to discuss how they could respond to severe power outages and system failures following a big earthquake.
The goal was to strengthen coordination among each other and between government agencies, such as FEMA, the Washington Emergency Management Division, the Bonneville Power Administration and the U.S. Department of Energy, who were also present for the tabletop.
One sobering reality emerged: It could take many, many months for residents to get power back, especially following a 9.0 earthquake and tsunami, which is expected to black out all the coastal areas and cause massive damage and deaths all over Western Washington. And line workers and the power industry in general will not be able to respond right away because they'll be coping with their own losses.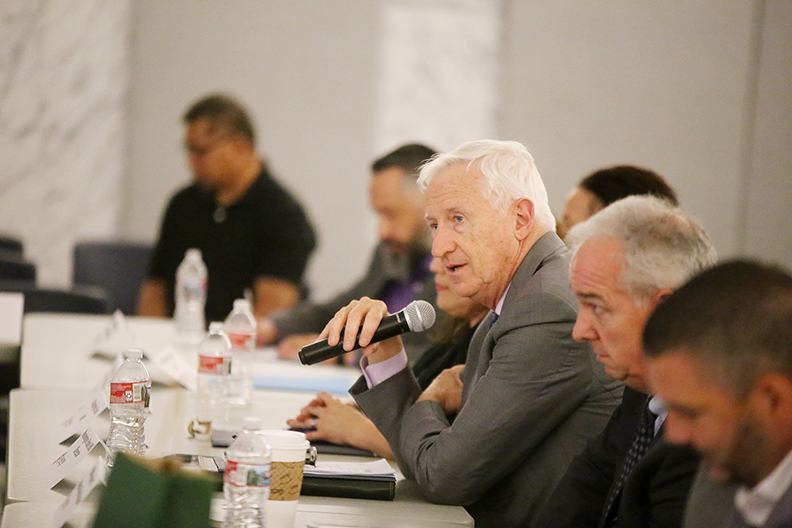 Washington Emergency Management Director Robert Ezelle.
"It's clear we need to build a resiliency of people – whether they're 2 Weeks Ready or even 30 days ready," said Robert Ezelle, the director of the Washington Emergency Management Division. "We also need to make sure all our employees take care of their families, especially line workers, who we'll all be depending on, too."
"Now that we know each other better, we also need to know what our plans and priorities are," added Mike O'Hare, the FEMA Region X administrator. "I look forward to further discussion. We can't plan until we understand. And let's continue our planning together as a team."
During the all-day meeting at the state Legislative Building in Olympia, industry officials prioritized who should get power back first and how power could be restored. They talked about the challenges of getting a distribution network up and running. With most of the region's power coming from dams, it's possible there could be some "pockets" of power that could be expanded.
But some equipment such as a new transformer could take a whole year to manufacture – and asking ratepayers to stockpile transformers may be a challenge. The question mused by industry officials is how much are ratepayers willing to pay now for an uncertain event?
Officials with the state Department of Commerce pointed out that federal funds can be used to help reimburse public utility districts during an emergency, but not private utilities, which take care of the power for 53 percent of the state.
"What items or investments can you make now in your infrastructure to help ensure they're not going to fail and they're still going to be there?" questioned Ezelle. "That way we can bring the grid and the system up that much more quickly because, ultimately, resiliency is about trying to bring our power grid and critical services back up, not necessarily preventing failure."
Some of the largest utilities in the state, including Puget Sound Energy, Snohomish County PUD and Tacoma Light, sat at the same table with smaller utilities, such as Centralia City Light. They all shared a common goal of working together, but also shared concerns with a fractured transportation network with dozens of collapsed overpasses over Interstate 5 and landslides likely blocking Interstate 90. There will be a heavy dependence on air and sea resources, which O'Hare says will be deployed to staging areas right away rather than waiting for someone to ask for help.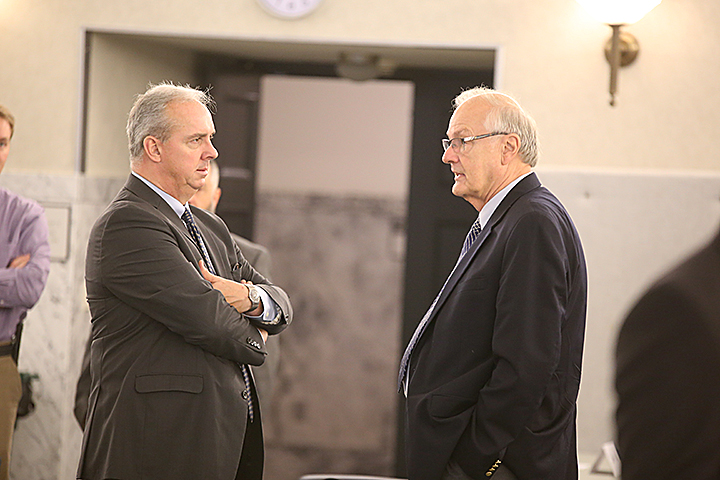 Mike O'Hare, the FEMA Region X administrator, speaks with Ron Weaver of the state Department of Health.
They also expressed concern about being able to communicate with each other and with the wider world if all the power is out, communication systems are down and the real-time ways to identify problems with the power grids don't work.
"It's like we'll be transported back to 1950," one member of Tacoma Light quipped.
"Or the dark ages," someone else added.
Some power utilities have satellite phones and radios, although there was a healthy conversation of doing more with HAM radio, which the state and FEMA will both be using.
Some utilities in Eastern Washington might be in a better position to take stock of the grid compared to anyone in Western Washington.
"A lot of faces are familiar to each other but the more time we spend in a room talking and doing this in an organized fashion, the better," said Tristan Allen, the private sector program manager for the Washington Emergency Management Division.
"I think we got to know each other a little bit more and the challenges we're dealing with and I think the big thing is what do we do next?" Ezelle said. "How do we put together something from these plans and build that integration with your industry to solve this. Because when Cascadia does happen, it's going to be our worst day and the worst day of our area and, guess what? Every day after that will be another worst day. We have a tremendous nut to crack here so the big thing is let's figure out how to do it."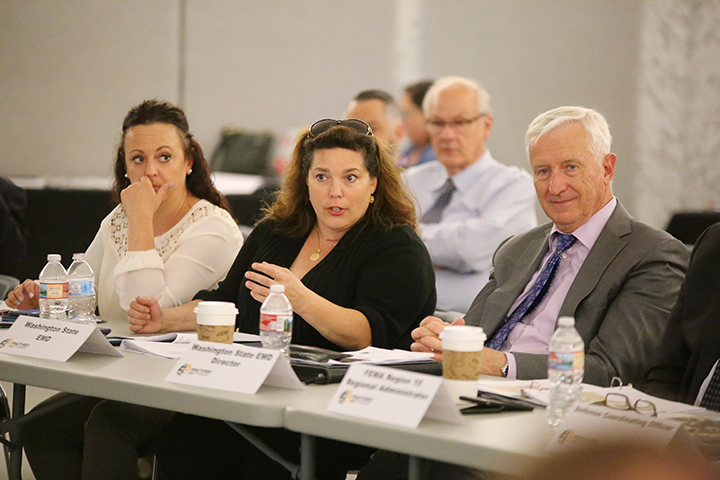 Mitigation Response & Recovery Unit Manager Alysha Kaplan makes a point during the tabletop exercise, sitting next to WA EMD head Robert Ezelle.
---