Earthquake program managers gather in Seattle for annual meeting
---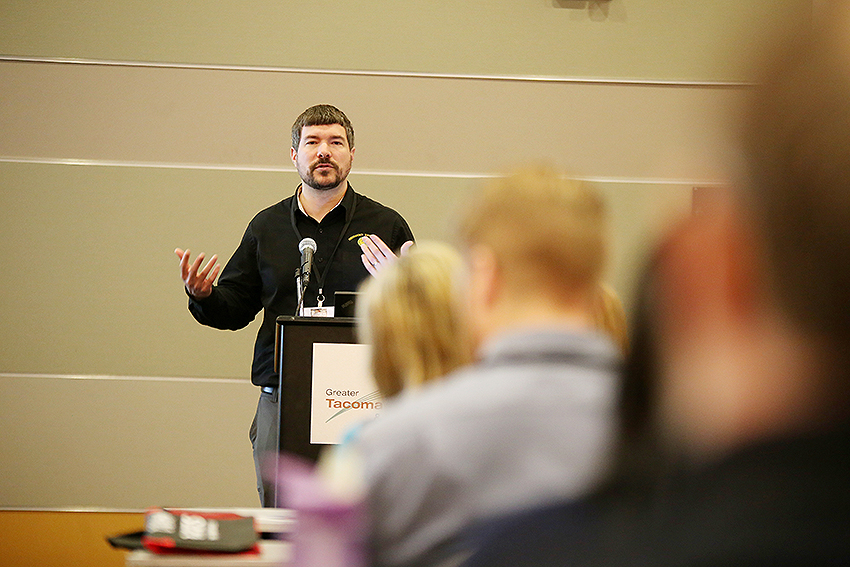 Washington EMD Earthquake Program Manager Maximilian Dixon talks about Earthquake Early Warning during a conference in Tacoma on April 18.
Earthquake program managers gather in Seattle for annual meeting
Dozens of earthquake program managers from around the country will converge in Seattle the week of April 30 to May 4 to compare notes and figure out ways to improve earthquake safety practices nationwide.
"Earthquakes have the potential to cause significant loss of life, destruction of infrastructure and personal property, and have devastating economic impacts," said Matthew Wall, chairman of the national earthquake program managers. "We don't know when or where an earthquake will happen, but we do know the total impacts of a catastrophic earthquake will spread far beyond the area or even the state where it happened. The impacts will be regional and potentially nationwide."
The 2018 National Earthquake Program Managers Meeting in downtown Seattle will start with field trips to explore the Seattle fault lines on Bainbridge Island. An earthquake on the Seattle fault could have major, damaging impacts on the Puget Sound region.
The first day of work sessions with state and territory earthquake program managers, federal agencies, and non-profit partners begins Tuesday, May 1 with a focus on sharing best practices between earthquake program managers.
A keynote address by City of Seattle Principal Engineer Jon Siu is slated for noon on Tuesday, May 1. Siu is representing WAsafe, a consortium of volunteer engineers, architects and building officials who will be called on in a disaster to help determine what buildings are safe to re-enter following a major earthquake.
Maximilian Dixon, the earthquake program manager for the Washington Emergency Management Division, notes that the Washington Emergency Management Division recently entered into a memorandum of understanding with WAsafe so that we can utilize them as a valuable resource to provide assistance during emergencies. (Download the MOU here)
"These amazing engineers, architects and building officials will be able to quickly deploy to do building assessments following a massive event," Dixon said. "It's truly an essential program that we're proud to announce at the conference."
Attendees will also be able to learn about different outreach strategies, improving school natural hazard safety, the latest on earthquake early warning programs, how Portland is handling unreinforced masonry buildings that other regions might be able to learn from and best practices when it comes to building codes. FEMA Region X Administrator Mike O'Hare, FEMA Assistant Administrator Nick Shufro, and Washington Emergency Management Director Robert Ezelle are also among the speakers.
"This is a gathering of earthquake community members to provide participants with technical and practical information on evaluating building vulnerability to earthquakes, improving building resilience, public education and outreach and coordinating available resources," added Wall, who is also the earthquake program manager for the Commonwealth of Virginia. "This meeting supports our understanding that shared impacts means we need each other's expertise and capabilities to be better prepared for and mitigate against an event."
The event is hosted by the state of Washington, the Cascadia Region Earthquake Workshop and Western States Seismic Policy Council with funding provided by FEMA and the National Earthquake Hazards Reduction Program.
The event is for registered guests only, but media are invited to attend. The conference takes place at the Crowne Plaza Hotel in downtown Seattle.

For interviews (on site for whole conference):
Maximilian Dixon, Washington Emergency Management Division
Maximilian.Dixon@mil.wa.gov
Matthew Wall, Virginia Department of Emergency Management
matthew.wall@vdem.virginia.gov

For coordination (on site May 1):
Steven Friederich, Washington Emergency Management Division
Steven.Friederich@mil.wa.gov
---