Deputy uses skills learned in the Guard to further career
---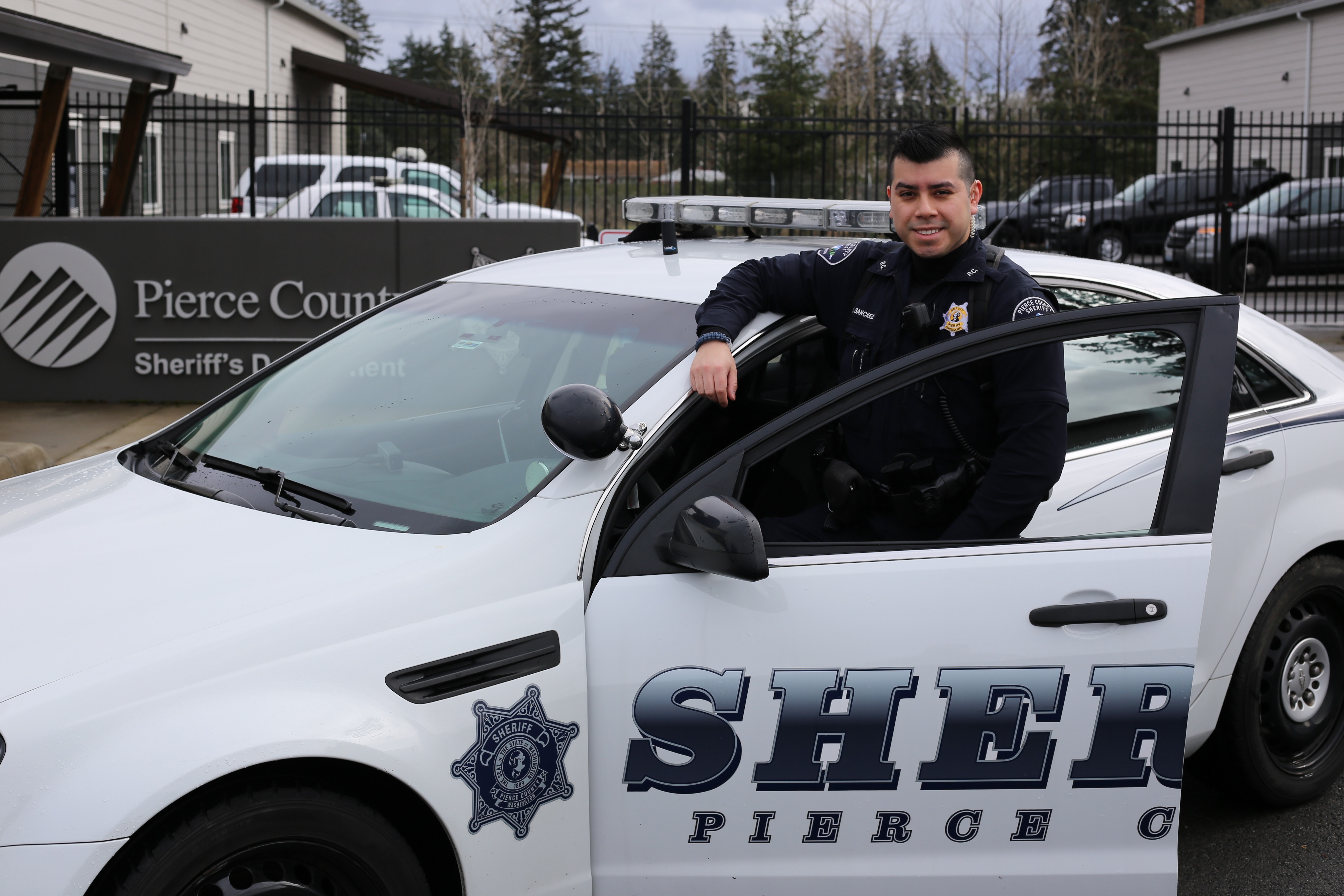 CAMP MURRAY, Wash. - When Deputy Sergio Sanchez arrived at the scene of a drive-by shooting during his night patrol shift with the Pierce County Sheriff's Department in Spanaway, Washington, he came upon a crime scene with a victim bleeding from his leg. Sanchez, 28, a six-year veteran in law enforcement, exited his squad car with his personal first aid kit and instantly went to work.
"I knew exactly what injury he had and immediately I knew what to do," said Sanchez. "It was essentially what I learned in [68] Whiskey school in San Antonio."
The victim had a bullet wound that went straight through his leg and was bleeding profusely. It took Sanchez three to five minutes to stabilize the victim's injuries with gauze and a tourniquet for transport to the local hospital.
Sanchez didn't learn his life-saving skills on the police force though. One weekend a month he serves as a Combat Medic specialist with Headquarters and Headquarters Battery, 2nd Battalion, 146th Field Artillery Regiment.
Having a career and formal military training with the Washington National Guard as a combat medic provides Sanchez an extra skill set that sets him apart from his peers on the force.
"We don't usually see that kind of qualification and experience with a brand new deputy," said Sergeant Glen Carpenter, Sanchez's shift supervisor.
Most deputies do not have formal training as a medic or a first responder. Having Sanchez's talent and ability to provide life-saving first aid to victims of crimes makes him a valuable resource to have in his precinct.
"[We] have a pretty diverse department and many of the different sections have people who are cross-trained in TCCC (Tactical Combat Casualty Care) but not at the patrol level," said Carpenter "He was probably selected for the extra talent that he has."
The drive-by shooting was not the only time Sanchez used his Army medic skills. A couple weeks after the drive-by shooting, he was called to the scene of a hit-and-run. He arrived on the scene and saw a man lying in the middle of the road.
"When we got closer we saw a large amount of blood coming from his head," recalled Sanchez. "He was not responsive and barely breathing."
That's when Sanchez's training kicked in and he was able to provide C spine control, a procedure that stabilizes the neck and spinal cord. He applied gauze and pressure to the head injury and soon the victim began to show signs of life.
"He eventually started moaning so that was a good sign. I just kept him stabilized until [the] fire [department] got there," Sanchez said.
Sanchez was hit with the medic bug when he was a young boy. His father, an Army veteran, asked him to clean out a closet in his childhood home. Little did he know that seemingly innocuous chore would send him on a path that would shape the person he'd become. As he was cleaning out the closet he came across an old first-aid bag from his father's time in the Army.
"[I] was immediately drawn to what was inside and spent hours studying the many different pieces of medical equipment," said Sanchez.
Sanchez, himself, doesn't think that he, alone, saved these two people's lives, but he was a significant contributing factor. As a combat medic he is trained to treat, stabilize and move them on to higher care.
"That's exactly what I do. I just treat and stabilize until fire personnel get there," said Sanchez. "They start doing more medical intervention [that I'm not able to do]."
Being both a law enforcement officer and a combat medic is the perfect combination. Training as a medic helps him be a much more valuable commodity to the profession that he loves so much.
"Being a deputy … I love it, not every day is the same," said Sanchez. "Being a medic adds a way for me to be helpful and effective to the citizens and my partners."
---