Better wi-fi, better mapping part of state EOC's COVID-19 response
---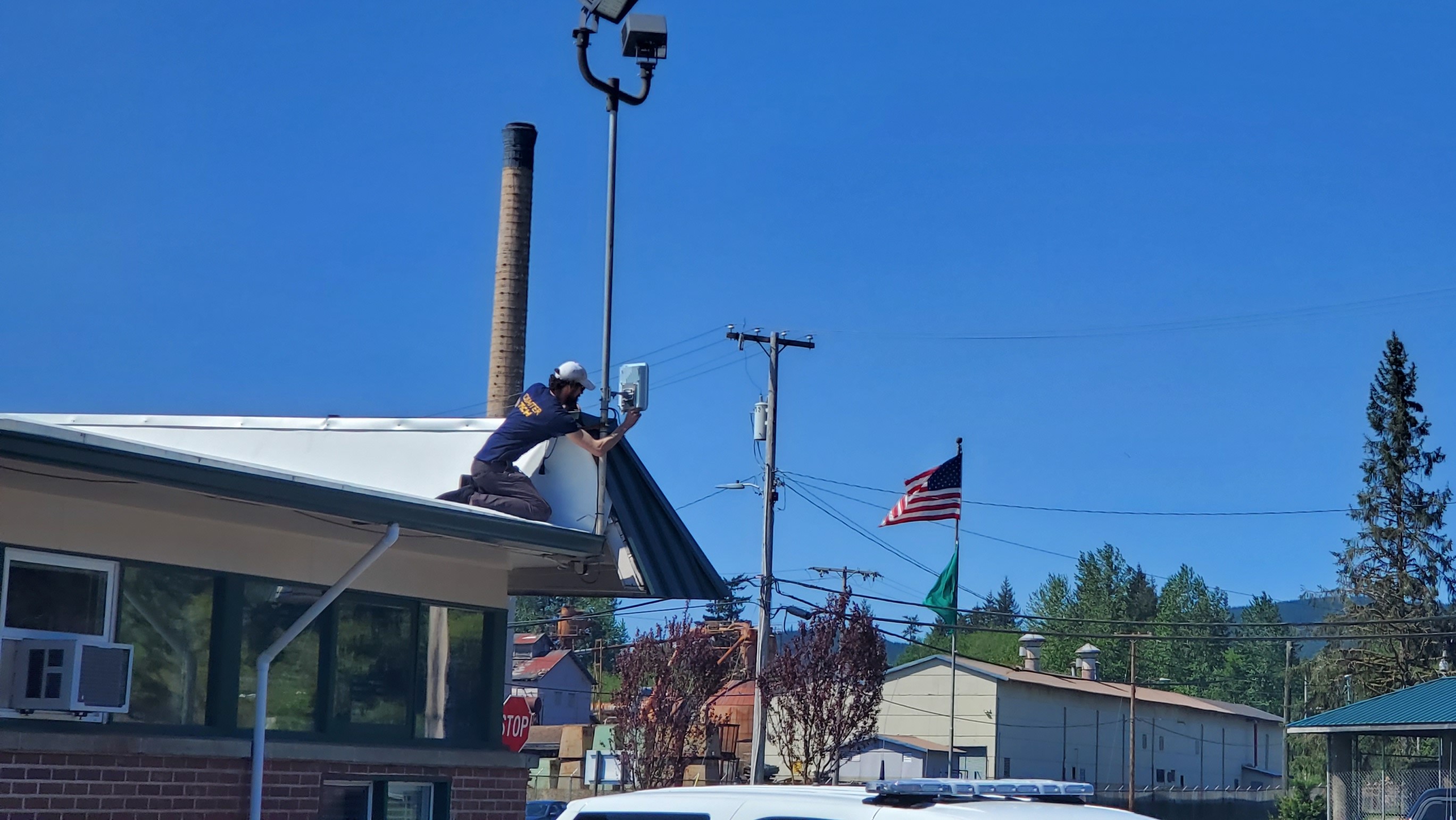 A technician installs free wi-fi on a roof in McCleary with the smokestack for a door factory in the background.
Technology improvements in the wake of the state's COVID-19 response has helped state agencies save lives – and will make permanent changes in the way residents can access wi-fi in rural areas.
Members of Washington Military Department's IT Division, which staff the Emergency Support Function 2 in the state Emergency Operations Center, not only mapped wi-fi networks across the state but found the critical funding for it, helping residents gain better access to tele-health services and ensure school kids could keep getting lessons from their teachers. Meantime, the GIS program within the Office of the Chief Information Officer along with the Washington Military Department, was able to push out a wi-fi map so residents could find drive-up wi-fi spots. They were also able to track the availability of childcare facilities and crafted specialized maps that enabled health officials and the Governor's Office to track COVID-19 cases in real time. The work was in conjunction with ESRI, a private company specializing in GIS work.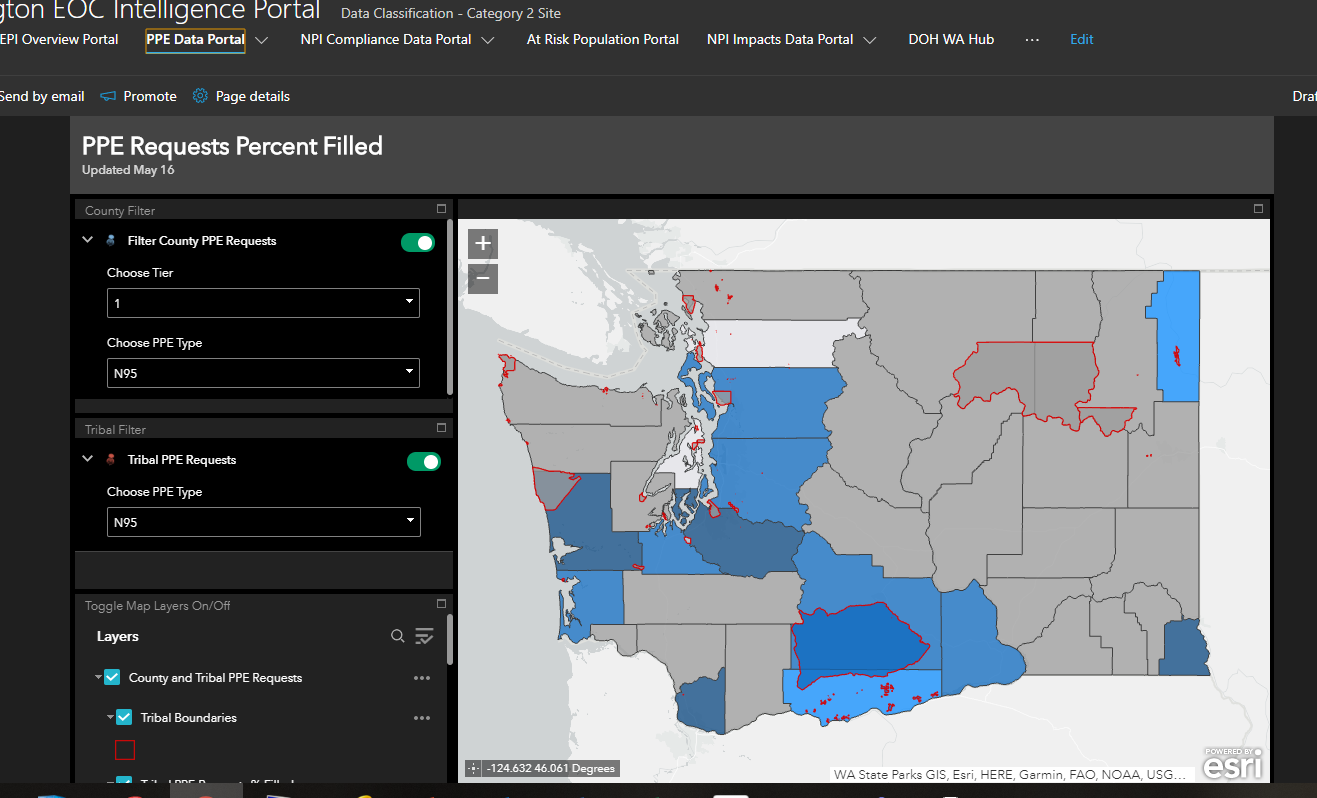 Specialized maps help the state EOC track what jurisdictions need PPE.
Rick Geittmann, a Web & GIS Technician for the Military Department, said there was an early effort back in March, working with the Secret Service, doing situational spatial mapping when Vice President Mike Pence visited the state Emergency Operations Center. Geittmann said his team's efforts have also been working on maps related to compliance with the governor's stay home, stay healthy orders as well as ways to track how much personal protective equipment is being ordered and ways to display the statewide COVID-19 cases each day.
In addition, displays were created to track where kids could get meals to eat, which communities and schools were closed, how donations were being managed, as well as testing sites and population mobility tracking.
He said he worked hand-in-hand with the state EOC's intelligence division to ensure the governor had the most up-to-date information possible before doing his regular press briefings and making big decisions, such as continuing the stay home, stay healthy orders.
"I'm really proud of what our team has accomplished and how we've been able to help not just the Governor's Office, but the entire state," said Lisa Zolman, the deputy chief information officer for the Washington Military Department.
The tight collaboration between the Military Department, ESRI and the state Office of the Chief Information Officer has resulted in three widely used web pages that track key data by location. The first gathers and tracks COVID-19 cases as identified by the Washington Department of Health and displays it by county. The second, developed in association with the Washington Department of Commerce, gathers and displays Wi-Fi "hot spot" information across the state. It is used to help support telemedicine, telework and distance learning in schools. A third site tracks the availability of childcare facilities, a useful tool for workers who are classified as "essential" during the pandemic and need to find day care options.
Taylor Hennessee, the Business and Infrastructure Branch Director for the state Emergency Operations Center, said the displays and the critical help from the IT Division has had a lasting impact.
Rich Hall, the Emergency Telecommunications Lead Engineer at the state Emergency Operations Center, said he worked with partners at the Washington State Broadband Office and Northwest Open Access Network to increase wi-fi access to rural areas in particular.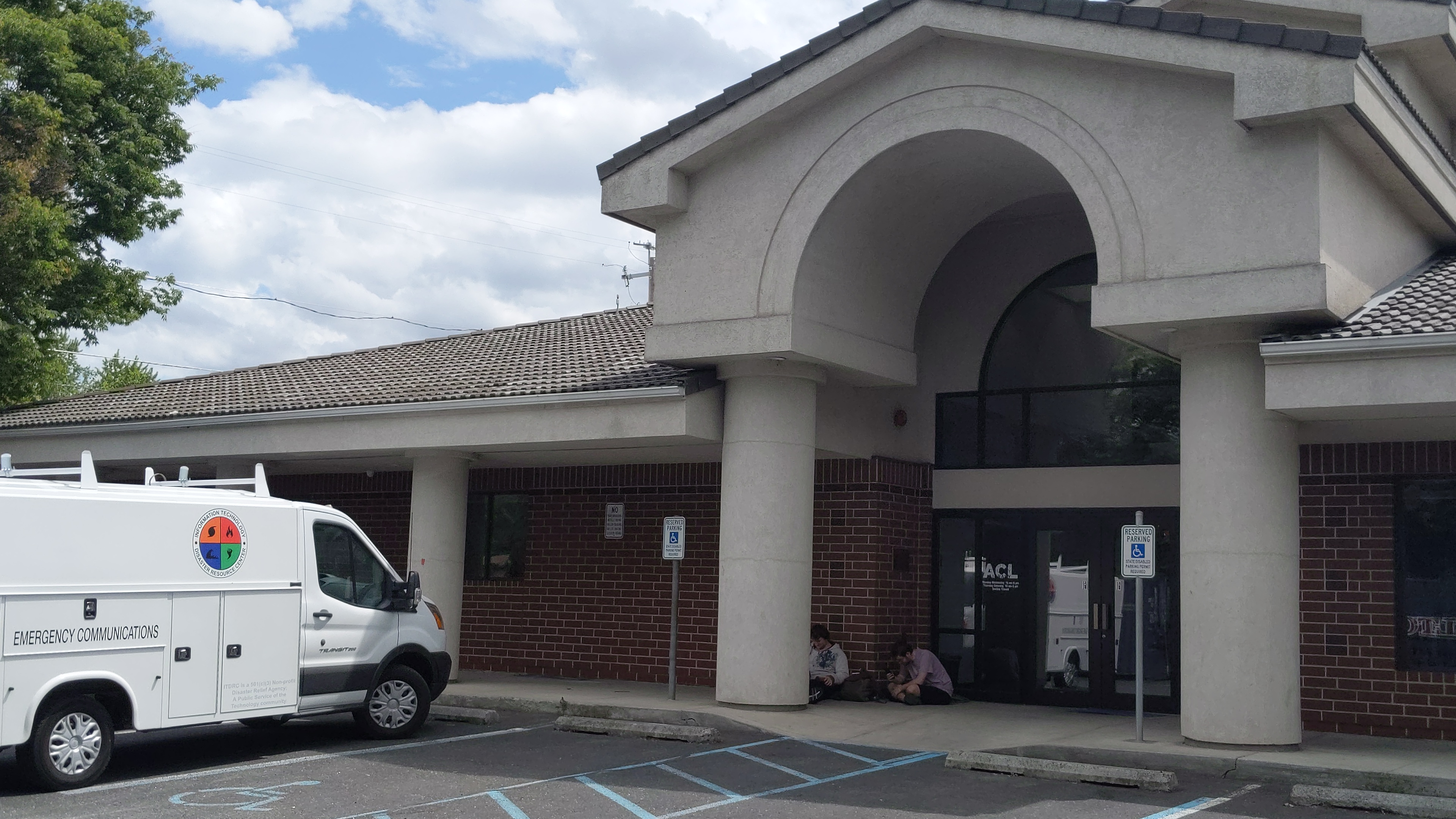 People sit in front of a library in Asotin County minutes after the free wi-fi is installed.
There are now drive-up wi-fi hot spots all over the state, which are safe and offer high speed access.
Hall and the rest of the Military Department's IT Division has been building relationships with the private sector as part of the internal Washington Emergency Communications Coordination Working Group, known across the state as WECCWG.
Those connections led to the non-profit Information Technology Disaster Resource Center out of Texas., which has committed to donating $7 million worth of wi-fi and network infrastructure across rural areas in Washington state. This is infrastructure that will remain in place – even after the pandemic has ended.
"I helped design the network," Hall said. "I began to identify sites, both using existing coverage maps and data from where we know people have free and reduced lunches in schools in socioeconomic disadvantaged areas. At this point, we have more than 400 sites lit up and plans for another 600 when it's all done."
These sites include schools, Public Utility District offices, libraries, community centers – and each and every Washington State University extension office, at least one in every county.
"Some of these places already offered wi-fi, but didn't have the infrastructure to put a whole lot of data out there or they had sub-standard access points that may only support five to 10 people at a time," Hall said. "We made a whole lot of upgrades. The minimum requirement is to cover a 2,000-square-foot radius around the distribution site so anyone can pull up or walk up and do education or telehealth services."
The wi-fi is also now more secure and has the ability to kill rogue signals that would otherwise hijack someone's computer and blocks malicious access points. Washington State University is handling the wi-fi at its extension branches while the Northwest Open Access Network is handling most of the other points.
Hall said he is also reaching out to tribal partners to help public safety communications potentially "ride this network" on tribal land.
"Before this pandemic, we knew there were dead zones on some tribal land," Hall said. "We have an opportunity here to help serve these rural communities that may stand the test of time and give people open wi-fi access they have been lacking," Hall said. "This would never have been possible without the investment of the Information Technology Disaster Resource Center."
Founded in 2008, the Information Technology Disaster Resource Center deploys volunteer tech teams and resources to impacted communities after catastrophic events to provide emergency lifelines to responders and survivors. The organization is a nationwide, volunteer-driven 501(c)(3) with more than 1,500 technical professionals throughout the US and its territories.
"This has been an amazing partnership," said Hennessee. "It's a huge win for our economic infrastructure and our response."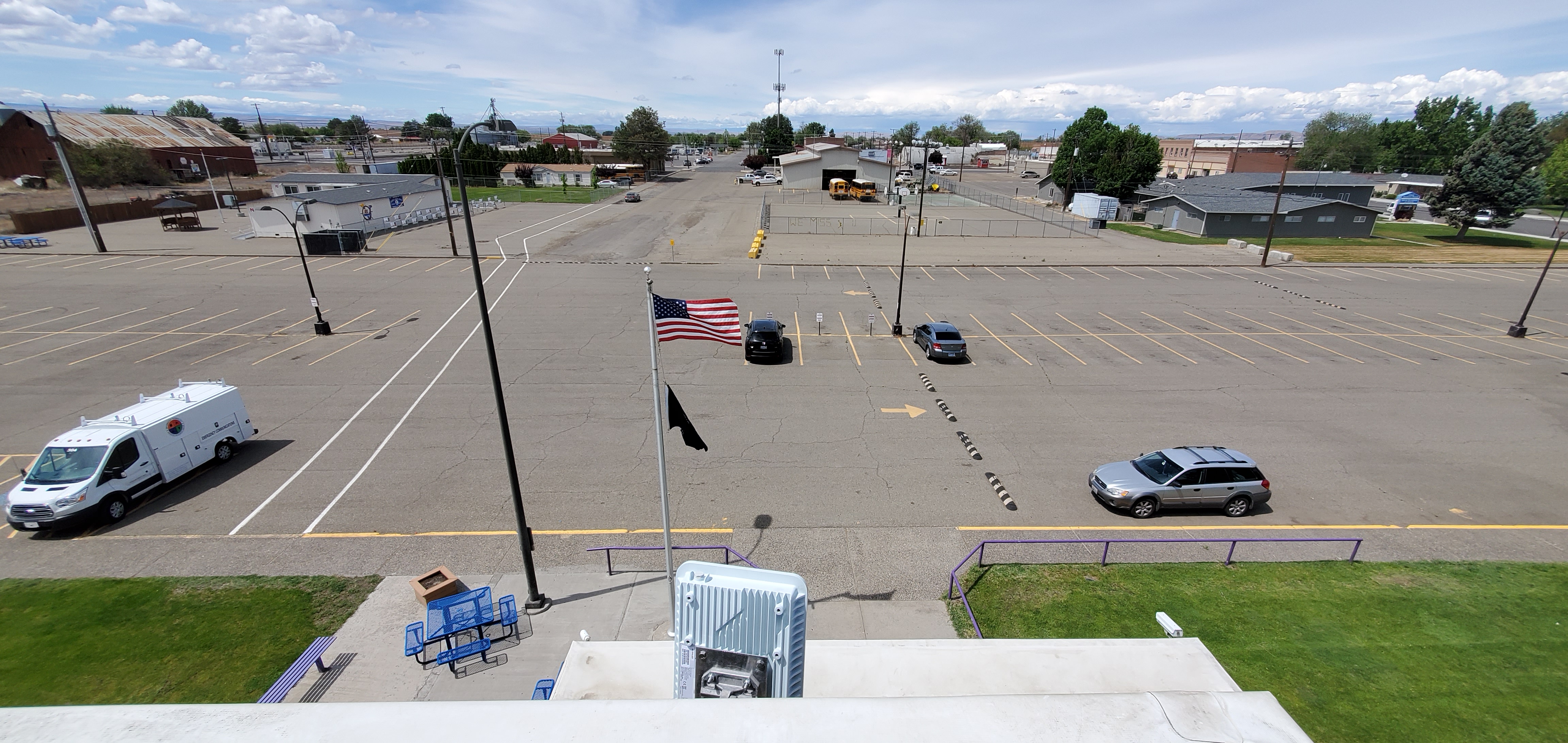 The view from the roof of the high school in Mabton, where a technician installed wi-fi for drive-up internet access.
In addition, Hall worked with private companies Verizon and T-Mobile and collectively had the companies donate more than 7,000 phones for folks in need, identified by the state Health Care Authority. The phones were free with subscription accounts paid for by the Federal Activation.
"I have a whole pile of stories where people saw immediate benefit from that," Hall said. "I had a little boy who hadn't been able to talk to his mom because she was in the hospital for weeks and his caregiver put a phone in his hand and he was able to not just talk to her, but FaceTime with her and it was really emotional. We've had homeless and people on public services able to find housing, get medication and services. The tangible good that has come out of this has been amazing for our citizens at large and I have been very proud of what we have accomplished here in the EOC. I'm in awe of what we've been able to accomplish."
Hall said he is currently searching for companies to donate tablets, as well, but that's been harder to get.
---