Air National Guard Team trains through Tropical Storm in the Pacific
---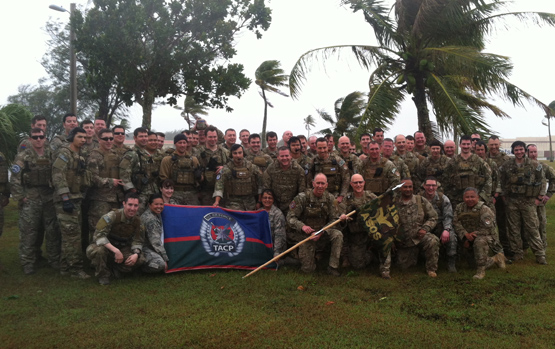 President Eisenhower once said, "The Plan is nothing, but planning is everything."
And for the warriors of the 116th Air Support Operations Squadron (ASOS) of the Washington Air National Guard, their recent training exercise in Guam was further proof of the wisdom of that old adage.
The 116th, based at Camp Murray, has a mission that requires them to deploy with ground combat forces and guide airstrikes onto the enemy in close proximity. Many times they are the voice on the radio that saves American and coalition soldiers' lives with their precise application of air power. They have also demonstrated that flexibility during recent operations in support of Washington state, providing help during the State Route 530 Landslide and wildfires in Central Washington. This ability to flex was put to the test when, during military exercises on the Pacific Island of Guam, a tropical storm arose out of season and threatened to savage the island. For a team of warriors living in tents, it posed more than just a training distraction.
After years of participating in combat operations across the globe, forging relationships with foreign allies, and being recognized for their combat excellence, the unit has rapidly shifted to support the growing demand for domestic operations support in addition to their wartime mission. The State Route 530 Landslide, the wildfires of 2014 and current preparations for a massive earthquake in Western Washington have driven the 116th,as part of the Washington Military Department, to shift toward domestic operations and a need for more dynamic preparation.
"We have an added need for 'big picture' training, to ensure we are taking the appropriate measures to integrate domestic operations training into our skill sets," said SSgt Dustin Woodford, 116th ASOS. "We have a responsibility to be prepared to assist with anything that may threaten our community, and we are not taking this responsibility lightly."
The unit recently went to great lengths to begin planning and resourcing a large scale movement of airmen, soldiers and equipment to a rugged field site in Guam and train across a broad spectrum of domestic operations and combat skill sets for two weeks. For the 116th team, this meant integrating both combat operations training with emergency disaster relief training within the same annual budget and timeline as previous years. Their innovative response was March's exercise Husky Machete 2015 in Guam. With the entire state preparing for large scale exercises and integrated training in 2015 and 2016, the 116th decided to work out the kinks in advance.
Husky Machete saw a full mobilization of not only the 116th ASOS, but also members of the entire Guard, Active Duty and foreign military spectrum including the Washington National Guard's A Co. 1-19th Special Forces Group, 194th Security Forces Squadron, 56th Theater Information Operations Group, 194 Med Group, Survival Specialists from the 36TRG, Fairchild Air Force Base, British Joint Terminal Attack Controllers and aircrews from the Tennessee and Missouri Air National Guard to provide the airlift there and back. With all of these organizations working together for nearly two weeks in a variety of combat and DOMOPs training events, it provided adifficult and productive test of interoperability for the entire team.
"Simply put, joint training allows for amplified cohesion and provides purpose to your training," said TSgt Travis Justis, 194thh Security Forces Squadron."The training value of an event like Husky Machete is undeniable when everything goes according to plan. But when a tropical storm threatened to derail the year-long plan, it pushed the training challenge to an even higher level. Just like both combat and domestic emergencies, Mother Nature did not follow the plan precisely.
Half way through the exercise, the island was recognized as being in the direct path of an approaching typhoon. This caused an immediate disruption in scheduling, and an opportunity to truly stress the leadership and members to not only continue to provide excellent training but also safeguard their membership from the potentially devastating effects of a Pacific storm. The 116th core planners swiftly returned to the planning table for a rapidly evolving series of new plans.
"It is often said thatexperience is something you get after you need it," said Lt. Col. Erik Eliel 116th ASOS Director of Operations. "We would rather encounter a lack of experience in a training environment and be better prepared for the real world." "Training such as this, especially when we face obstacles, allows us to prepare for a broad spectrum of contingencies, by utilizing integrated training we are afforded the opportunity to draw from the experiences and innovation of our partnering organizations as well as facilitate a unique level of preparation for future exercises and operations."
In the end, the 116th team was able to quickly modify their elaborate training plan and still complete a high level of training, continue to build relationships with partner organizations and, most importantly, ensure the safe return of the entire team involved in Husky Machete 2015.
Ultimately, they also achieved another critical goal - train their team on successfully adapting to overcome any obstacle that may be presented, whether on a foreign battlefield or in support of their neighbors here in Washington.
---