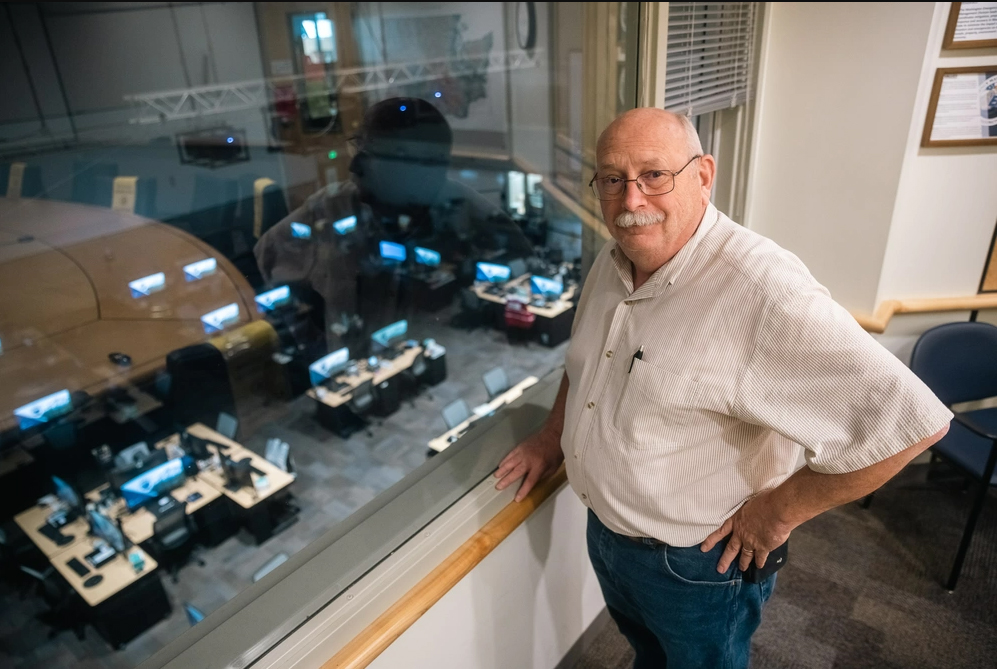 After decades in and out of uniform, deputy 911 director retires
---
When you ask Andy Leneweaver why he came to Camp Murray every morning for work for more than 23 years, his answer is always the same.
"I always told people my little red truck didn't know where else to go in the morning," says Leneweaver with a laugh. "I truly think it was the people and what we do here matters."
In December, Leneweaver retired from the Washington Emergency Management Division after more than 40 years of service to others in some capacity. He jokes that he was born into serving others. As a child he would help his dad, setting up tables and working events to spread information about firefighting. He became a volunteer firefighter before leaving high school and in July of 1982 he enlisted in the U.S. Army.
"I remember standing there at the military entrance processing station in Philadelphia and raising my right hand, swearing the oath," said Leneweaver. "I felt serving others is one of the most important roles we can do."
While on active duty at Fort Lewis in 1984, young Sgt. Leneweaver learned about the Washington Army National Guard Officer Candidate School program.
"It was right there in the Daily Bulletin, officer candidate school with the Washington Army National Guard. So me and a buddy decided to do it," said Leneweaver.
That is where he got his first taste of the Washington National Guard and Camp Murray. However, after completing the program in 1985, he went back to the active-duty Army and continued serving as a non-commissioned officer. In September 1985 he left active duty and decided to move to Colorado and began building a life there.
"I went to Colorado because my mom was there. And I am glad I did. I met my wife, I joined the Colorado Army National Guard and was commissioned as an officer with them," said Leneweaver.
The couple moved to Pennsylvania for new opportunities and quickly he joined the Pennsylvania Army National Guard before moving to the Army Reserves. His career was moving forward but it was fate that led them to Washington state.
"My wife learned while we were in Pennsylvania that she had a half-sister, so her and her siblings came out to Washington to meet her," said Leneweaver. "When she got home she said to me, if we ever move, maybe we look at Washington state. And I was fond of the area during my time at Fort Lewis."
He decided to start applying for jobs, and on a whim the couple moved across the country.
"We couldn't buy a home near Philadelphia, prices were outrageous. But once we got here we found a home right away," said Leneweaver. "I was able to move to the Army Reserve unit out here and continue my service."
Capt. Leneweaver at the time was drilling at Fort Lawson in Seattle, the old Army Reserve base, but knew he wanted something more.
"I reached out to some of my old OCS friends and immediately they began to recruit me to the Washington Army National Guard," said Leneweaver. "In May of 1996, I became a member of our aviation community, working with then Maj. Bret Daugherty."
Serving part time at first, Leneweaver became a federal technician in the Information Services department in 1999.
"When 9/11 happened, I always say that day changed my entire life," said Leneweaver.
Days after the attack on the nation, Leneweaver was activated to work at the Joint Operations Center where he helped deploy Guard members to airports across the state for Operation Noble Eagle, prepared soldiers from across the Washington National Guard for mobilization, and prepared himself for a mobilization.
"I was snatched up by the Special Operations Detachment for a deployment, it was the best year of my life in uniform," said Leneweaver. "As a signal officer, we always talk about the things you could do someday, like providing direct communications support from the battlefield to the White House. I got to do it."
After returning home, Lt. Col. Leneweaver was involved in several high-level Army National Guard positions and projects, including the creation of the 56th Theater Information Operations Group and the early conversation that led to the transformation of the 81st Stryker Brigade Combat Team.
"I got to be a special projects guy, the mobilization officer, the force integration officer, work directly with the operations officer and learn a lot about this place," said Leneweaver.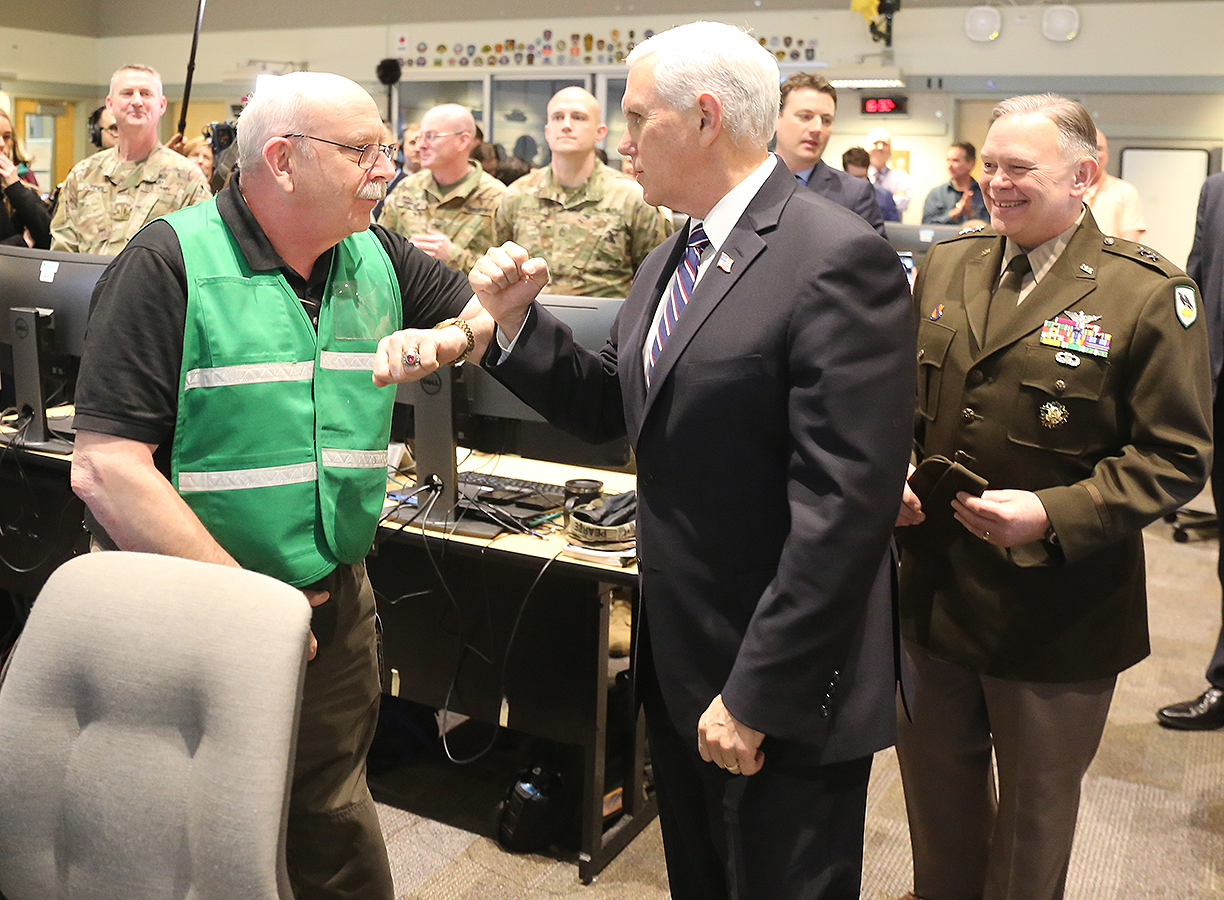 Leneweaver fist bumps Vice President Mike Pence, who was visiting the state Emergency Operations Center in 2020.
After leaving the full-time Washington National Guard in 2012, he took a full-time position with the Washington Emergency Management Division in the state's E911 section.
"We have a lot of services that people utilize in our state, but no matter where you are from or your background, everyone utilizes 911," Leneweaver said.
In the nine years since joining the team he said 911 has changed and grown so much.
"The growth is a credit to the people we have working here, from Ziggy [Dahl] and Adam [Wasserman]'s leadership to the individuals who have come and gone here, we have all had a part in making this happen," said Leneweaver. "We aren't here for us. We are here to help people get the help they need."
Leneweaver has also seen a lot of growth in himself through his time at Emergency Management.
"When I took this job, I didn't know it was a passion [Emergency Management] but it has become one of my passions and something I really enjoy," he said.
While he is walking away from federal and state service, he still plans to serve others as a volunteer for the Tacoma Fire Buff Battalion, an all-volunteer response team that helps to reduce the likelihood of firefighter injuries and death due to overexertion, strain, and/or cardiac incidents.
"We are out there giving them water, snacks, cold towels, anything that is going to help them do their job and stay safe," said Leneweaver. "I will also continue to support Veterans' Day and Memorial Day events each year, so I will continue to find ways to serve."
While Leneweaver will continue to serve others and admits he will miss the people, the one thing he will miss the most comes from the opening scene of the 1997 movie "Men in Black."
"I will miss the chase, by that I mean, chasing down solutions to complex problems. It's like how we build a Stryker Brigade in the Washington Army National Guard, how we provide support to those in need, how we make our program better and more user friendly," said Leneweaver. "I will miss that chase of looking at the whole situation."
---