176th Engineers Prepare For Wildfires
---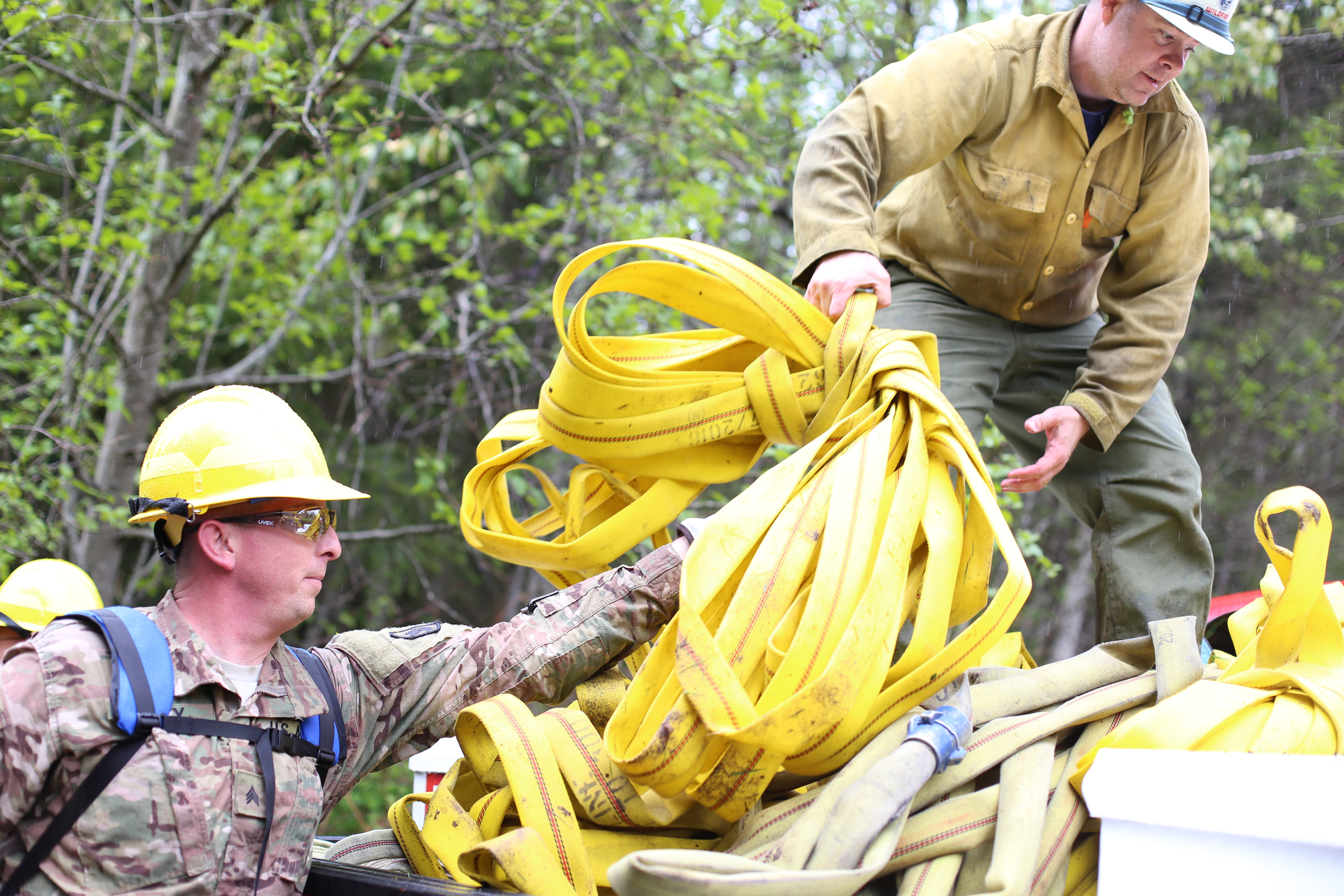 Smoke billowed from the dry ground, thrown across the landscape as though they were dark clouds on a summer day in Washington, but these were far from ordinary clouds.
In August 2015, 16 active wildfires torched more than a million acres of Washington's beautiful forests and plains. Homes across the region were decimated, possessions lost to the violent blazes, leading to a federal major disaster declaration by President Barack Obama.
By the end of that month, more than 500 Washington National Guardsmen were activated to assist the Washington State Department of Natural Resources (DNR) to extinguish the blaze during the worst wildfire season in state history.
These events serve as a constant reminder of the importance of firefighting training for both guardsmen and the DNR. No one person could stop all of those burning acres alone. That's why soldiers from 176th Engineer Company (Vertical), who recently returned home from a nine-month deployment to the Middle East, teamed up with DNR for a new round of fire training encompassing various wildfire containing and extinguishing tactics.
"It takes a lot of teamwork to put out fires," said Spc. Laurie LaFave, 176th Engineer Company, "Everyone has to keep themselves accountable, work together and apply the training to ultimately succeed."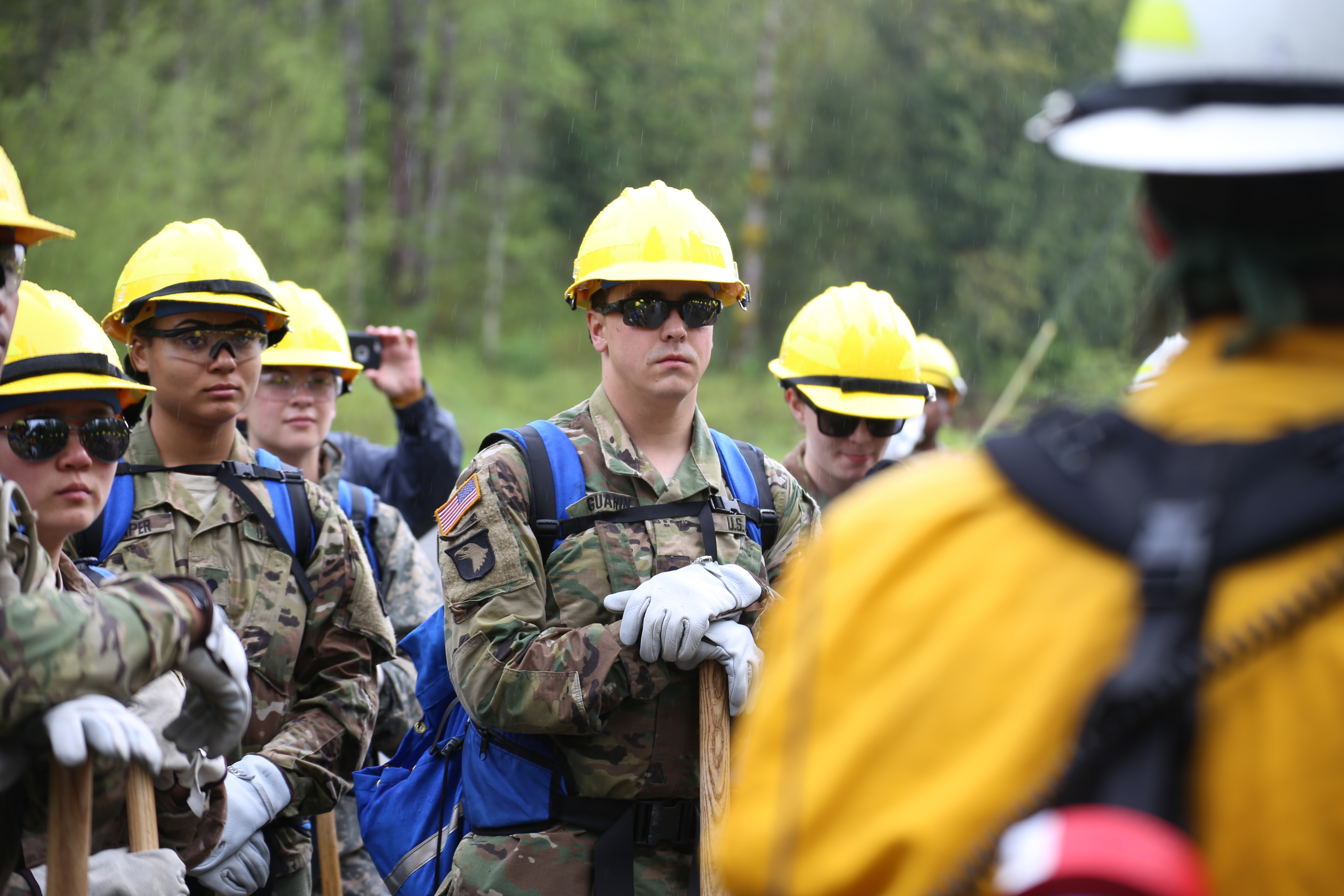 More than 800 Guardsmen in Washington have completed Red Card Certification training since 2013, when Maj. Gen. Bret Daugherty, the Adjutant General, put a renewed focus on this critical mission during Exercise Evergreen Ember.
"This has become the new normal," said Daugherty in 2015. "Our Guardsmen have to be ready to support as fires become larger and more intense."
After the wildfires of 2014 and 2015, the state felt some relief in the summer of 2016 without a major fire, but that doesn't mean that fire training was any less important.
For the citizen-soldiers of the 176th, the training consisted of several days of classroom activities to educate soldiers on wild and woodland fires followed by various exercises to test on the training they had received. Exercises included digging trenches to prevent fire from reaching potential wild fuel, proper use of hoses and familiarization with water pump assemblies.
"A lot of the training is new to us. Only one soldier in our unit has had previous volunteer firefighting experience," said 1st Lt. Sarah Drerup, 176th Engineering Company.
This exercise introduced unfamiliar but useful information and tactics to the soldiers. While the training proved to be vital in order to be proactive against possible fires in the future, the training also enhanced the partnership between the DNR and the Washington National Guard.
"The partnerships are very important to have, especially with the Department of Natural Resources," Drerup added. "Over the [last two] years we have deployed more than 2,000 National Guardsmen and our aviation units have dropped more than two million gallons over the years to support firefighting."
As the threat of wildfires looms just beyond the horizon in summer months, soldiers were required to take a week away from their civilian jobs and families to participate. The members of the 176th Engineers were excited for the opportunity to acquire this valuable training. Even though many of them just returned home, they answered the call without hesitation.
"All these soldiers live in Washington or are close to Washington. They are really committed to the community," Drerup said.
The constant selflessness of these participating agencies and service members hopefully provides state emergency managers and the public a sense of relief when it comes to the thought of the upcoming summer months where potential fire threats are always possible.
---