Washington National Guard breaks ground in Tumwater on new readiness center
---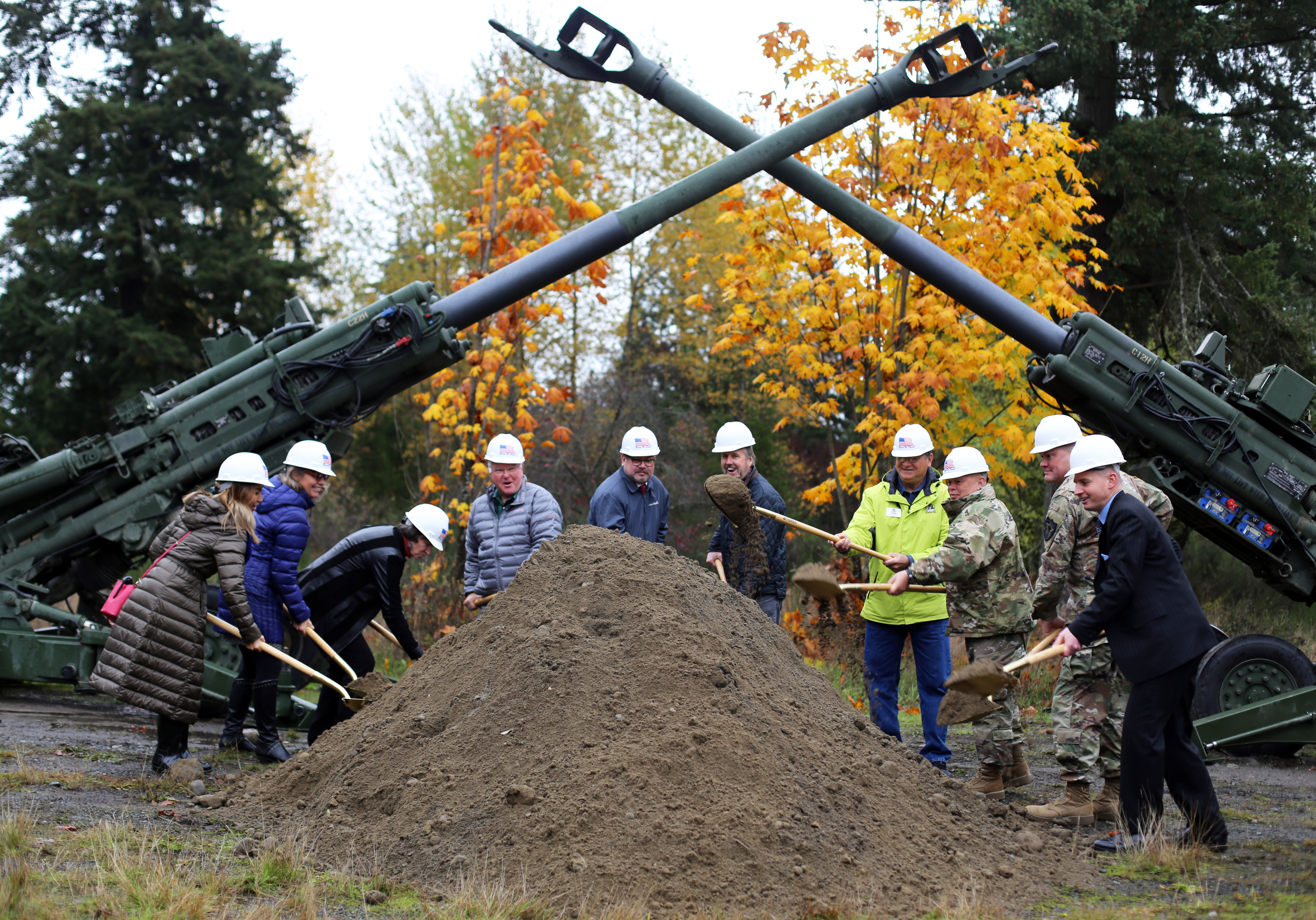 From left to right: Christine Nahn, South Sound Director for U.S. Senator Patty Murray, State Representative Beth Doglio, 22nd District, State Representative Laurie Dolan, 22nd District, State Senator Sam Hunt, 22nd District, Roel Van Der Lugt, Director of Military Affairs & Senior Policy Advisor for Congressman Denny Heck, Loren Pease, President, Pease Construction, Mayor Peter Kmet, Tumwater, Maj. Gen. Bret Daugherty, the Adjutant General, Washington National Guard, Command Sgt. Maj. Tim Durr, Sgt. Maj. 2nd Battalion, 146th Field Artillery and Adam Iwaszuk, Director, Construction and Facilities Management Office, Washington National Guard shovel dirt during the Thurston County Readiness Center groundbreaking ceremony on Oct. 25, 2018 in Tumwater, Wash. (U.S. National Guard photo by Joseph Siemandel)
With a focus on bringing modernized facilities to Guardsmen in the South Sound, the Washington National Guard broke ground on the Thurston County Readiness Center in Tumwater, Wash. on the morning of Oct. 25, 2018.
"Today has been a long-time coming; I want to thank you all for staying the course, staying patient and doing everything necessary to get this important facility built," said Maj. Gen. Bret Daugherty, the Adjutant General, Washington National Guard. "I can't tell you how much I appreciate the many, many hours our Construction and Facilities Management Office put into working with National Guard Bureau's staff to identify a site location, ensure environmental compliance and secure necessary funding."
Since 2011, the Washington National Guard has been busy modernizing aging armories and building new regional readiness centers to better support the growing demands of the organization. Facilities like the new Combined Support Maintenance Shop, Aviation Readiness Center, Pierce County Readiness Center and Information Operations Readiness Center replaced aging armories with new multi-unit facilities on Camp Murray and Joint Base Lewis-McChord.
However, the roots of the National Guard across the country has always been working in the community, which includes armories and readiness centers. This is what makes the Thurston County Readiness Center special because it is going to be built in the community and not on a military installation.
"This new building will help implement our long-held strategy to reduce our footprint, and build more regional centers," Daugherty said. "When it's all said and done – our soldiers will have a state-of-the art facility to train and deploy out of and our neighbors will have a modern facility to use as a community center and a home-base during disasters."
Once constructed, the Thurston County Readiness Center will be nearly 75,000-square feet of innovative space, will meet LEED Silver standards to include solar panels on the roof to generate additional energy for the Readiness Center and could potentially house up to 700 Guardsmen during an activation.
"We have exceptional soldiers who deserve an exceptional facility," Daugherty added. "For years, the Guardsmen from [2nd Battalion – 146th Field Artillery and 1st Squadron, 303rd Cavalry Regiment] have been working out of small, outdated facilities in Olympia and Puyallup."
Pease Construction, out of Lakewood, Wash., was selected to build the new facilities with a $35 million contract. Construction should take approximately two years, with an expected completion date sometime in the fall of 2020. The project includes the readiness center, a storage building and ample parking. The site is located kitty corner from George Washington Bush Middle School on Kimmie Street Southwest in Tumwater and provides great access to Interstate 5.
"We have a long history with the Guard, with projects at the Yakima Training Center, Camp Murray and Grandview. We are looking forward to this project," said Loren Pease, President, Pease Construction.
The Thurston County Readiness Center is just another step in the Washington National Guard CFMO's plan to update the facilities and give our Guardsmen the best facilities in the country.
"These units have been patiently waiting, today's ceremony marked a significant step closer to vacating their respective inadequate armories built in 1939 and 1954, and occupying a new, fully functional and equipped readiness center with modern technology and capabilities to accomplish their mission," said Adam Iwaszuk, Director, Construction and Facilities Management Office, Washington National Guard.
---