Washington Guard Marathon Team takes 1st in nation
---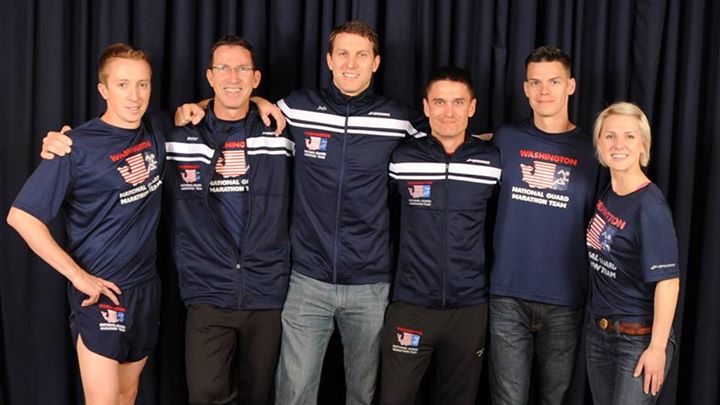 The Washington National Guard Marathon Team finished first in the nation.
Washington Guard Marathon Team takes 1st in nation
By Senior Master Sgt. Michael White
194th Regional Support Wing
The State of Washington National Guard Marathon Team finished first in the nation in the 38th annual Lincoln National Guard Marathon May 3. Four Washington runners qualified for the exclusive "All Guard" Team, with three also winning first place age division awards.
The annual marathon competition brought together teams of the best Army and Air National Guard athletes from all 50 states, and the U.S. territories of Guam and Puerto Rico. Participants vie to be on the "All Guard" Team, consisting of the top 40 fastest running Guardsmen and the top 15 Guardswomen.
Over 11,000 runners gathered on the first weekend in May for what they imagined would be a run-of-the-mill 26.2-mile race. The participants ran the citywide course that starts on the campus of the University of Nebraska, and finished on the 50-yard line of the Cornhuskers Memorial Stadium. Conditions became more of a challenge than the distance as temperatures climbed into the mid-70s which can feel like the upper 90s in direct sun, running in the thermals coming off the hot Nebraska blacktop.
Rookie Washington marathon team member 2nd Lt. Trevor Harris, 141st Medical Group, led the team with the fastest time of 2:54:28. Harris finished 5th place overall for Guard runners, winning a first place age division award and he qualified for All Guard.
"The best part is by far and away the comraderies that the other states' runners exude," said Harris. "These people see each other once, maybe a couple of times a year but they are incredibly friendly and sincere toward each other. Since it was my first time at Lincoln, and my first time with the marathon team, I can't speak more highly of my team coordinator and captain [White] for making me feel included, encouraged and welcome."
Capt. Brendan Thompson, HQ 81st Armored Brigade Combat Team, competed here for the 5th time. He finished with a time of 2:55:40, eighth place Guardsmen overall, and capturing first place honors in his age division. Thompson qualified for "All Guard" for his fifth time.
"The heat made the race a challenge but was rewarding to finish," said Thompson. "My time was slower than last year. It great to bring home 'The Cob.'" The Cob is a traveling trophy that symbolizes camaraderie, teamwork, competition and rivalry.
"We've been just outside of the top three teams for the last few years," said Thompson. "It was awesome to have a new team member who could finally help us bring it [1st place] home."
Earning a position on All Guard for his second time, was 1st Lt. Brien "BDubs" Waldron, 176th Engineer Company. Waldron ran his fourth Lincoln in a finish time of 3:05:38, fast enough for 20th place Guardsman overall.
"The best part about this race was finally figuring out my proper fueling plan to avoid cramping and finish pretty strong despite the conditions," said Waldron. "Overall I was relatively pleased with my time despite my rough training plan due to having a very demanding job and a recent civilian job change which required additional hours of work. The heat definitely impacted me, but due to racing the Yakima Skyline 50k race a few weeks before allowed my body to have a little heat training in which prevented a complete shock to my system."
Team Captain Senior Master Sgt. Michael "Whitey" White, 194th Regional Support Wing, returned for his 11th year in Lincoln. White crossed the line in 3:14:33 good for 1st place in his age division, and the 31st place Guard runner overall. He improved from being the team's novice rookie marathoner in 2004, to earning All Guard for his ninth time.
Also earning a position as an alternate on the female All Guard team in only her second year at Lincoln was Staff Sgt. Stephanie Riegler, 141st Information Operations Squadron. Riegler finished in 4:01:09 which earned her third place for her age division. "The best part of Lincoln is seeing all the 2014 All Guard members and knowing that I get to compete against some outstanding individuals. The heat definitely affected my run time. I would've appreciated rain," said Riegler.
The mission of the National Guard Recruiting and Retention Marathon program is for members of the "All Guard" to promote the Guard, and to enhance and increase its strength. All Guard members encourage and enhance Guard Recruiting and Retention programs by instilling physical fitness, self-discipline, and esprit de corps throughout the Guard. All Guard competes at military and civilian races across America as part of Military Competitions Programs.
---