Washington awarded grant for tsunami preparedness projects
---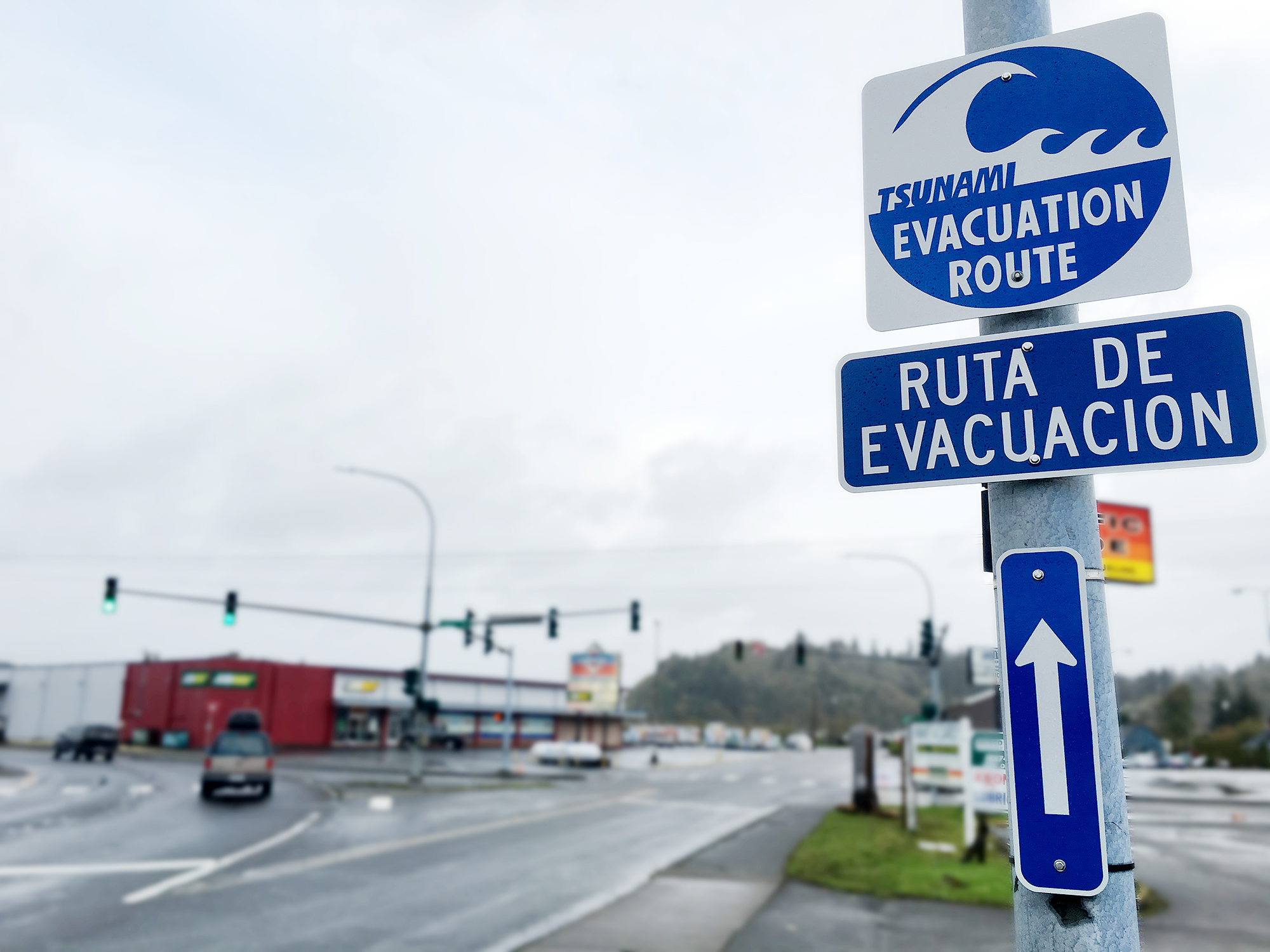 A tsunami sign in both Spanish and English in Aberdeen, Wash.
Washington awarded grant for tsunami preparedness projects
CAMP MURRAY, WA – A $693,068 federal grant will fund multiple tsunami preparedness projects aimed at increasing the resilience of coastal communities. The Washington State Tsunami Program is a state-level tsunami risk reduction program that, in collaboration with NOAA's National Weather Service and other federal, state and local agencies, and tribes, promotes tsunami warning system development, response planning, hazard assessments, preparedness and tsunami hazard mitigation among Washington's coastal communities in accordance with and in support of the National Tsunami Hazard Mitigation Program (NTHMP)'s strategic goals and objectives.
The Washington Emergency Management Division and the state Department of Natural Resources work together with coastal communities on projects that support the grant.
"The grant funds have been absolutely essential in helping Washington better understand and prepare for tsunamis," said Maximilian Dixon, the geologic hazards program manager for Washington Emergency Management Division. "This funding will allow us to now have 71 tsunami sirens along our most vulnerable coastal areas, so we can warn people and save lives."
Grant-funded projects will support:
The installation of two new AHAB tsunami sirens along with the sustainment and improvement of the states existing tsunami warning notification infrastructure. One siren will go in Pacific County and the other in Whatcom County. Exact locations have yet to be determined.
New tsunami evacuation and/or hazard zone signs in tsunami threatened communities. The grant covers the signs and local jurisdictions pay for installation.
Development and printing of tsunami public education and outreach materials.
Conducting public education and community-based outreach in collaboration with federal, state, tribal, and local partners in coastal communities including the annual tsunami roadshow presentations and NOAA weather radio training workshops.
Bi-monthly publication of the TsuInfo Alert newsletter. The official newsletter of the NTHMP serves not only as a communication tool on national and international tsunami hazard assessment and mitigation issues, but also provides tsunami information in non-technical terms to the tsunami community at-large. Available at this link.
The development of a best practices guide for building vertical evacuation structures in Washington, which is expected to be available by the end of 2018.
Publication of inundation models results for the Washington outer coast, Strait of Juan de Fuca and northern Puget Sound.
Tsunami hazard assessment modeling of Bainbridge Island and northern Whatcom county coastline based on Cascadia Subduction zone event.
Pedestrian evacuation modeling for communities along the Strait of Juan de Fuca or northern Puget Sound based on Cascadia Subduction zone event.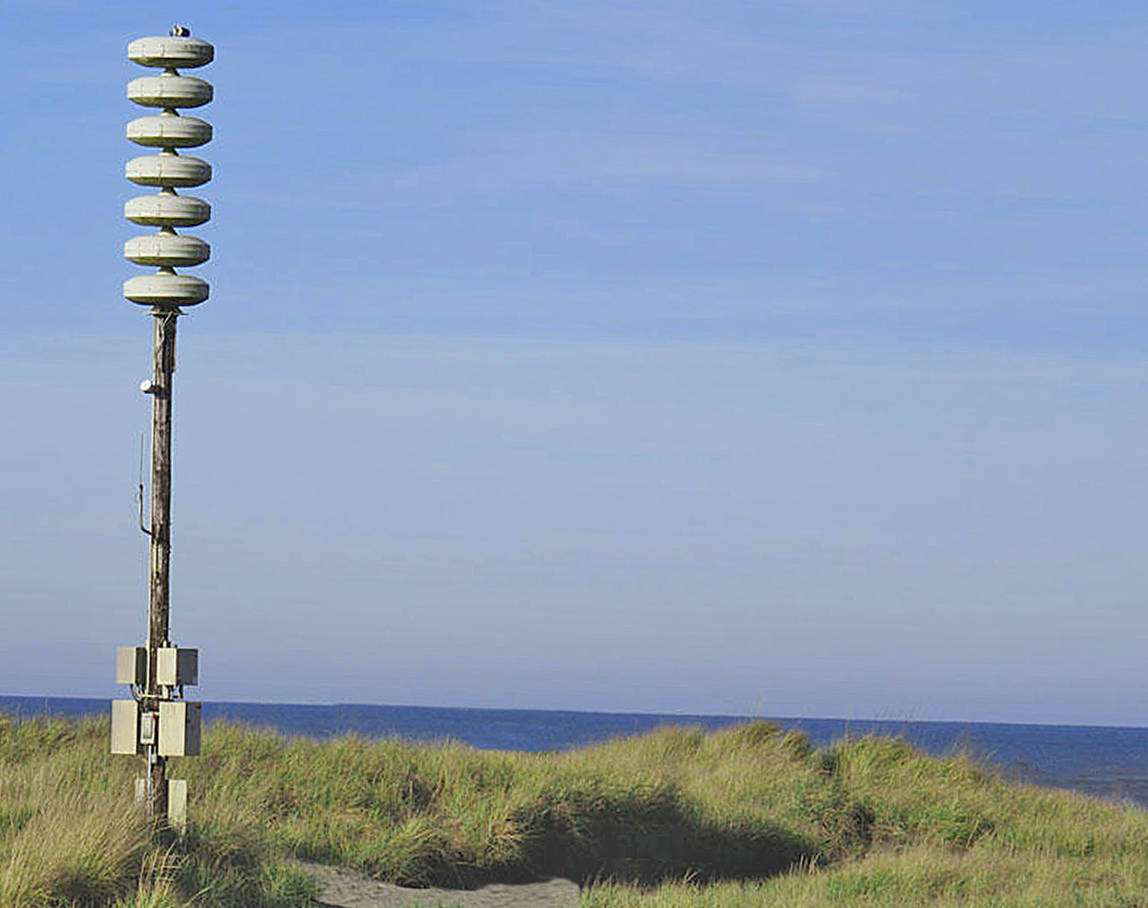 A tsunami siren in Ocean Shores, Wash.
The grant notification comes just days before Nov. 5, recognized as world tsunami awareness day.
Washington state's coastlines are especially vulnerable to a tsunami, not only from a Cascadia megathrust earthquake, but also from distant sources like Alaska and the Aleutian Islands. To help spread tsunami awareness and share innovative approaches to risk reduction before and after a tsunami, the United Nations General Assembly designated Nov. 5 as world tsunami awareness day, a day chosen to honor the actions of a Japanese farmer and village chief credited with saving hundreds of lives from a tsunami in 1854. After recognizing the signs of a tsunami, he set fire to his harvested rice crop to attract the attention of villagers near the coast. As the villagers rushed to help, he told them to keep moving up the hill to safety, where they watched the tsunami destroy their village. In the aftermath, he helped his community rebuild to better withstand future events for the benefit of future generations.
"Washington State has been hit by tsunamis in the past and it will happen again," said Corina Forson, Chief Hazard Geologist for the state Department of Natural Resources. "Thanks to this NTHMP grant, we have been able to map tsunami inundation for many of our most vulnerable communities. We continue to produce maps that show where tsunami waves could cause damage and loss of life and to produce evacuation maps that help people know where to go to get to safety."
As a partner in the National Tsunami Hazard Mitigation Program (NTHMP), Washington is eligible for grant funds from the National Oceanic and Atmospheric Administration's National Weather Service. Since 2008, Washington has received more than $6.76 million in NTHMP grants.
For more information about tsunami preparedness, visit https://www.mil.wa.gov/tsunami or https://www.dnr.wa.gov/tsunami
Tsunami inundation and evacuation maps are also at https://geologyportal.dnr.wa.gov/
---