WADS hosts dedication for F-15A Eagle
---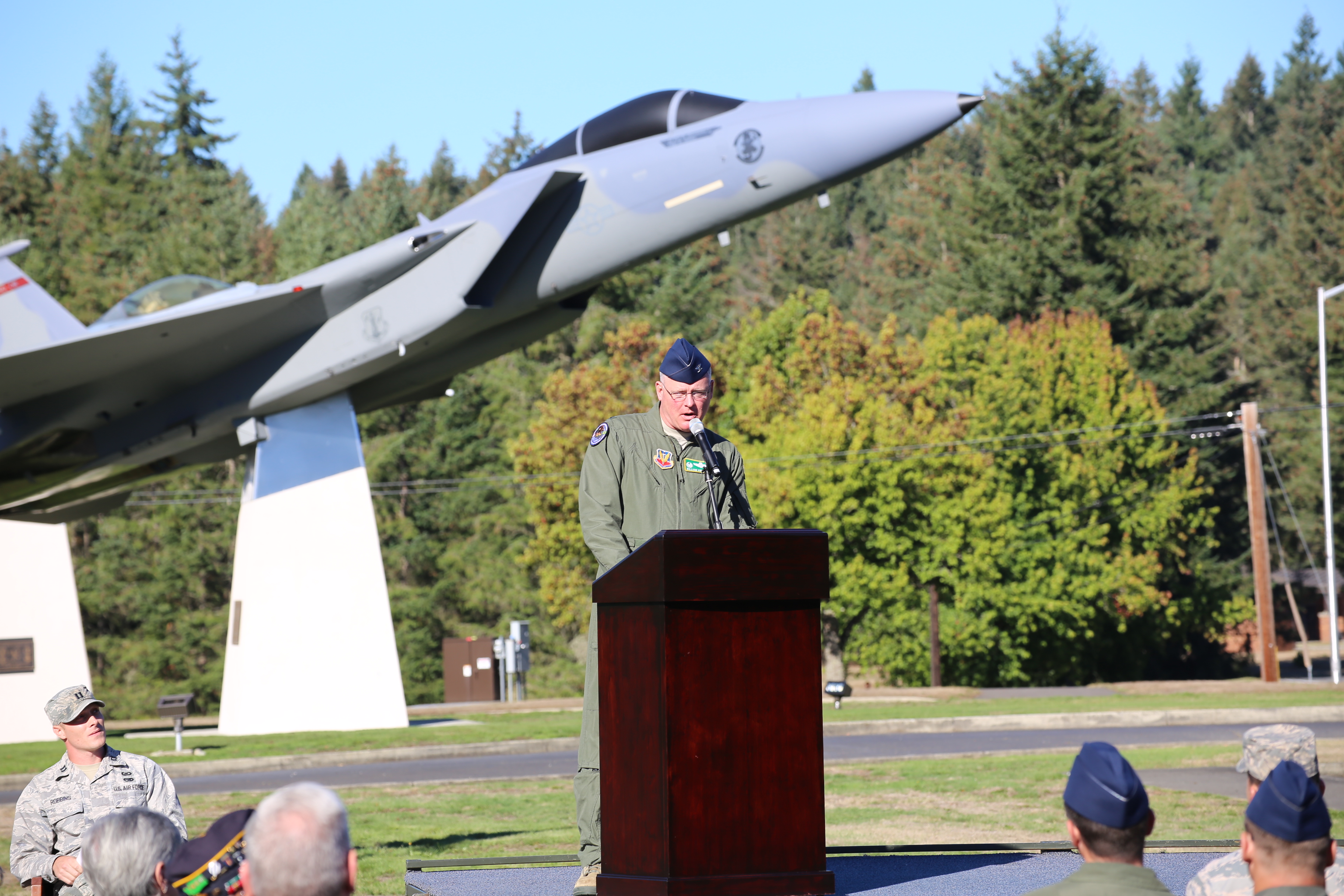 Col. William Krueger, Vice Commander, Western Air Defense Sector, address the a during a ceremony on Sept. 13, 2016. The dedication of the F-15 Eagle behind him is the third different Air Force jet that graces the entrance of WADS.
The Western Air Defense Sector (WADS) hosted a formal dedication ceremony Sept. 13 at the WADS Air Park for a McDonnell Douglas F-15A Eagle, S/N 76-116.
"The ceremony honors both the aircraft's legacy as America's premier air superiority and air defense fighter, and the men and women of North American Aerospace Defense Command [NORAD']s air defense enterprise, past and present, who have dedicated themselves to protecting our two great nations," said Col. William A. Krueger, WADS vice commander.
"The aircraft will remind our Airmen everyday as they walk into the building that since 1960 our core mission has always been protecting the homeland. First as the Seattle Air Defense Sector, then the 25th Air Division, and finally as the Western Air Defense Sector."
The aircraft has a long and varied history before making its' permanent home in front of WADS on Joint Base Lewis-McChord. It became operational at the 48th Fighter Interceptor Squadron, Langley Air Force Base, Va., flying air defense missions in support of the NORAD from 1983 to 1986. It was later assigned to Holloman Air Force Base, N.M., from 1989 to 1996 with the 49th Tactical Fighter Wing, 8th Tactical Fighter Squadron.
Before going to the Aerospace Maintenance and Regeneration Group, known as the "Boneyard" at Davis-Monthan Air Force Base, Ariz. in 2004, its' final assignment was to the 412th Test Wing, Edwards Air Force Base, Calif., where it performed as a multi-role test support aircraft. This aircraft is one of only a few F-15s configured for anti-satellite weapons employment by carrying the ASM-135 Anti-Satellite Missile.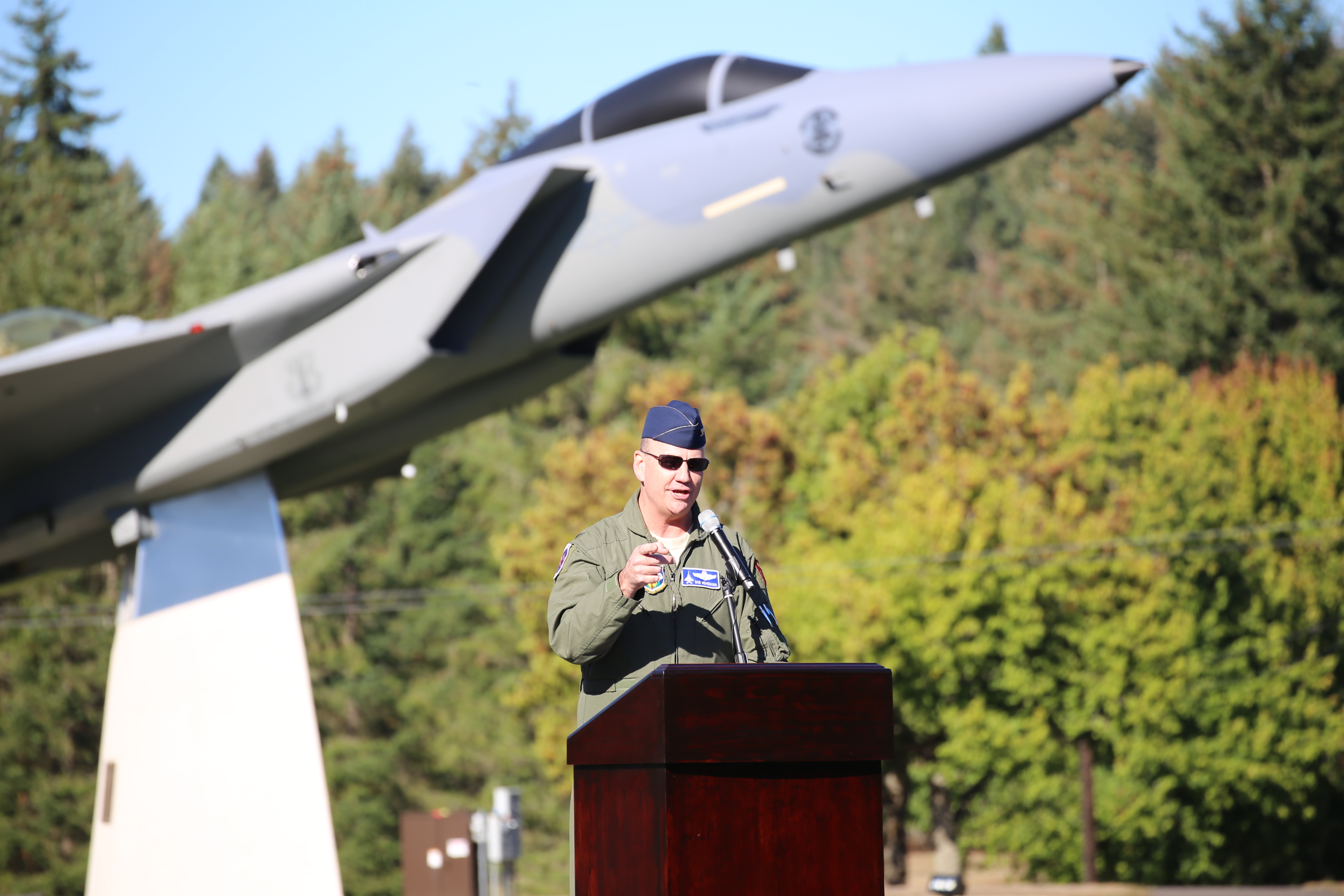 Col. Robert Hehemann, IMA to NORAD Director of Operations, address the a during a ceremony on Sept. 13, 2016.
"It was an honor to have Col. Robert Hehemann as our guest speaker because of his wealth of F-15 knowledge since he was one of only three U.S. Air Force F-15 pilots who has three confirmed air-to-air combat victories," commented Krueger.
Hehemann has served over 28 years in the active duty Air Force, Air National Guard and USAF Reserves and is currently the Individual Mobilization Augmentee assigned to the NORAD/US NORTHERN Command J3 Operations Division.
The ceremony was highlighted with a two-ship F-15 flyover from the 142nd Fighter Wing, Oregon Air National Guard, which was only fitting since the dedicated aircraft is painted with the 142nd FW "Redhawks" tail flash.
---