Vast improvements being made in tsunami preparedness
---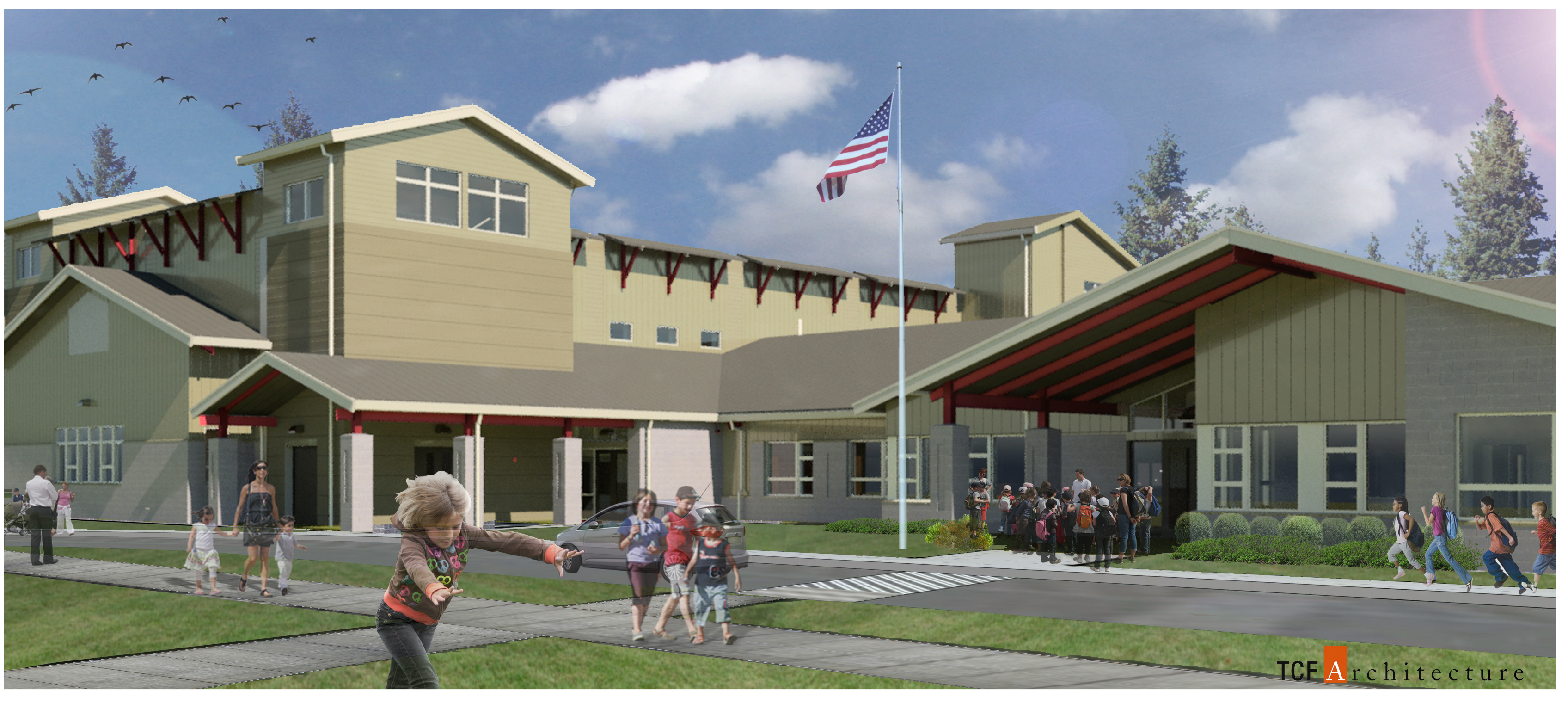 A rendering of what the tsunami evacuation center might look like.
Contact: John Schelling
Interim Mitigation & Recovery Section Manager
Washington Emergency
(253) 512-7071
John.Schelling@mil.wa.gov
Ten years ago, the thought of a vertical evacuation center to gather in the face of an impending tsunami seemed like an impossible dream. But state and local emergency management officials have worked hand-in-hand with the Ocosta School District to help guide the process – and the innovative approach now under construction near Westport is receiving global attention.
The nation's first vertical evacuation center is under construction today and will open next year. It's just one of the many ways the state of Washington is better prepared for a tsunami today compared to 10 years ago, when we were reminded how fragile our coast could be following the devastating "Boxing Day" earthquake on Dec. 26, 2004 that struck off the coast of Indonesia, sending a massive tsunami that devastated the island and damaged areas more than 3,000 miles away. The largest wave hit Indonesia, Thailand, India and Sri Lanka, and reached as far as the shores of Eastern Africa. The earthquake and tsunami claimed between 230,000 and 280,000 lives and caused billions of dollars in damage.
John D. Schelling, the Interim Mitigation & Recovery Section Manager for the Washington Emergency Management Division, notes that in 2004, there were absolutely no tsunami warning sirens along the coast of Washington state. Today, there are now 58 sirens located along the coast and the Strait of Juan de Fuca with plans to install another 40 in future years, if funding is identified and available. The system is now tested by local emergency management officials on a monthly basis using redundant communication pathways.
In 2004, few tsunami hazard zone or tsunami evacuation route signs were in place, and those that were installed were frequently stolen or taken down. Few evacuation routes and brochures existed. The number of signs and published evacuation routes now numbers in the hundreds. The city of Aberdeen, for instance, has established a "yellow brick road" – where yellow markers have been placed showing residents how to get to a higher path by walking, acknowledging that in the face of a tsunami or major earthquake, many roads may be impassable. Small yellow reflective rectangles on roadway edge markers around the city help lead pedestrians to assembly areas. Aberdeen was the first in the nation to adopt the system, which has since been replicated in other communities.

Emergency Management has also worked in conjunction with the state Department of Natural Resources to develop tsunami inundation maps so the public can see the real dangers of how far a tsunami wave could impact their neighborhoods.
Before the 2004 tsunami, many coastal schools and community facilities did not have a NOAA All Hazards Weather Radio to receive tsunami warnings. By 2010, every school and essential facility along the Pacific Ocean and Strait of Juan de Fuca coasts have a NOAA Weather Radio and have been trained on tsunami alerts and the appropriate actions for the varying alert levels.
"The 10th commemoration of the 2004 Indian Ocean Tsunami reminds us of the progress we have made as a state and a nation to become better prepared for earthquake and tsunami emergencies," Schelling said. "However, this commemoration falls a month before the 315th anniversary of the last Cascadia Subduction Zone earthquake and tsunami on Jan. 27, 1700. The Cascadia Subduction Zone is a fault located off the coast of Washington State, which is capable of producing a Magnitude 9-plus earthquake and a large tsunami, not unlike the one that impacted countries around the Indian Ocean."
Schelling says he's optimistic that things are better today than a decade ago, but notes that residents should still make sure they have the needed supplies – including a 72-hour kit, a NOAA Weather radio and make sure to at least know the closest evacuation routes around their community if the word comes and they need to get to higher ground. At a worst case scenario, there may be just a 15- to 30-minute warning of an impending tsunami following a Cascadia Subduction Zone earthquake for some of those who live along the coast. However, depending on where the earthquake originates, there may be a few hours' notice, as well.
That's one of the reasons the vertical evacuation center is under construction at the Ocosta School District near Westport, which was approved in a bond by the local school district voters in April of 2013. The project utilizes the principles designed in Project Safe Haven, a Washington Emergency Management Division project that looked at methods to create artificial high ground through buildings. Plans are now in the works for additional structures and locations around the coast should funding be identified.
Schelling also notes that in 2004, there were two communities recognized by the National Weather Service as TsunamiReady -- the City of Ocean Shores (the first TsunamiReady community in the U.S.) and the Quinault Indian Nation (the first TsunamiReady Indian nation in the U.S.). By 2010, 15 communities and tribes received this recognition for taking additional steps to improve public safety. All of the Pacific Ocean Counties have obtained this National Weather Service recognition.
Important Links
Tsunami Fact Sheets for local areas and Project Safe Haven Information: http://mil.wa.gov/tsunami
Tsunami Inundation Maps:
http://www.dnr.wa.gov/Publications/ger_tsunami_inundation_maps.pdf
List of TsunamiReady communities: http://www.tsunamiready.noaa.gov/ts-communities.htm
Western State Seismic Policy Council looks at tsunami preparedness 10 years later:
http://www.wsspc.org/news/press-releases/
What has Oregon done? http://t.co/HAwQzgcaVH
Follow us on Twitter: https://twitter.com/waEMD
---