Seahawks flag flown in Kuwait to be donated to WA National Guard Museum
---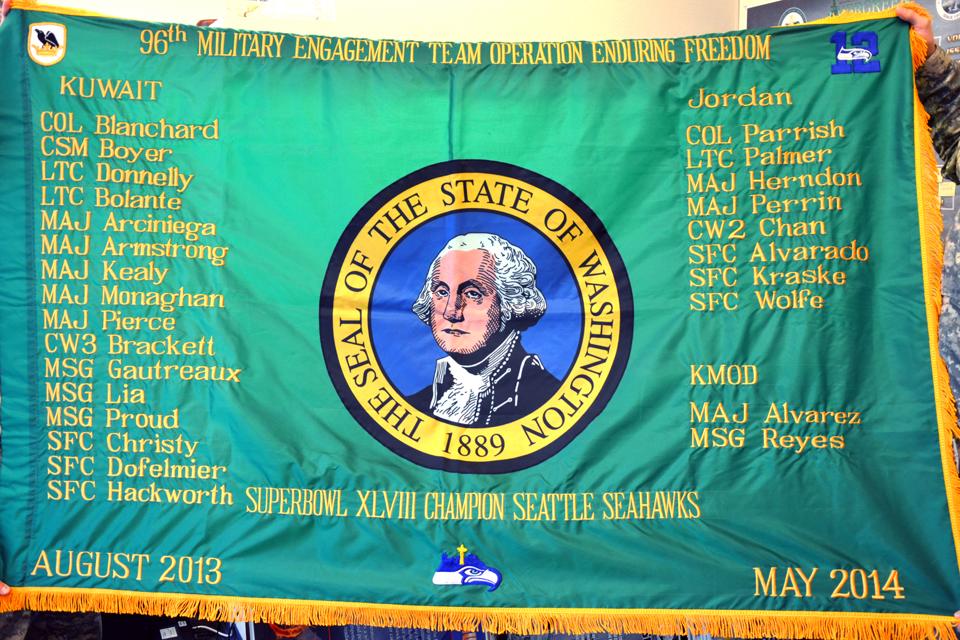 The hope is to have Seahawks players sign this flag before an unveiling ceremony at the museum.
Seahawks flag flown in Kuwait to be donated to WA National Guard Museum
On Feb. 2, 2014, the Seattle Seahawks defeated the Denver Broncos, winning Super Bowl 48. Fans of the team celebrated up and down the streets of Seattle, waving flags and joining other 12s for victory celebrations.
A similar but smaller celebration was happening 7,000 miles away in the early morning on Camp Arifjan, Kuwait as Guardsmen from the 96th Military Engagement Team and 81st Base Defense Operations Center. To honor the team and the members of his unit, Major Eric Armstrong, 96th Military Engagement Team, had his Washington state flag customized with not only the names of his fellow Guardsmen that were with him in Kuwait, but also with a custom Seattle Seahawks logo and the phrase "Super Bowl XLVIII Champions."
"The flag was hand-stitched," Armstrong said. "It took the seamstress a few weeks, but she did it all by hand. After it was completed, we hung it in our [Tactical Operations Center] TOC so everyone knew we were proud of the team."
The flag came back to Washington and is now looking for a new home. Armstrong said his plan is to donate it to the Washington National Guard Museum, but wants to make sure to add something special to it.
"I would love to have some players sign the flag, and then have some folks from the team be there for the unveiling ceremony in the museum," Armstrong said. "I think that all Guardsmen should have the chance to see it."
---