RC-26 Ramps Up During Fire Season 2021
---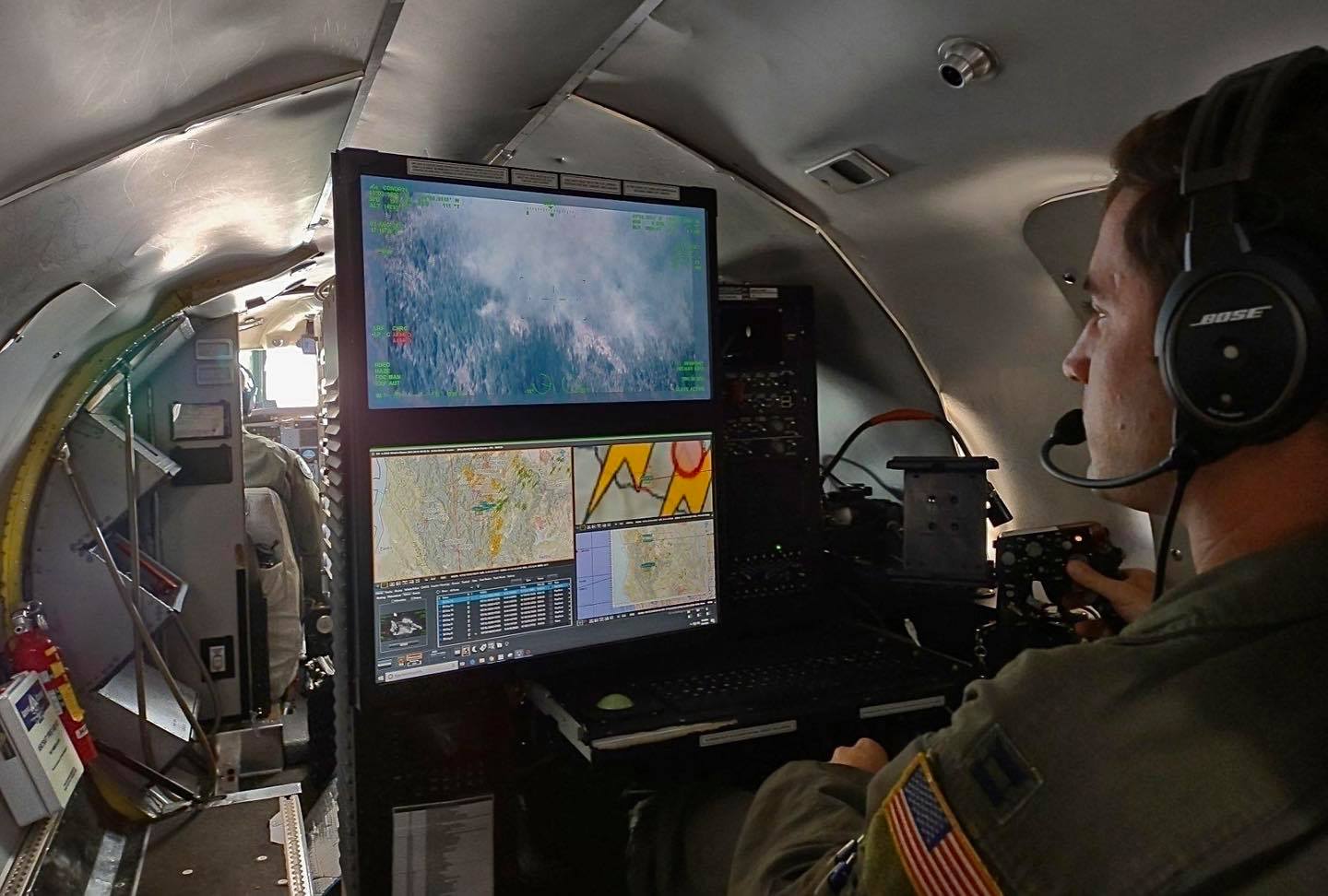 Given the notably hot and dry summers, most residents living in the Pacific Northwest expect and know fire season all too well. This year has been no exception. The U.S. Forest Service states more than 80 wildfires are currently burning throughout the western United States and it doesn't appear to be slowing down any time soon.
Since 2017, the 141st Operations Group and its Airmen have been able to offer a vital resource in support of firefighting: the RC-26. This aircraft has the unique ability to not only map out wildfires in real time for firefighters and incident commanders on the ground via infrared camera, but it can detect hot spots before a wildfire even starts.
Onboard the RC-26, the mission systems operator gathers information on the fire which is then relayed to joint terminal attack controllers (JTACs) who are embedded with firefighters down range -all within a matter of minutes.
Maj. Zachary Wagner, a RC-26 mission systems operator for the 141st OG, has taken command of this year's fire support mission.
"With the drought and weather out here this year, this is probably one of the worst wildland fire seasons that this country has ever seen," Wagner said. "Using assets like us to be a force multiplier and provide intelligence on all these fires helps firefighters to be able to protect communities, property and lives."
A typical day for Wagner during fire season consists of an early morning conference call with his teams and the National Interagency Fire Center (NIFC) liaison, Joel Kerley, along with coordinators from various geographical area coordination centers around the western United States who relay requests for fire support.
"We're basically receiving those taskings and prioritizing them out and seeing what we're able to do on that certain day," Wagner said. "We'll all be up on that call early in the morning and establish what the priority is and figure out what we can do to hopefully meet all of those requests."
The 141st has been tasked to provide this kind of support every summer for the past five years and it's only getting busier which means all hands on deck and reaching out to other units to help fulfill requests.
Airmen from all around the country have travelled to western states to provide their support either tactically on the ground or in the air with the technology from the RC-26.
"The mission runs seven days a week and we're flying more than eight hours a day," said Wagner. "We have pilots from Alabama and Texas flying our planes, aircrew from West Virginia, and JTACs from Pennsylvania, Illinois, New York and Oklahoma."
Kerley, who helped design the program, has been the NIFC liaison since 2014 and has seen the program evolve into what it is today.
"Integration of the program into our world in fire has proven invaluable," Kerley said. "It's a great program and it just gets better every year; the guys get better, the systems get better, and the RC-26 is outfitted with the best equipment."
With the information gathered from the RC-26, fire commanders can plan and make decisions quicker than ever before.
"We've built this program into a spot that I wouldn't say that we depend on it but we're so much better with it," said Kerley. "We don't change how we fight fire with it, what we do is we speed up the decision making and that's huge for us."
The 141st RC-26 aircrew members are slated to be activated through September to assist in firefighting efforts.
---