Preparedness survey for those who live, work around Mt. Rainier
---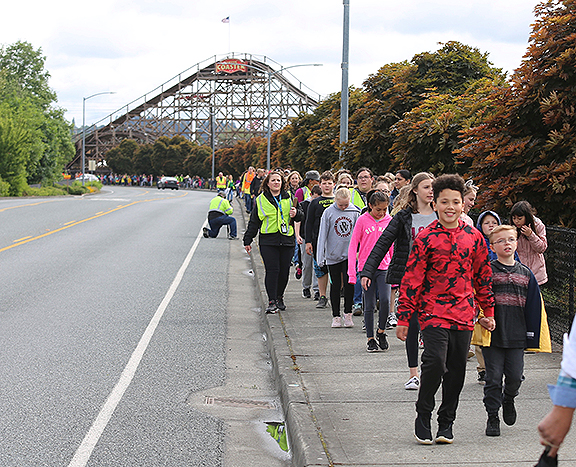 Students from Meeker Elementary walk their lahar evacuation route in Downtown Puyallup.

Do you live or work around Mt. Rainier? Washington Emergency Management Division has teamed with a university out of New Zealand to see what you know about lahars, which are volcanic mudflows and one of the main hazards from volcanoes.
The survey is available here. As of July 2, 240 residents had taken the survey, which is slated to close on July 19.
Massey University out of New Zealand is helping conduct the research, a follow-up to a report the same researchers conducted in 2006.
If you were in downtown Puyallup on May 17, you might have noticed thousands of school-age children and teens walking toward the Washington State Fairgrounds and then back to their schools. More than 8,000 students from 20 different schools walked a majority of their lahar evacuation routes, making this the largest volcano evacuation drill ever in the United States. A week earlier, on May 10, the Orting School District also conducted a lahar drill of 3,000 people -- not just students and staff but many residents, as well.
"These events were not just huge successes, but critical steps toward increased safety," said Brian Terbush, the volcano program coordinator for Washington Emergency Management Division. "Orting and Puyallup recognized their lahar hazard, and took steps towards mitigating the risks, by making sure that a large portion of their population understands their lahar evacuation routes. Research on disasters around the world shows that familiarity with evacuation routes is critical to getting populations to safety in time."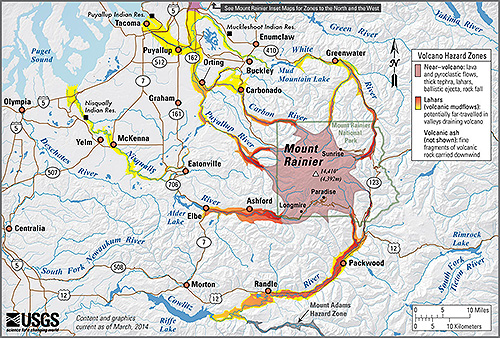 View the full-size lahar map around Mt. Rainier.

Terbush says the survey is geared to know what residents know about lahars in their community. Do they know lahar routes? Like the kids who just walked their routes, have their parents ever done the same thing? Do they know what all-hazard alert broadcast sirens do? Do they even know if they live or work in a lahar zone? (OR even what a lahar is?)
The survey done in 2006 attracted 257 responses. Of those responses, almost 82 percent said they knew about the lahar warning systems. If asked to evacuate, 66 percent would try by car, 19 percent by foot and 7 percent by bicycle.
Four percent who responded said they'd need help to evacuate.
The Puyallup and Orting valleys have changed since 2006 – and it's a good opportunity to evaluate people's perceptions once more, Terbush said.
At the time, surveys were mailed out and done on paper. Today, postcards with the links have been mailed out to some households, handed out at farmers markets in Orting and Puyallup and even a local comic book convention. Social media posts in cooperation with Pierce County, the city of Puyallup, the Puyallup School District and the Washington State Fair have been done, a different avenue than in 2006.
The survey is here: tinyurl.com/yxh9h4k6
---