No rest for the 10th Civil Support Team
---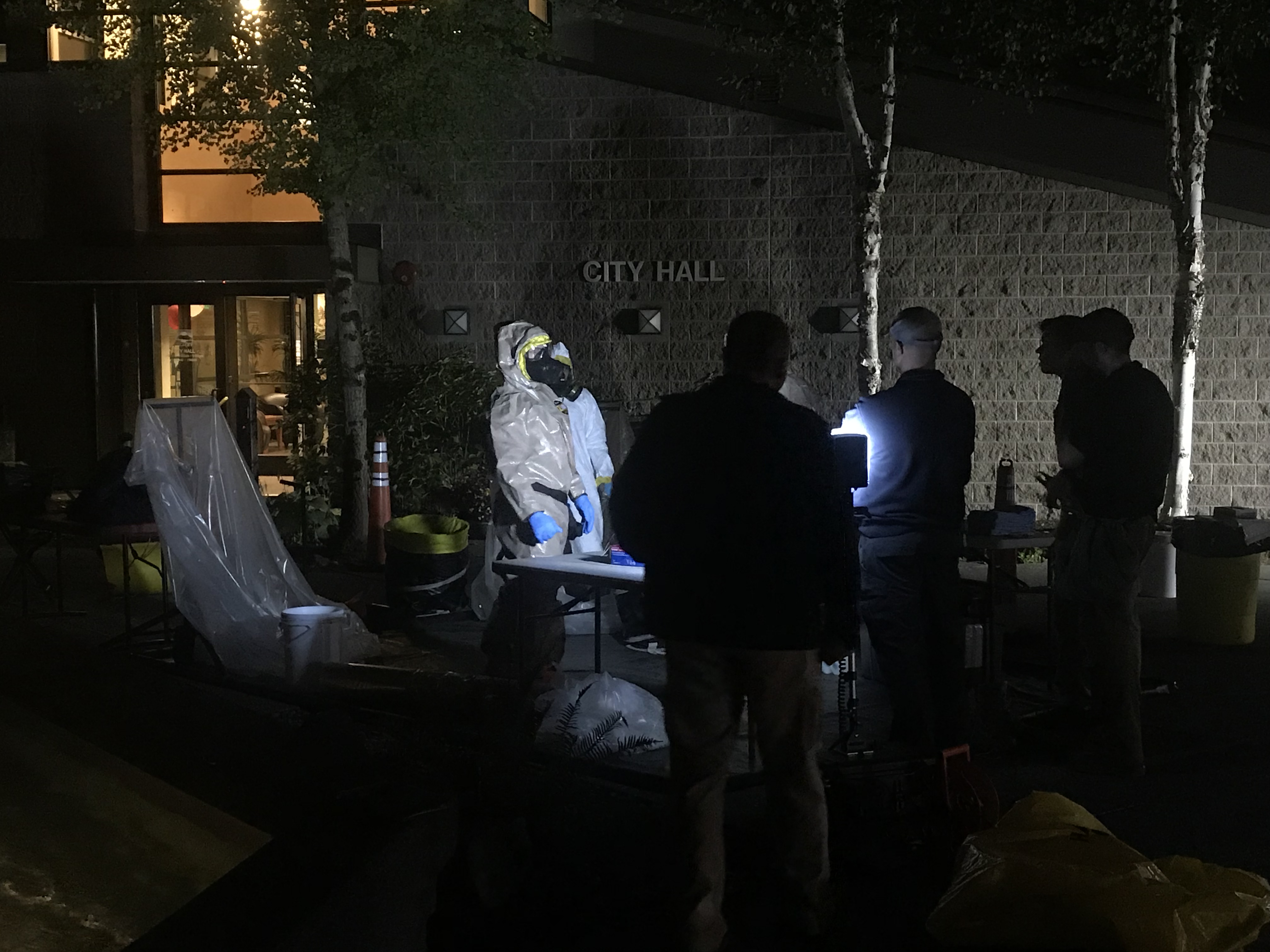 Members of the 10th Civil Support Team conduct a decontamination after a call regarding a "White Powder" letter was received on Sept. 27, 2017 (photo courtesy of the 10th Civil Support Team).
Lt. Col. Ricky Thomas jokes that since taking command of 10th Civil Support Team (CST) 18 months ago, he has yet to unpack his suitcase. Looking at his calendar, his bags will remain packed for a while.
"When I first came to the CST, we didn't have as much going on," he says. "But we made it a point to start doing outreach in the community, and not just Washington communities but across the first responders everywhere."
In his time with the 22-person team, Thomas has been all over the world. His team's primary focus has been at home in Washington. Trips to Saipan, Guam, Alaska, Hawaii, Florida and Washington, D.C., among many others, has put an emphasis on the importance of the CST. The team specializes in identifying and assessing suspected Weapons of Mass Destruction hazards, advises civilian responders on appropriate actions through on-site consultation, and facilitates the arrival of additional state and federal military forces.
"When we aren't on site for an incident, we are training and teaching," said Thomas. "We are always training."
The requirements to be on the CST are just like many other jobs in the military. You have to obtain the proper military occupation specialty. However that's not where the training stops. In just two years the CST has invested more than $4 million into training its members.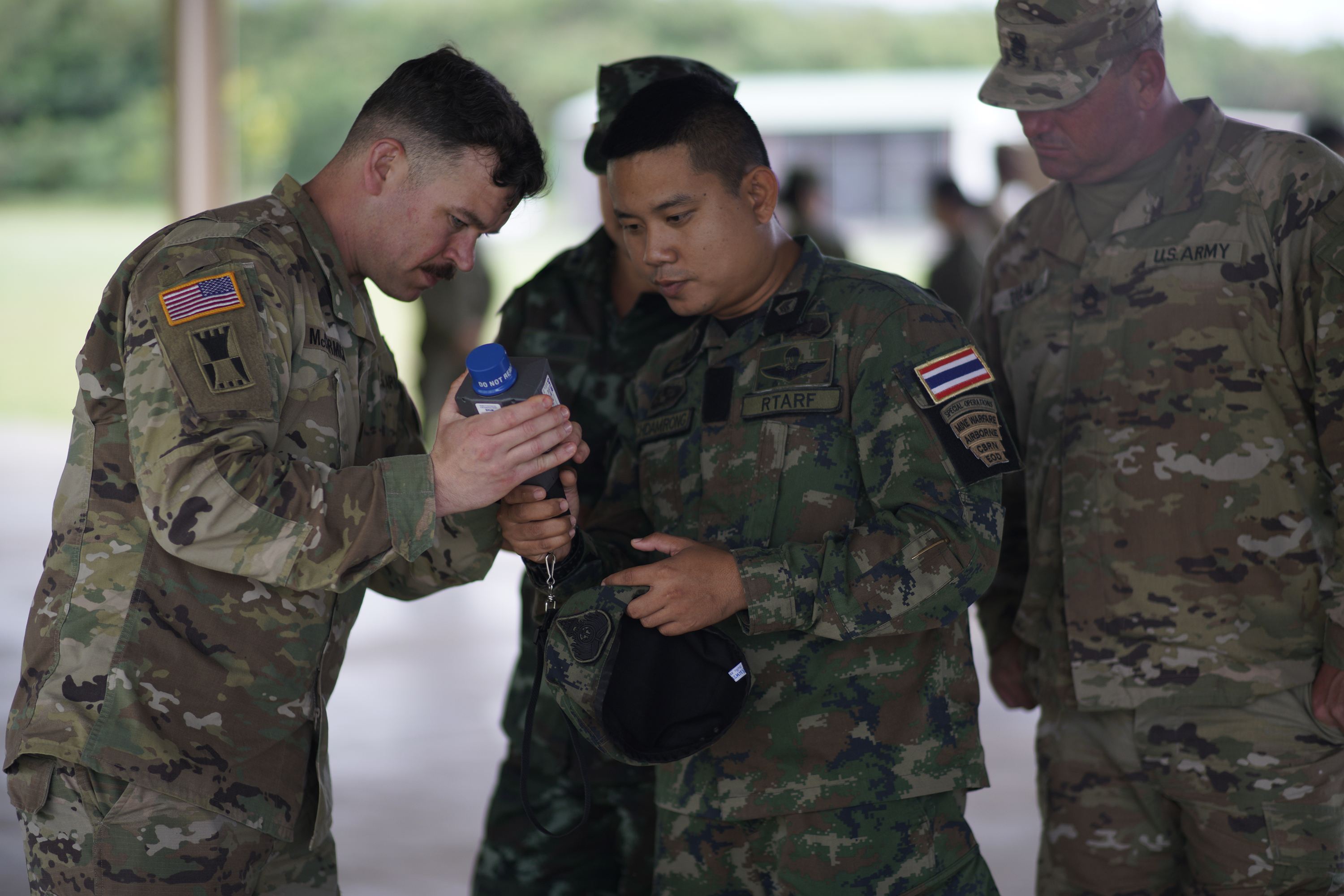 Lt. Dustin D. McCormick, 10th Civil Support Team, Survey Team Leader demonstrates a the operation of an radiation detector for military members from Thailand and a 25th Infantry Division Solider during a recent joint Chemical Biological Radiological Nuclear (CBRN) exchange at the Hawaii Army National Guard's Regional Training institute in Waimanalo. March 22, 2018. (U.S. National Guard Photo By Tech. Sgt. Andrew Jackson) (U.S. National Guard Photo by Tech. Sgt. Andrew Jackson)

"It can take a minimum of three years to get qualified for our positions and trained up to do the job in the field," said Thomas. "We have had a lot of turn-over the last few years. Part of that is people being promoted, people taking different jobs in the Guard or moving on to the civilian sector, but we find a way to still accomplish the mission with less."
In 2017 the CST supported the Presidential Inauguration, the Governor's Inaugural Ball, worked with Seattle Fire and Police at every Seattle Seahawks home game, responded to numerous suspicious packages and assisted with illicit drug investigations. 2018 has already pulled the unit in numerous directions.
"In January and February we had the honor of working at Super Bowl 52 in Minneapolis alongside other CSTs, and we have members heading to Hawaii and Guam, Louisiana, Nevada and conducting training here at home, all before the end of March," said Thomas. "Our schedule has a return trip to Saipan and a trip to Thailand before the end of the year as well."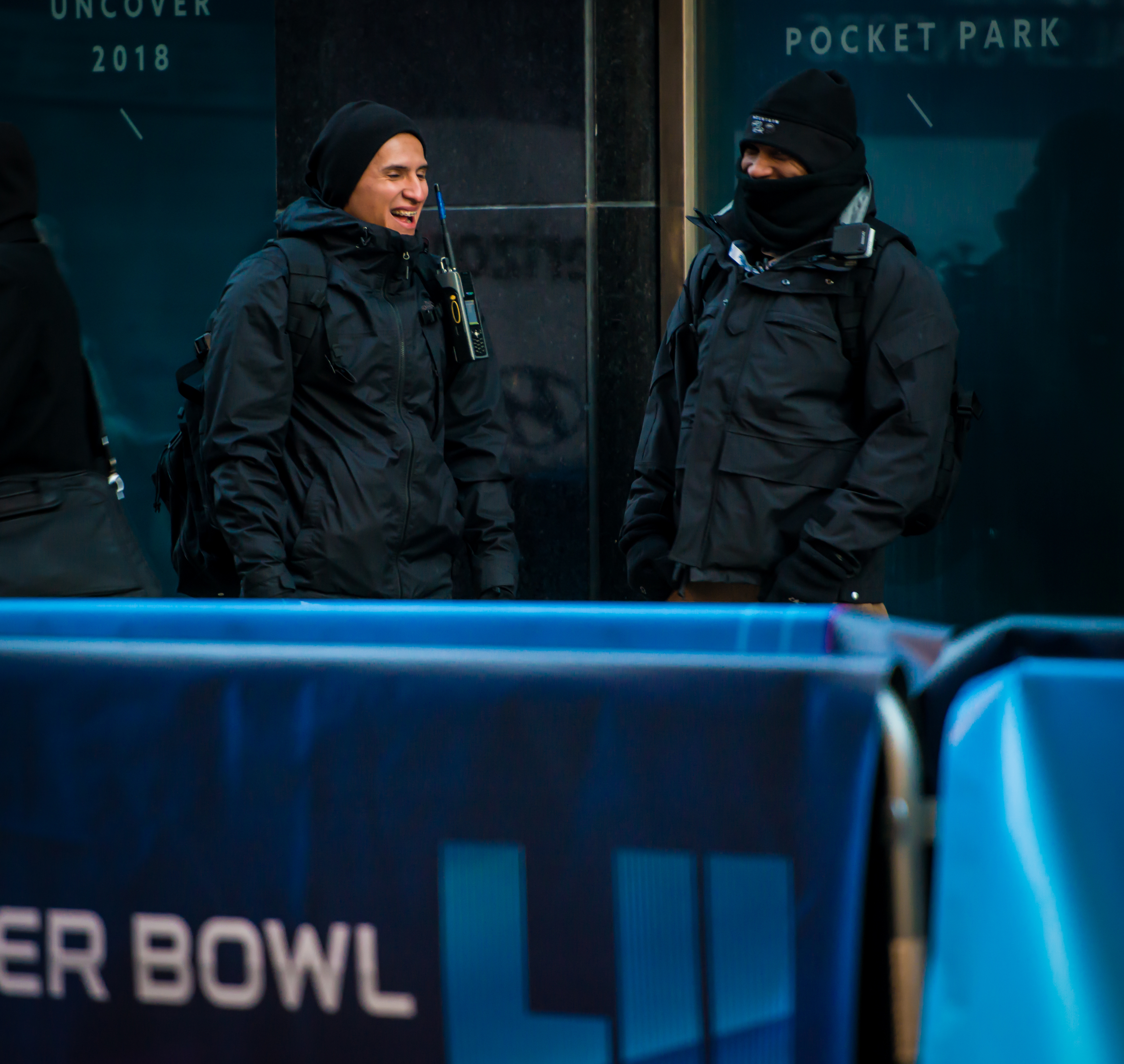 Staff Sgt. Christopher Garcia with the 10th Civil Support Team from the state of Washington and Sgt. 1st Class Karon Ayers with the 4th Civil Support Team from Georgia chat during a patrol along Nicollet Mall in Minneapolis to ensure the safety of Super Bowl 52 event attendees on Jan. 29, 2018. Civil Support Team members from across the country are assisting local authorities in creating a safe and secure Super Bowl 52. (Minnesota National Guard photo by Cpl. Hugo Wong-Cardona)

Super Bowl 52 marked the second time in three years the CST has supported one of the biggest sporting events in the world. The team has been invited to join the Georgia National Guard's 4th Civil Support Team for Super Bowl 53 in 2019.
"It's an honor to be considered one of the premier civil support teams in the country," Thomas says. "We work hard to build and maintain our relationships."
All the travel doesn't mean the CST has lost focus of the mission at home. In the last six months they have been assisting in the battle against the latest drug craze – fentanyl.
Fentanyl is an opioid used as a pain medication and together with other medications for anesthesia. However, the synthetic drug is deadly because it's so much stronger than heroin. According to the Centers for Disease Control and Prevention, it's up to 100 times more potent than morphine and many times that of heroin.
One fentanyl call in the middle of the evening required the CST to travel to central Washington and set up shop before police could go in to investigate and do their jobs.
"We have the only mobile lab in the state that can even detect fentanyl," said Thomas. "It is so new to many first responders in the field and is popping up everywhere that we need to come in and test the area before they can do their jobs."
Whether it's supporting local authorities with illicit drug busts, monitoring the air quality at sporting events or teaching other Chemical, Biological, Radiological, Nuclear professionals, the 10th CST has proven one thing – they show no signs of slowing down.
"We are ready to take on missions and continue to build relationships," said Thomas. "I think everyone here likes being busy and having a full schedule. It shows how important this job truly is."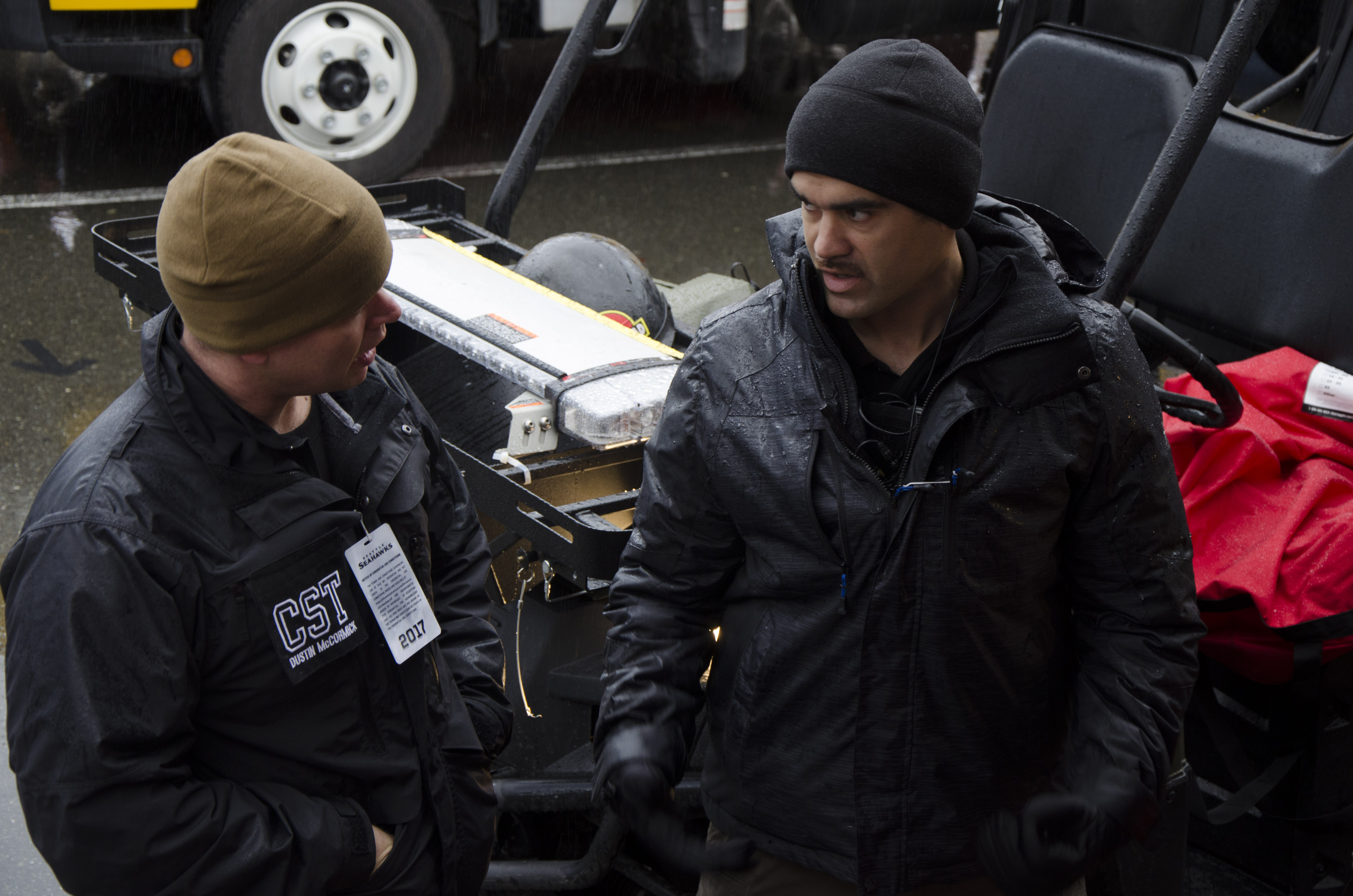 Photo By Spc. Alec Dionne | 2nd Lt. Dustin McCormick (left) and Sgt. William Bean (right) from the 10th Civil Support Team (CST) discuss their plan of action to install radiation monitoring equipment around CenturyLink Field in Seattle, Washington, Nov. 20, 2017. The 10th CST supported local law enforcement with detecting and monitoring for weapons of mass destruction at the Seattle Seahawks' Monday Night Football. (U.S. Army National Guard photo by Spc. Alec Dionne)
---