Nearly 150 Washington National Guardsmen activated to fight wildfires
---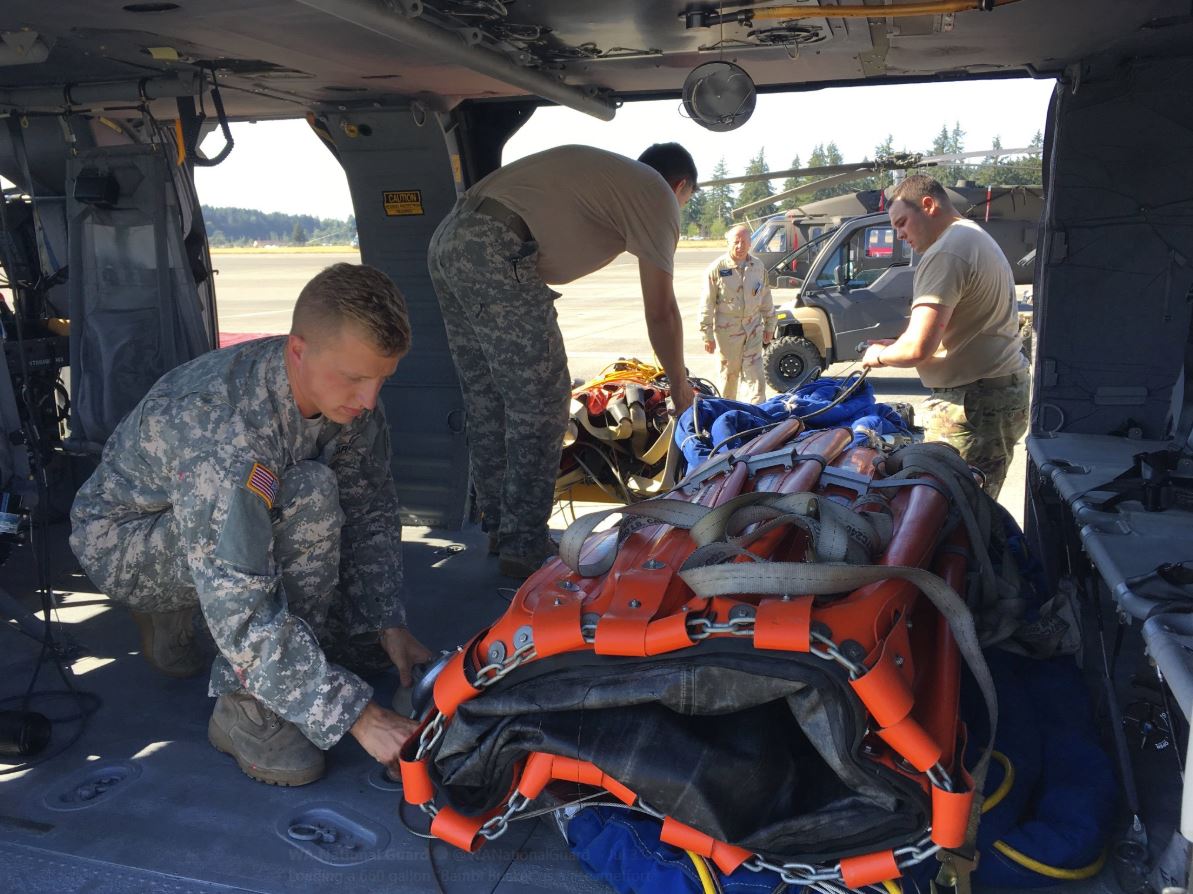 Helicopter crews load up and paint helicopters for activation to a fire north of Spokane (Guard Photo).
Nearly 150 Washington National Guardsmen activated to fight wildfires
CAMP MURRAY, Wash. – Nearly 150 Washington National Guardsmen have been activated to support wildland firefighting efforts in Eastern Washington.
Two hand crews from the 176th Engineer Company, headquartered in Snohomish; three hand crews from the 141st Air Refueling Wing, headquartered at Fairchild Air Force Base; and two UH-60 Black Hawk helicopters from the 96th Aviation Troop Command, based out of Joint Base Lewis-McChord, will work together to attack smaller wildfires that are popping up on the east side of the state.
Meantime, an RC-26 aircraft from the 141st Air Refueling Wing in Spokane is supporting the National Interagency Fire Center for the third summer in a row to map known wildfires across the Pacific Northwest, detecting potential fires and lightning strikes with infrared camera equipment and providing real-time intelligence to fire crews on the ground.
About 50 members of the 176th mustered at Camp Murray, Aug 1, 2018, for processing onto state active duty. Here, they received briefings on pay issues and employee rights as well as undergo a medical screening.
"It's a hard job and it's a dangerous job. And you guys should know that nobody takes that lightly," Brig. Gen. Wallace Turner, commander of the Washington Army National Guard, said to a room full of guardsmen.
This year's firefighting effort will be different from previous years. Very large fires in California have taken its toll on resources in surrounding states, leaving Washington with few assets to fight local fires. The engineers from the 176th will be used as initial attack – meaning that in some areas they will be the first to arrive at an incident and take all the actions needed to prevent the fire from doing further damage.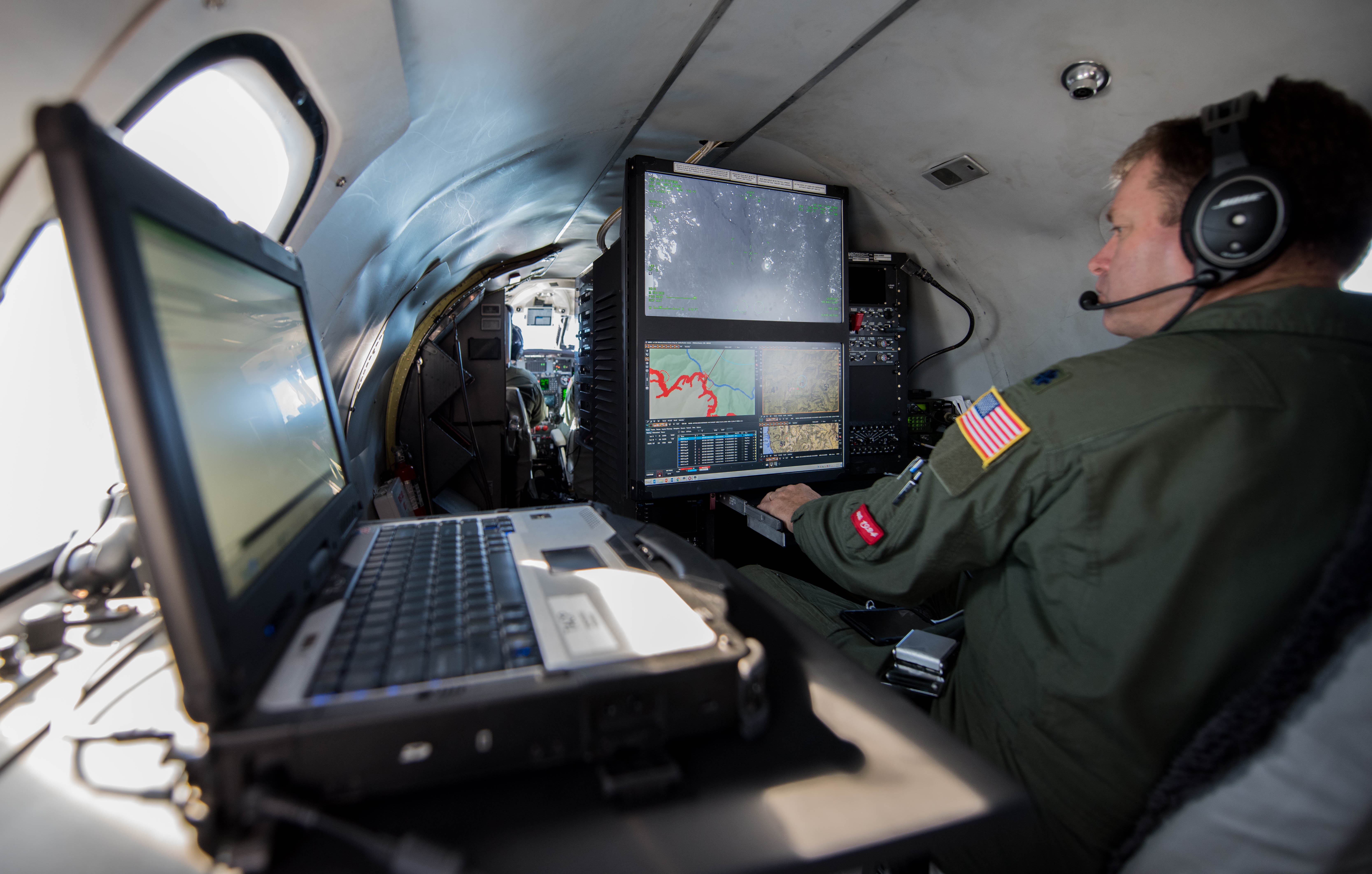 U.S. Air Force Lt. Col. Andy Rathbum, a RC-26 mission system operator assigned to the141st Operations Group, Washington Air National Guard, maps the Chetco Bar fire in southern Oregon using the RC-26s camera Sept. 2, 2017, Brookings, Oregon. (Photo by Senior Airman Sean Campbell, U.S. Air Force, file)
The RC-26 aircraft is a unique piece of equipment operated by the Washington Air National Guard and is in demand not just in Washington state, but Oregon and Idaho, as well. The aircraft travels at 17,000 feet and is not only able to see new fire starts on the ground, but also able to relay that information immediately to a terminal that displays sensor data and video on the ground with fire crews. That allows fire crews to make decisions on where to send in manpower and how to fight a fire right away, said Lt. Col. Jeremy Higgins, 141st Operations Group RC-26 program manager.
"Through mapping we have been able to assist with the civilian evacuations," Higgins said. "Just this year, we were able to help families stay in their homes and not force them to evacuate because we provided information showing the fire was not moving toward them."
Footage from the Klondike Fire in Southwest Oregon from the 141st Operations Group RC-26, taken on August 3, 2018. This footage is a night-time sortie that provided support to hot shot crews. The crew was able to cover 3 to 4 times more ground with the RC-26 assisting with overwatch on the fire. (courtesy video from Lt. Col. Jeremy Higgins)
The plane can also detect lightning strikes before a fire has even started and get that information to the National Interagency Fire Center in less than 15 minutes, Higgins said. This allows for smoke
jump teams to get out and fight the fire before it becomes a massive and dangerous fire.
"We have already stopped seven fires just this year from growing into larger fires, saving property and helping keep resources on other fires," Higgins said. "No one likes fires. This is a great opportunity to help our neighbors."
READY FOR INITIAL ATTACK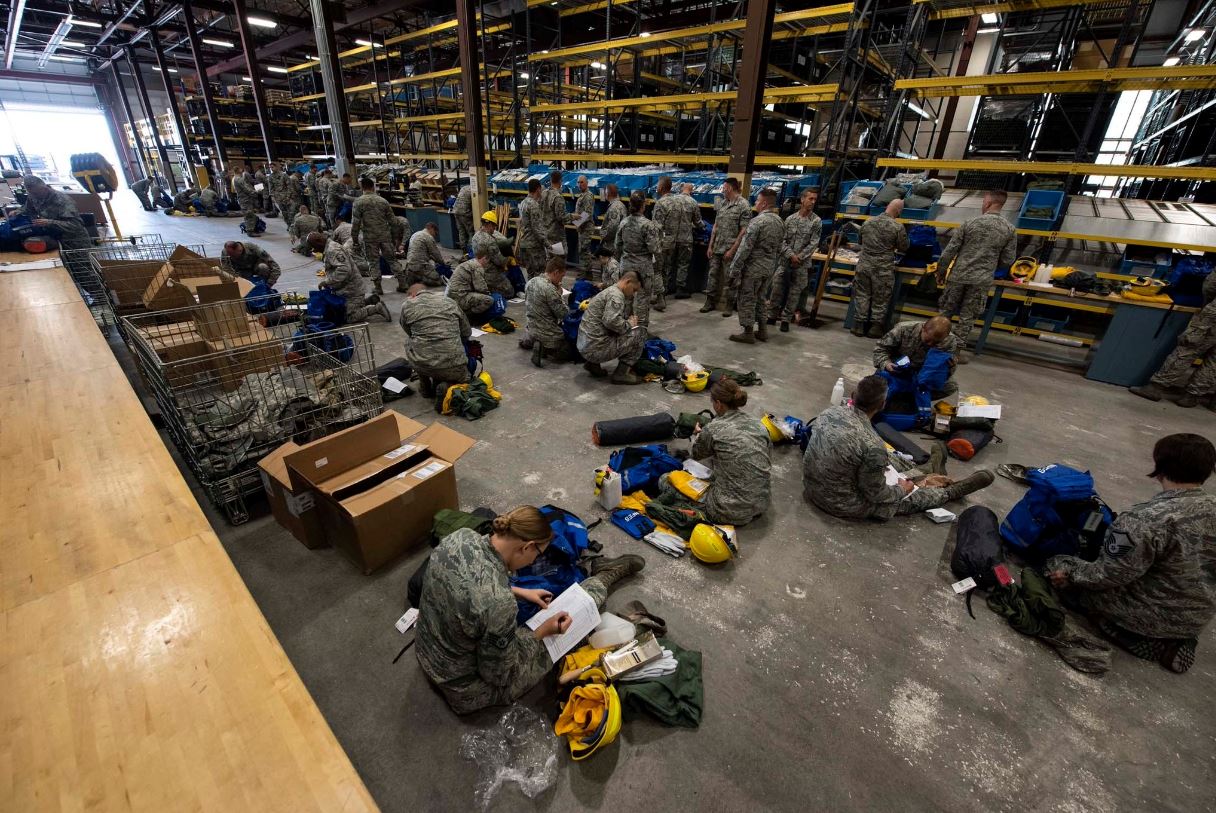 Members from the 141st Air Refueling Wing grab equipment & load up trucks before heading to fight wildfires. (Washington National Guard photo)
On any normal day, Spec. Derek Price is a fitness instructor in the Puget Sound region. Now, he is gathering all the necessary equipment he needs to fight wildfires.
Price, a supply specialist with the 176th, said that he's looking forward to being used during the initial attack this year. Last year, the Washington Department of Natural Resources used Price's unit for mop up and fuel reduction operations. Mop-up means to make a fire safe after it has been controlled and fuel reduction is clearing any combustible material from the forest floor to reduce the likelihood of it catching fire.
"I want to get a little bit out of my comfort zone; I'm kind of a risk taker sometimes," Price said, noting that he's undergone intensive training to ensure his safety.
Despite the hard work and long days that lay ahead of him and his team, Price says that this is exactly what he signed up for.
"Anything I can do to help save people's property and lives is a very rewarding feeling," he added. "As long as I know I do my best and make sure everybody is safe, then I can go home happy."
---