Military Department joins Colville Tribe Emergency Managers and others for Evergreen Spill Exercise
---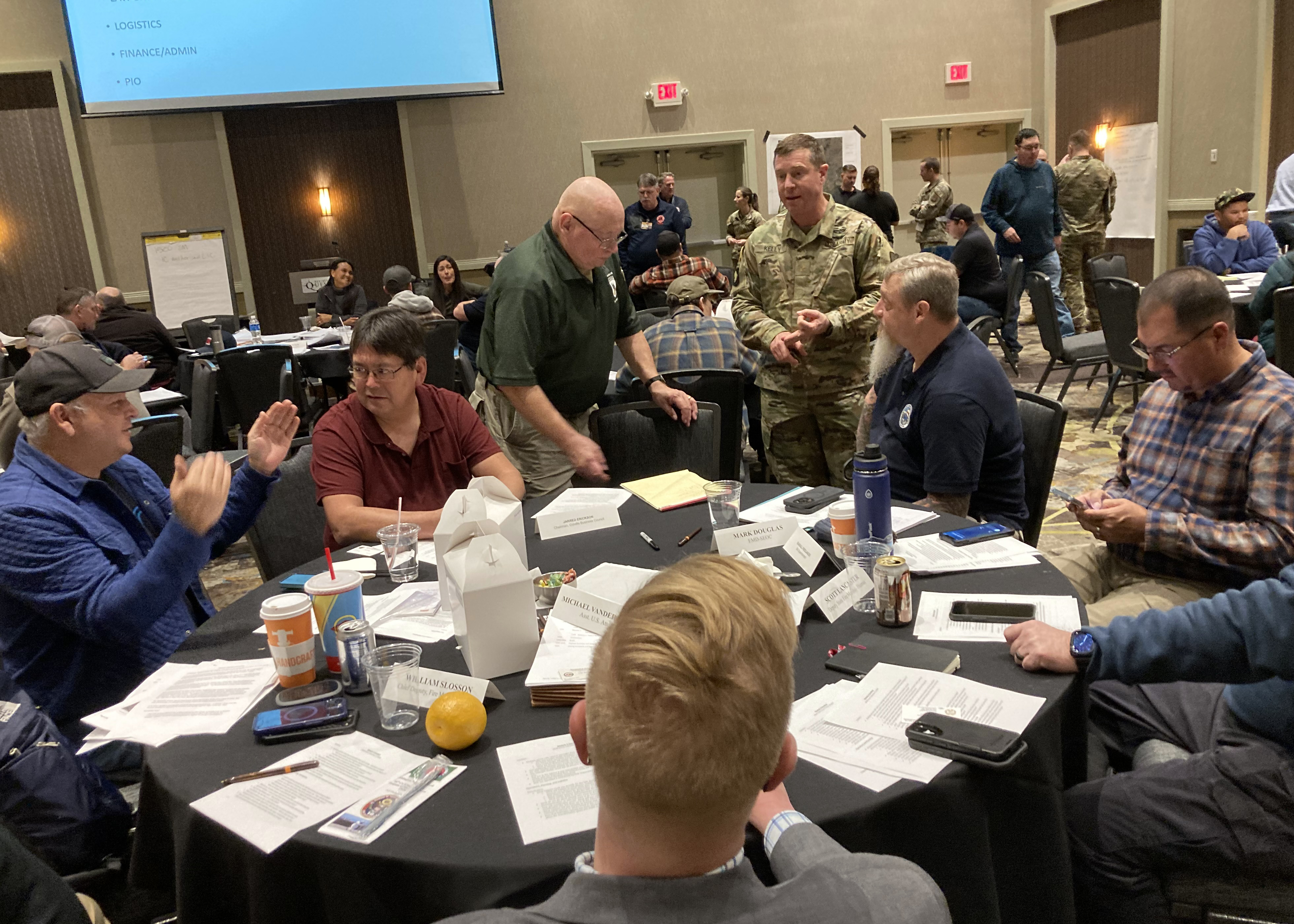 On the morning of October 8, 2023, a multi-vehicle accident along State Route 155 near the town of Nespelem has a room of first responders, National Guard members and emergency managers concerned. A tanker truck carrying an unknown substance has been abandoned, a liquid is leaking from the truck and is less than 1,000 feet from the school, and local authorities are overwhelmed.

"Exercise, exercise, exercise," says a voice over the loudspeaker. "Module one is beginning now."

There was no accident or potential hazardous material leak, but 80 individuals from multiple agencies discussed a possible response during the Evergreen Spill table-top exercise on October 8, 2023 at the Pend Oreille Pavilion in Airway Heights, Wash. This one-day scenario-based discussion exercised the response to a hypothetical hazardous waste spill occurring on the Colville Indian Reservation. The exercise was designed and led by the Confederated Tribes of the Colville Reservation Emergency Management Office with support from the Washington Military Department.

"This exercise was designed to test the Tribe's Comprehensive Emergency Management Plan and tested the ability of supporting agencies to operate under a Tribal Incident Command structure," said Chief Warrant Officer Four Bill Elliott, tribal liaison with the Washington State Guard. "Evergreen Spill was unique as it was designed to test operations under the command and direction of Tribal Emergency Management, and provide an opportunity for all the non-Tribal agencies participating in this exercise to examine their own processes while operating in the unique jurisdictional, logistical, and governance environment of Indian Country."

Evergreen Spill incorporated multiple agencies that all fall under their own unique structures, laws, rules and regulations. The exercise helped bring to light how these agencies would work together to mitigate the loss of life following an incident. During the development of the exercise, the Washington Emergency Management Division and Washington State Guard assisted the Colville Tribe with the overall formatting and planning of the TTX.

"We helped develop this scenario from a simple spill incident into an accident that could also pose a threat to the nearby river system, necessitating the involvement of environmental experts and natural resource actions to contain this incident," said Elliott.

EMD also provided logistical support, including securing a venue for the participants.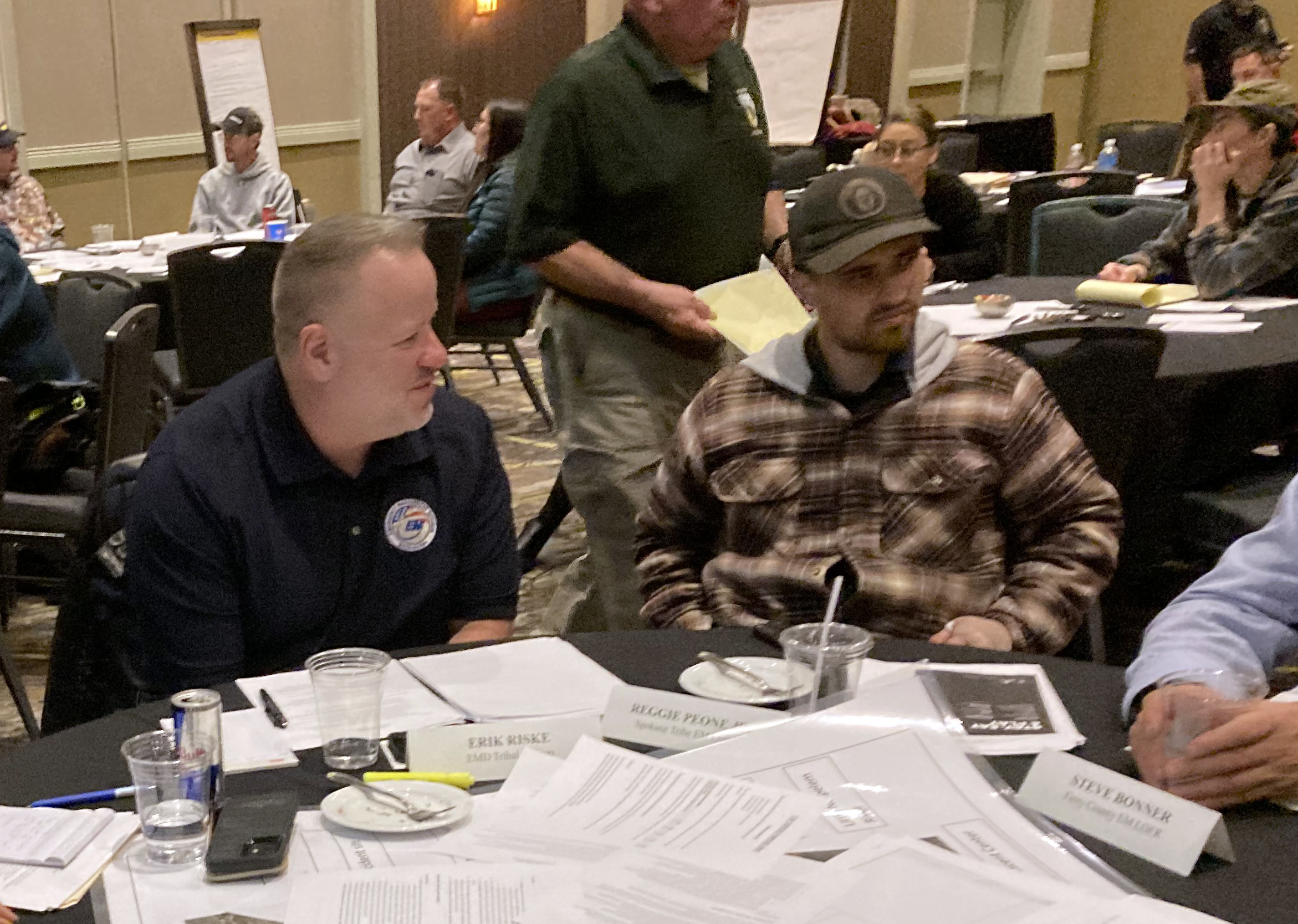 "During my onsite visits to the tribes, support for training and exercise opportunities is a common concern expressed by the Tribal Emergency Managers (EMs). The Tribal EMs typically have minimal resources and wear many hats of varying responsibilities so being creative and getting support and working with their 'neighbors' is critical," said Erik Riske, tribal liaison for EMD. "Having these exercises not only improves the tribe's emergency management posture but also strengthens relationships with other entities (to include the Military Department), making us all better neighbors."

During the exercise, the Washington National Guard's 10th Civil Support Team, Homeland Response Force and Joint Staff leadership worked alongside representative from other federal, state and tribal agencies to better understand the role the Guard could play in an incident on tribal land.

"Exercises like Evergreen Spill are absolutely critical for the Washington National Guard/WMD and our state, local, tribal and territorial civilian partners," said Brig. Gen. Kenneth Borchers, director of the joint staff, Washington National Guard. "It's crucial that we take these opportunities to learn lessons and build partnerships 'left of boom' or before an incident actually occurs. That way, when crises do happen, we have the opportunity to leverage those relationships and lessons learned for a better outcome for the citizens we serve."

"The Washington National Guard stands 'Always Ready, Always There' to assist our civilian partners," Borchers continued. "We can provide highly specialized and trained soldiers and airmen to support a variety of contingencies and natural disasters that may exceed tribal emergency management entities' abilities to manage. That's why it's absolutely crucial to build these relationships, partnerships, and this mutual understanding of capabilities before we have to respond to a real-world incident."

In addition to the Confederated Tribes of the Colville Reservation, the Kalispell and Spokane Tribes were participants in this exercise, with the Squaxin Island, Tulalip, and Makah Tribes attending to learn how they might conduct similar exercises for Tribes located on the western half of Washington.

"This exercise has been generally viewed as a success, meeting almost all its anticipated goals of learning how to effectively operate with a Tribal Emergency Management department in their sovereign territory," said Elliott. "Questions and answers related to the unique jurisdictional, legal and civil issues were addressed, and both the WMD and Tribes learned about resources available to assist when responding to a Tribal request for assistance. Additionally, this exercise demonstrated a sincere willingness of the WMD, and all the other participating agencies, to work with the 29 federally recognized Tribes of Washington."

Evergreen Spill is already leading to more opportunities for engagement between the Military Department and the tribes.

"EMD is hosting Tribal EM forums where the Tribal EMs from across the state can meet onsite and discuss issues that are important to them. EMD is also slated to provide support and help facilitate future table-top exercises," said Riske. "We are currently in the planning stages for a tsunami TTX at the Makah Tribe this spring. As stated previously, we continue to visit the tribes onsite, which is critical to not only build relations but also developing a better understanding of specific needs that you wouldn't get by not being there."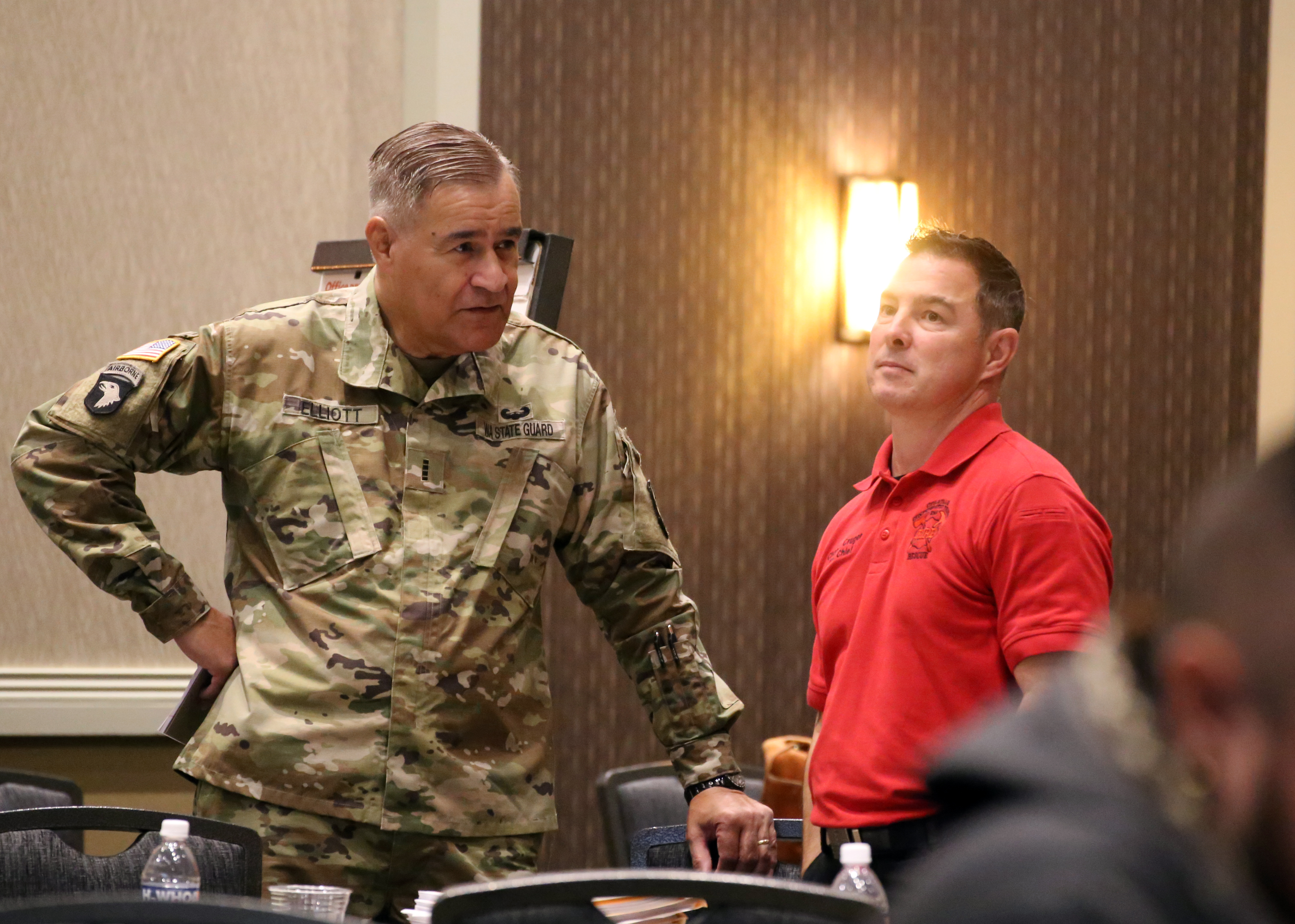 ---