How would businesses survive after the Big One hits?
---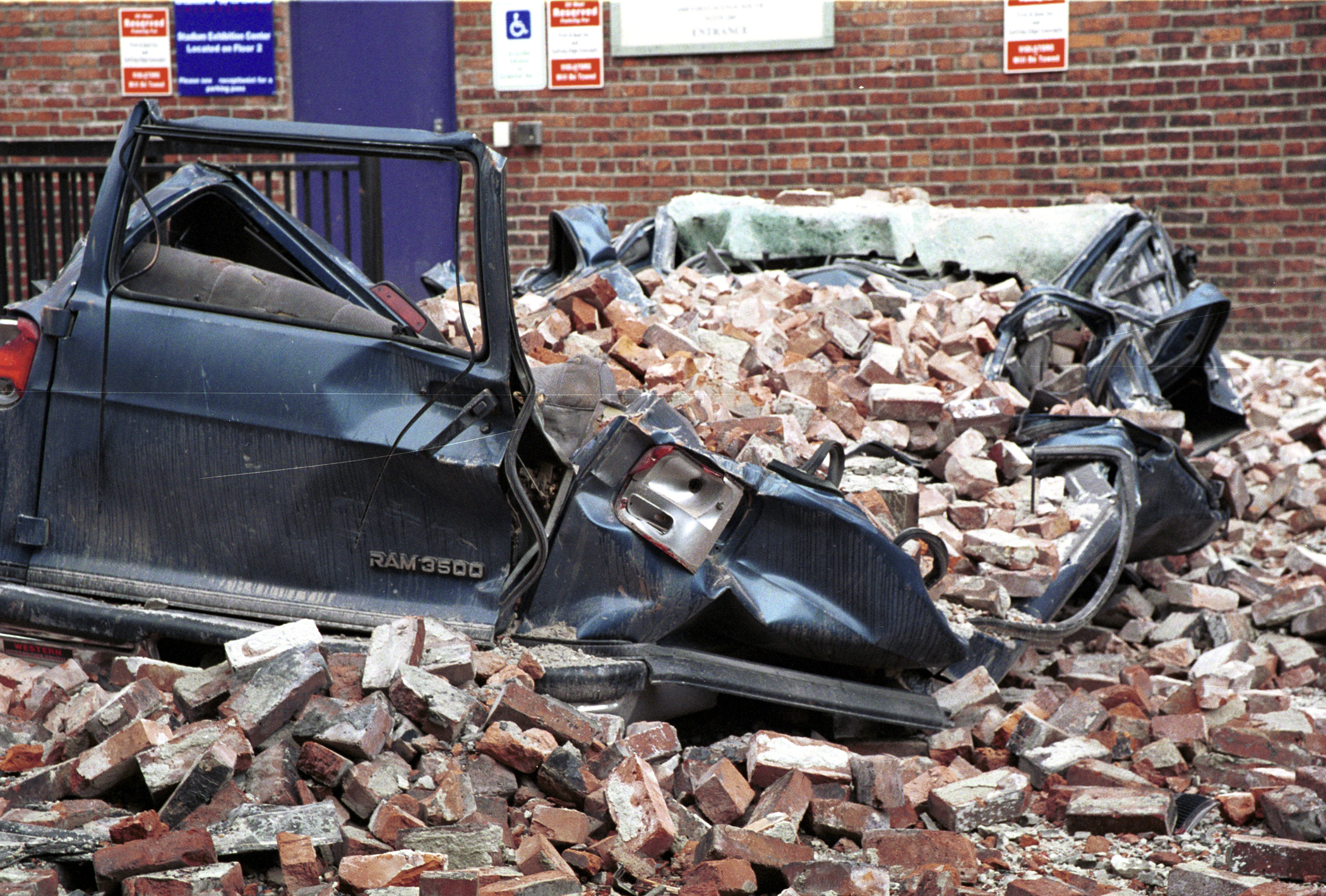 The remains of a truck in the aftermath of the 2001 Nisqually earthquake (Credit: FEMA)
How would businesses survive after the Big One hits? Business re-entry program in the works
Kevin Burke, the business liaison of the state emergency operations center, says the state's business community has been lucky in the aftermath of recent disasters. But he sees a time when the state might not be so lucky and is hopeful some best practices can be put in place for businesses before that time.
When the 6.8 Nisqually earthquake hit in 2001, there was some minor damage – a few cracked building structures, toppled walls – on top of the 400 or so injuries. But, for the most part, recovery happened rather quickly and most businesses were able to resume operation. Compare that to the 6.3 earthquake on Feb. 22, 2011 at Christchurch, New Zealand, when that city's downtown core was devastated and reconstruction has taken years.
"Really, our recent earthquakes could have been worse," Burke said. "What if Seattle had an earthquake along a shallow fault? The business community could be in real trouble."
That's a real possibility. The Seattle Fault zone extends east-west through the middle of the city and earthquakes could be as large at a 7.5. The most recent earthquake was about 1,100 years ago.
Seattle's Emergency Management Division notes that the city has an estimated 819 unreinforced masonry buildings that perform poorly in earthquakes concentrated in areas expected to experience the strongest ground motion during earthquakes. There could be issues with bridges, fires and landslides, as well.
"A large Seattle Fault earthquake could trigger a 16 foot tsunami that would strike the Seattle shoreline within seconds of the earthquake and flood it within 5 minutes," Seattle's Emergency Management Division notes on its website.
Burke says worst case scenarios may mean that entire areas of the city of Seattle may have to be evacuated and kept clear until it's safe to return.
"There's scenarios out there where we'd want to make sure a business owner is able to return to their business before the general public," Burke said.
Burke notes that business disruptions negatively affect the people, property, economy and environment of Washington.
For more than a year now, state Emergency Management officials have been working on a pass that could allow business owners and operators access into restricted or controlled areas following a major disaster in order to evaluate damage, make repairs and initiate activities to restore business operations and services as quickly as possible.
At this point, the state agency has developed what the business re-entry pass could look like and how it could function, with individual bar codes and a potential window hanger to place on vehicles.
The concept would allow a business owner to move past a National Guard or police check post where roads would otherwise be closed as a result of a single large scale disaster or a series of disasters covering a large geographic area.
"We have the infrastructure in place in theory but still need to figure out the overall function," Burke said. "It's kind of like we have the frame of a car and we've detailed it, but we still need to put in the engine."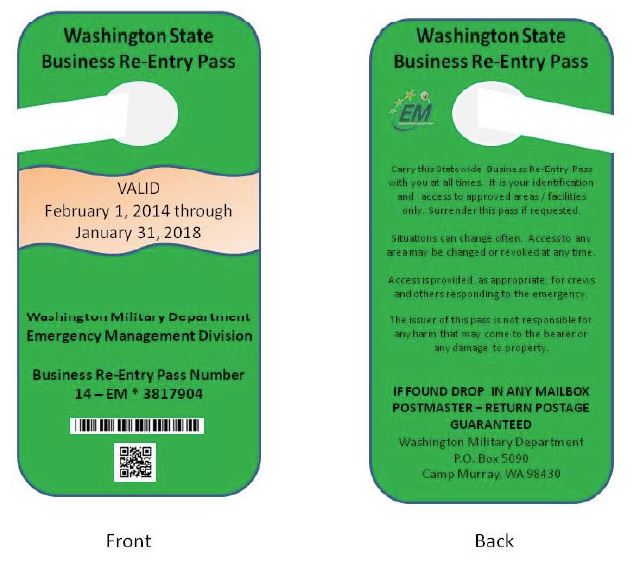 What the business re-entry passes might look like.
Burke says that recent disasters haven't seen a need to implement the business re-entry system. The landslide at Oso last year as well as the fires in Central Washington impacted just a few businesses and local jurisdictions were able to handle the needs of businesses.
Burke says he'd like to get input from the business community. In recent months, he says he's been approached by telecommunication and infrastructure-related businesses about establishing a business re-entry system. Some of these companies operate in hurricane and tornado prone areas, where a pass system has already been established.
"Really, this is a business-driven endeavor," Burke said. "Our phone companies, our communication companies want to make sure they can get into a disaster area and help reconnect services."
"I am asking our private partners to give me some detail of what they would like to see in a system as well as help us understand the scope of this issue in order to address their needs and desires," Burke said.
Three main questions Burke has for private industry:
Has your business been affected due to a lack of a re-entry pass program? If so please explain the impact.
Does your business have re-entry pass arrangements in other states that may provide a solution in Washington?
What are your major concerns and thoughts on a re-entry pass system that would be critical to consider in how the process is created?
Burke is available by email at kevin.burke@mil.wa.gov or phone at (253) 512-7054.
---