Guard youth recognized at Seahawks game
---

A portrait of Jackie Flournoy.
15 TO 1 Jermaine Kearse Foundation provides one-of-a-kind opportunity for WA Guard youth
A member of the Washington National Guard family joined Seahawks player Jermaine Kearse before the Monday Night Football game pairing the Seahawks against the Detroit Lions.
Kearse is longtime supporter of the military and has devoted his "15 TO 1 Jermaine Kearse Foundation" to supporting and inspiring military family kids. The foundation teaches military youth that if you work hard, persevere and belief in yourself, you can overcome adversity and find success.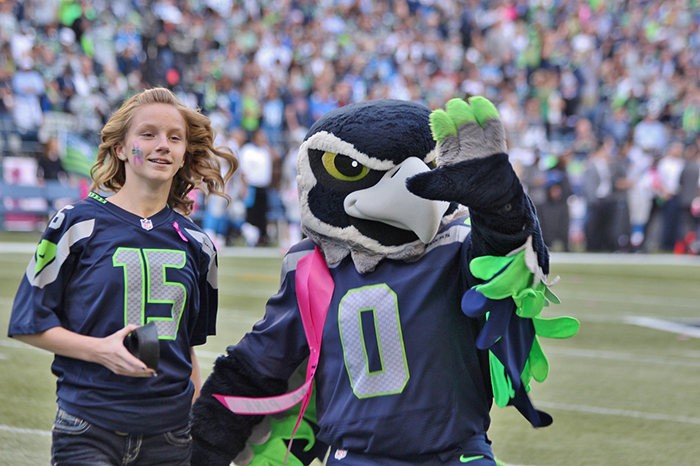 Jackie Flournoy joins Blitz the mascot to get the tee after kickoff.
The foundation recently reached out to the Washington National Guard's Child and Youth Program, searching for a youth representative to join Kearse during the Oct. 5, 2015 game.
The Joint Services Support Directorate chose Jackie Flournoy to represent the organization. Flournoy shadowed Kearse and other staff from the Seahawks prior to game time and was asked to pick up the football tee after the opening kickoff.
She was rewarded with Seahawks clothing – and, more importantly, a future job shadowing opportunity with a local clothing organization.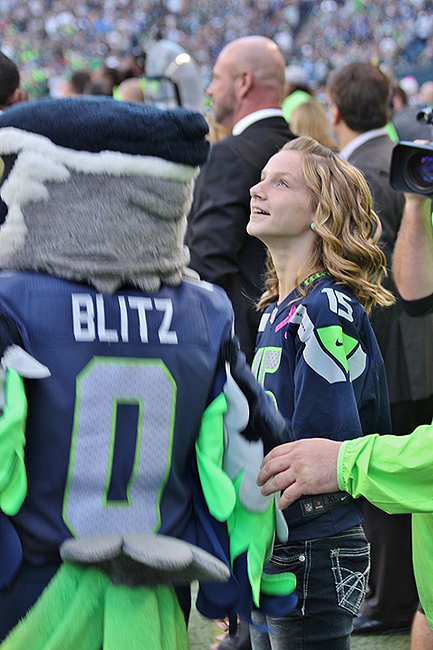 Jackie Flournoy at the Seahawks game.
---