Free earthquake preparedness forum for businesses June 17 in Kent
---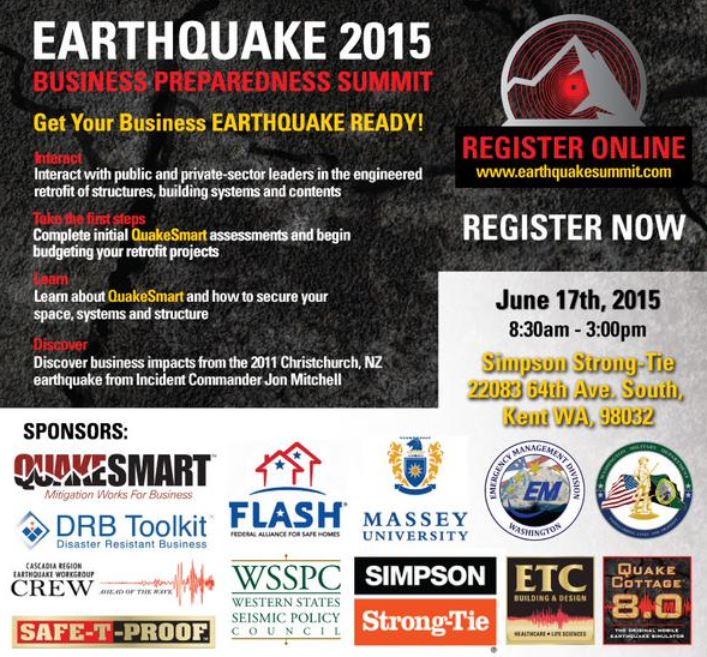 Free earthquake preparedness forum for businesses June 17 in Kent
What if a megaquake toppled dozens of unreinforced masonry buildings in Seattle? What if the sewer system couldn't be used, there were issues with the drinking water and fire scares across the region?
Those nightmare scenarios aren't out of the movie San Andreas. Instead, it was a reality for Christchurch, New Zealand, when that city's downtown core was devastated by a 6.3 earthquake on Feb. 22, 2011. It's taken years for the city to recover, but the incident commander for that devastating earthquake says there are lessons that our state's business community can learn.
Jon Mitchell of Massey University will be the key note speaker during a free QuakeSmart™ Earthquake Business Preparedness Summit on Wednesday, June 17 in Kent. He'll be dishing advice along with experts from the Washington Emergency Management Division and others across the state talking about the response implications of a large-scale disaster, as well as specific, actionable steps businesses can take to improve preparedness and avoid business interruption.
The all-day summit hosted by the nonprofit Federal Alliance for Safe Homes (FLASH)® and Cascadia Region Earthquake Workgroup (CREW) and co-sponsored by the Washington Emergency Management Division includes a free lunch. Registration at http://www.earthquakesummit.com/ is suggested so organizers can get an accurate head count before the event.
"Jon Mitchell can give valuable advice for business owners to understand the importance of continuity planning," said John Schelling, the earthquakes program manager for the Washington Emergency Management Division. "How long could your business survive without power? Without sewer or water? He can give us a first-hand account of what happens in a crisis."
Schelling is also giving a presentation to bring home the realities that an earthquake will happen in our state.
"Christchurch has a lot in similar with Tacoma or Spokane, even," Schelling said. "It's a look in the mirror for the rest of us."
The forum is slated for 9 a.m. to 3 p.m., Wednesday, June 17 at the facilities of Simpson Strong Tie-In Co., 22083 64th Avenue South Kent, WA (this is the correct address for using a Navigation system, not the mailing address).
For those closer to Portland, a second business forum is set for 9 a.m. to 3 p.m., Thursday, June 18 at Providence Willamette Falls Community Center, 519 15th Street, Oregon City, OR. Mitchell will be speaking at that event, as well.
Summit co-presenters include the Cascadia Region Earthquake Workgroup (CREW), Disaster Resistant Business Toolkit, ETC Building & Design, FEMA, FLASH, Massey University, Portland Bureau of Emergency Management (PBEM), Pacific Northwest Seismic Network (PNSN), Providence Healthcare, Safe-T-Proof Earthquake Fasteners, Simpson Strong-Tie Co., Washington Military Department Emergency Management Division and the Western States Seismic Policy Council (WSSPC).
Meantime, EMD has also been taking steps to help the business community through a potential business re-entry program.
---