Educators take flight to learn about the Washington National Guard
---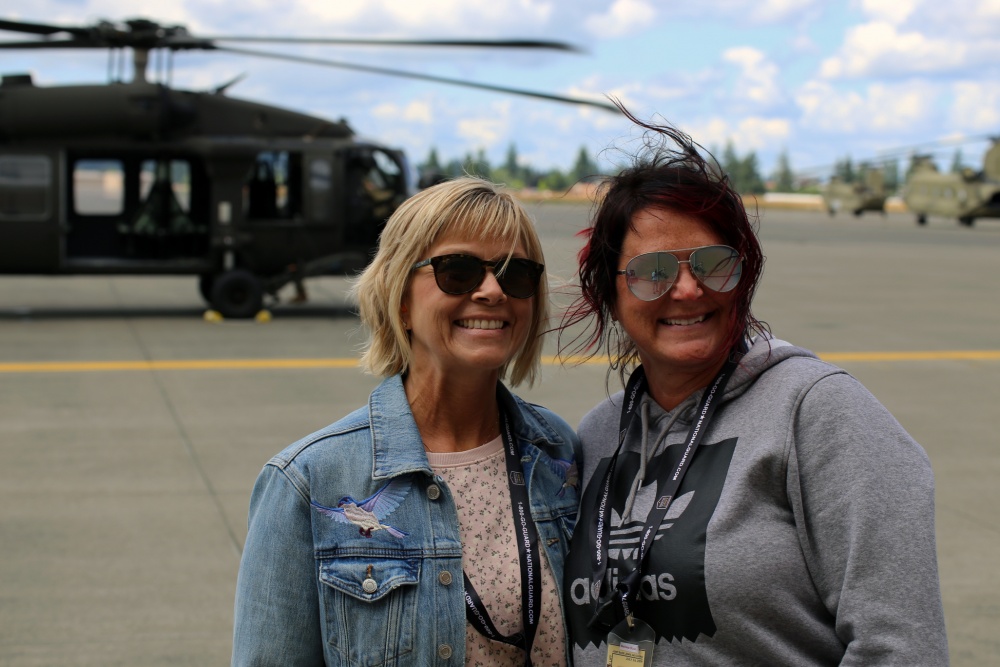 Melissa Boudreau, Career and Technical Education director (Right) and Denise Prescott, Administrative Assistant (Left) from Kelso High School pose with a Blackhawk helicopter at Grays Army Airfield, Joint Base Lewis-McChord, Wash. on June 24, 2019. The ride was part of an educator lift conducted by the Washington Army National Guard's Recruiting and Retention Battalion. The purpose of the event is to educate attendees on the Washington National Guard's benefits and programs. (U.S. National Guard photo by Joseph Siemandel)
Given the amount of time educators spend with young adults, they often serve as the best recruiters for the Washington National Guard. That's why it's critical they have a complete picture of what a career in the Guard looks like and the benefits that come along with it.
"We want to provide our education professionals with the best information possible about the National Guard," said Maj. Dan Wessman, Executive Officer, Washington Army National Guard Recruiting and Retention Battalion. "They may not know all the opportunities or benefits of our organization."
The Washington Army National Guard recently conducted an Educator Lift, providing high school teachers, principals and school staff the unique opportunity to fly in a Blackhawk or Chinook helicopter. Prior to the flight, they're armed with information to share with their students.
"When I thought about the National Guard, I thought about just deployments. I didn't know anything about the state mission or everything that went into their jobs," said Melissa Hayes, director of athletics at Stadium High School in Tacoma. "The Guard has so many more opportunities than I knew."
So far this year, more than 300 educators have participated in the special event.
"Our goal is to reach every school in our state," said Wessman. "If the educators don't know the benefits, the students probably don't either. This is the chance to build relationships across the state."
Participants were provided an overview of educational benefits provided by the Guard and learned about National Guard career paths that are in the science, technology, engineering, arts and math fields. They also had the opportunity to speak with both fulltime and traditional soldiers who shared their first-hand experiences, including Sarah Schmidt, who is an education services specialist with the National Guard.
"I work with Guardsmen every day regarding their education benefits, I love this job," Schmidt said.
---