DNR calls on National Guard for help in attacking wildfire: Guard helicopters and fire crews heading to Cougar Creek
---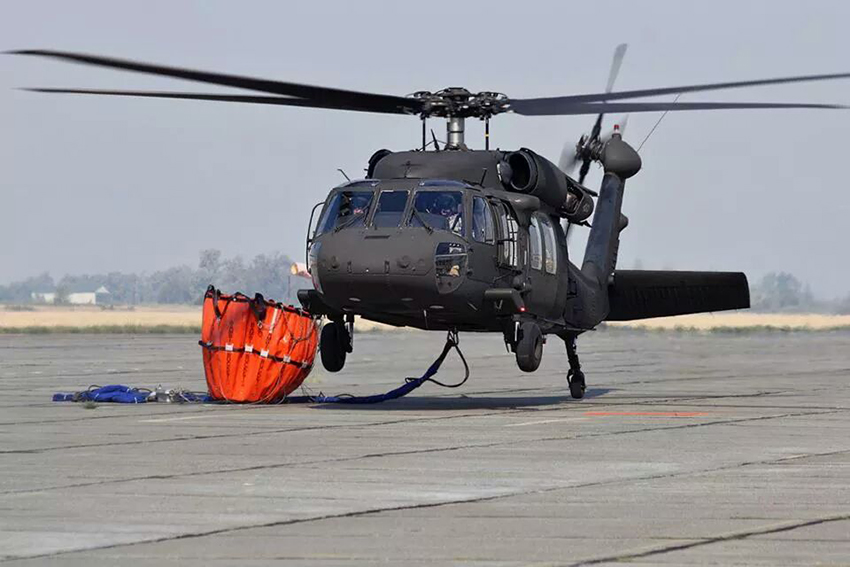 As the season's worst fire conditions continue in eastern Washington and nine large fires burn uncontained across the state, the Washington State Department of Natural Resources (DNR) has requested assistance from the Washington National Guard.
Two National Guard Blackhawk helicopters arrived earlier today, and five 20-person hand crews will arrive Sunday evening to join 350 firefighters battling one of the state's most active fires, Cougar Creek, on the southeastern slopes of Mount Adams. The Guard crews recently completed wildland fire training in Yakima.
"The Guard's help now is vital," said Mary Verner, DNR's deputy for wildfire. "This partnership is essential to our ability to fight wildfire aggressively and effectively under very challenging conditions."
"We've been expecting another devastating wildfire season – and have had our personnel and equipment ready so we can get them out the door the moment we're asked for help," said Major General Bret Daugherty, the state's adjutant general and commander of the Washington National Guard. "We've trained extensively for these types of missions and will continue to provide support for as long as needed and requested."
The Cougar Creek fire, located six miles northwest of Glenwood, began on Aug. 10. The fire has rapidly grown to 18,000 acres with zero containment after lightning struck a heavily forested area.
Other large fires currently burning in the state include Wolverine, near Lake Chelan; Paradise, on the western border of Olympic National Park; Stickpin, northwest of Colville; Nine Mile, burning on the border with Canada near Oroville, and North Star, east of Omak. In addition, numerous smaller wildfires are popping up daily throughout the state, which require immediate action by crews with engines and helicopters to keep fires from growing larger.
Today, much of eastern Washington is under a red flag fire-weather warning issued by the National Weather Service to inform area firefighting, land management agencies, and the public that conditions pose elevated wildfire danger.
The dangerous fire weather and other factors prompted a move yesterday to a Level 5 wildfire preparedness level across Washington and Oregon, according to the Northwest Coordination Center, which manages interagency firefighting.
This is the highest level for this fire season, which means the area is experiencing major wildfires which have the potential to exhaust all fire resources.
Wildfires currently raging in Oregon, California, Idaho, and Montana have pulled firefighters and air resources to those states, where the biggest fires are commanding national attention.
DNR is the state's lead wildland firefighting agency, protecting about 13 million acres of forest and grasslands across the state. As of Aug. 11, there have been 751 fires on DNR-protected lands, with 628 of them caused by human activity.
By this time last year, the state had seen 565 fires, with 455 of those human caused.
---