Class of 2016-2 features 2000th cadet to complete program
---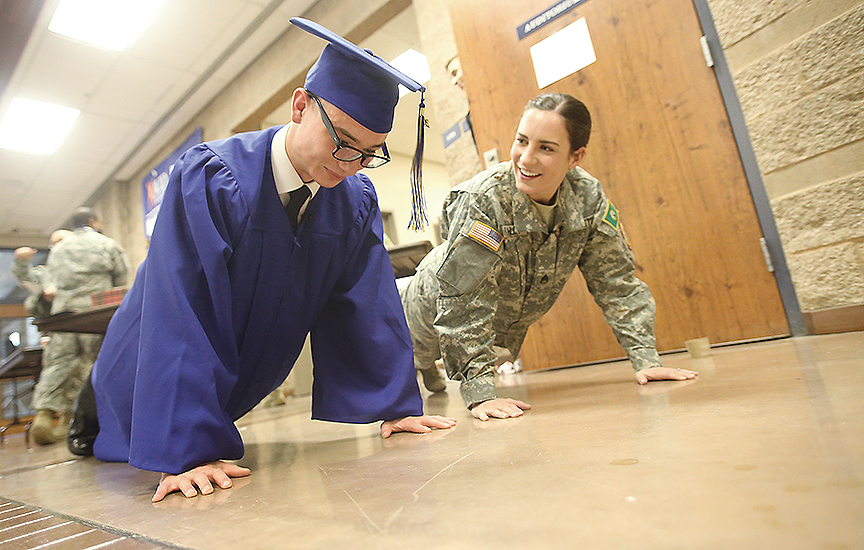 Cadet Michael Perez does pushups with his cadre at commencement one last time. Perez was chosen to
be the 2000th graduate of the Washington Youth Academy.
Class of 2016-2 features 2000th cadet to complete program
Michael Perez was angry. He was lashing out at his parents, his brothers, his classmates. He was failing high school. Born with spastic quadriplegia cerebral palsy, Perez says he was also in pain all the time, blaming the world for his condition.
Perez was about to drop out of Graham-Kapowsin High School near Puyallup when he learned about the Washington Youth Academy in Bremerton, a free quasi-military-type school that he says got his life back on track.
For 22 weeks, he endured grueling physical exercises and honed his academic skills. He succeeded and walked during commencement on Dec. 17, 2016. Now, he'll graduate from high school on time and he says he's feeling better than ever.
"I'm trying to better my life and show my family I'm better than how I was," he says. "I've accepted responsibility for all the things I've done bad and I'm moving forward."
Perez was the 2000th cadet to graduate from the Youth Academy and one of the 149 cadets from the 2016-2 cycle.
Cadets from each corner of the state attend the free residential school geared at teaching teens discipline and helping them recover credits so they can go back to high school and earn a diploma or seek an alternative path to finish their high school education, such as a GED or by joining Running Start. The Washington Youth Academy is a division of the National Guard Youth ChalleNGe Program.
BROTHERS
Cadet Cody Opp of Spokane had a general idea of what would happen to him. He's the second in his family to attend. His brother Cory attended as part of Class 2015-1.
"What was great about Cory attending and now Cody is that life in our house is so much peaceful now," said Angela Opp, their mother. She's a single mom of four, who works full time and says her boys just needed some extra guidance – which the Youth Academy gave them.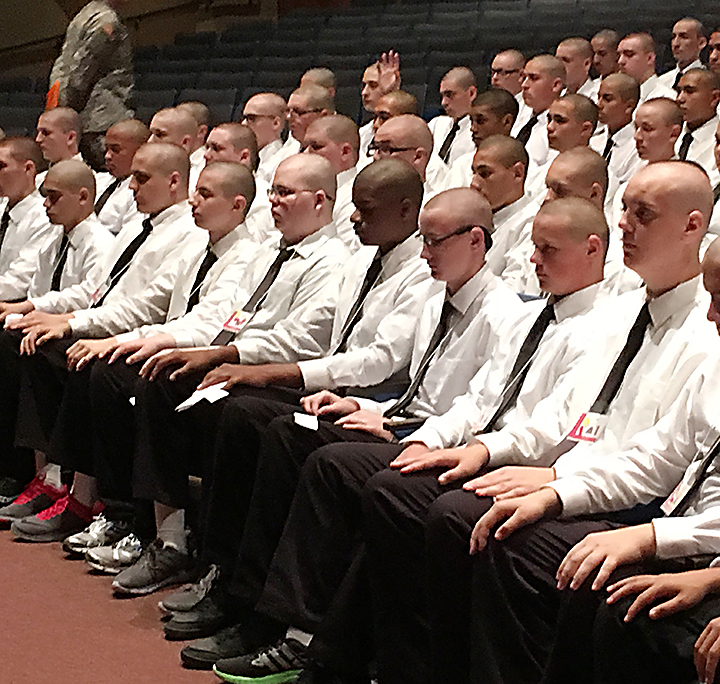 Cody Opp, far right, on intake day for Class 2016-2.
"Even our younger boys who haven't gone have benefited because life at home is so much better," she said. "This place can turn lives around and make men out of boys."
"I figured the exercises would be the toughest part but I got used to it," Cody adds. "I'm grateful for the opportunity the Youth Academy gave me. I'll graduate now."
With a graduation rate of 90.1 percent, Youth Academy Director Larry Pierce says the Class of 2016-2 had the best percentage to graduate from any class to date. Cadets can earn up to 8 credits – almost a year and a half of high school – in just 22 weeks. For 2016-2, the average number of credits earned was 7.8.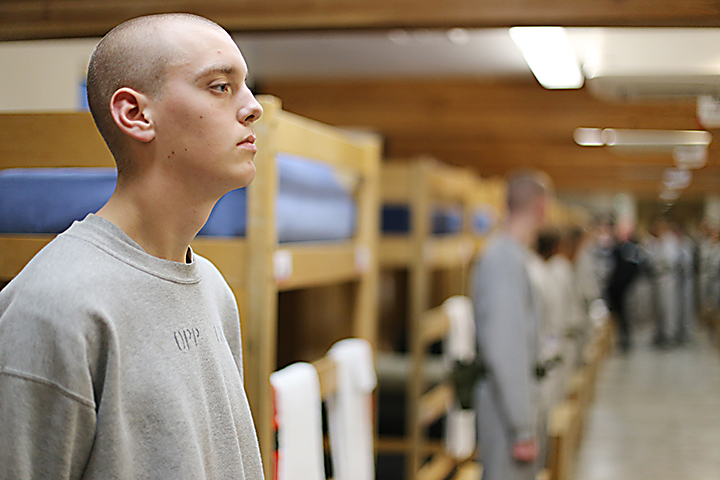 Cody Opp stands at attention in the barracks a week before commencement.
Cadets also completed 8,181 hours of community service helping to clean a Sept. 11, 2001 memorial, tending to park trails, tutoring youth and donating blood to the Red Cross.
"They've learned a lot of new things that have increased and bolstered their confidence, discipline and teamwork," Pierce says. "And, of course, our cadets invest a significant amount of time, energy, effort and a wide range of emotion in the daily life of the Academy. It's not easy and sometimes just coping with the challenges and the stresses is taxing enough, but the cadets, you overcame these challenges."
Only 17 of the cadets who completed the program started as seniors (grade 12), but of the 149 who graduated, 110 students finished as seniors.
STRUCTURE
Cadet Sophia Coronado from Kent said she had experience doing an ROTC program before coming to the Youth Academy so the exercise component was never an issue for her. She said she had issues with homesickness, though. In the end, however, she says she'll miss the Academy.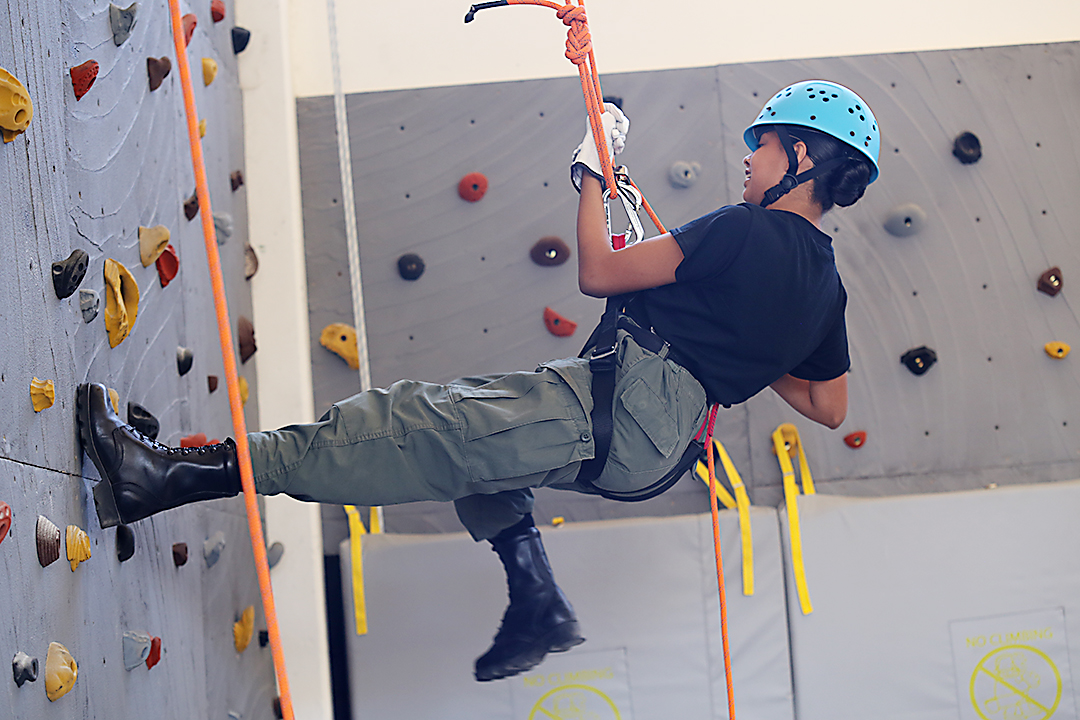 Cadet Coronado on the rappelling wall at the Washington Youth Academy.
"I am so excited and I just want to thank everyone who was there for me," Coronado said. "If you want to succeed here, you need to start out every morning with a positive attitude. Decide, 'Today is going to be a new day. I'm going to make today's challenge better.' And that's what the Washington Youth Academy is all about. It's all about the challenge."
Coronado said she came to the Academy to get more structure in her life, which is exactly what she got.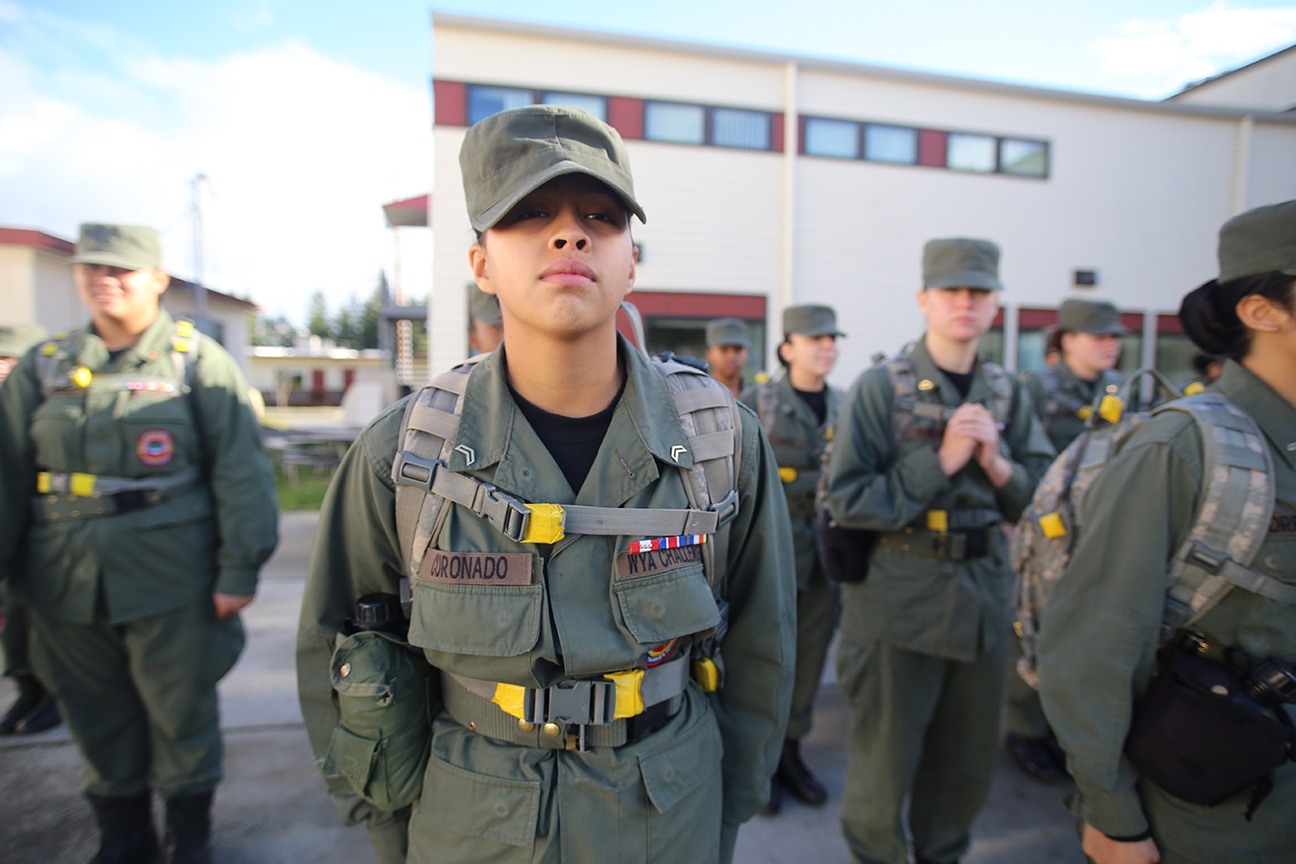 Cadet Coronado stands at attention.
"There are lessons learned here that I'll carry for the rest of my life," she said. "Sometimes you have to get to the wrongs to get to the right. Sometimes you have to walk through the dark to get to the light but no matter how hard life gets, you have to fight."
2000th GRADUATE
Born with spastic quadriplegia cerebral palsy, Perez says he's been in pain for all of his life. The medical condition impacts all four limbs, which means it's hard for him to walk or use his arms sometimes.
Michelle Perez, who is Michael's mother, said there were concerns about Michael going to the Youth Academy, but he persevered completely. The Youth Academy also has medical staff that could assist Michael with any issues he had.
"They'd never had someone like me before," Michael said.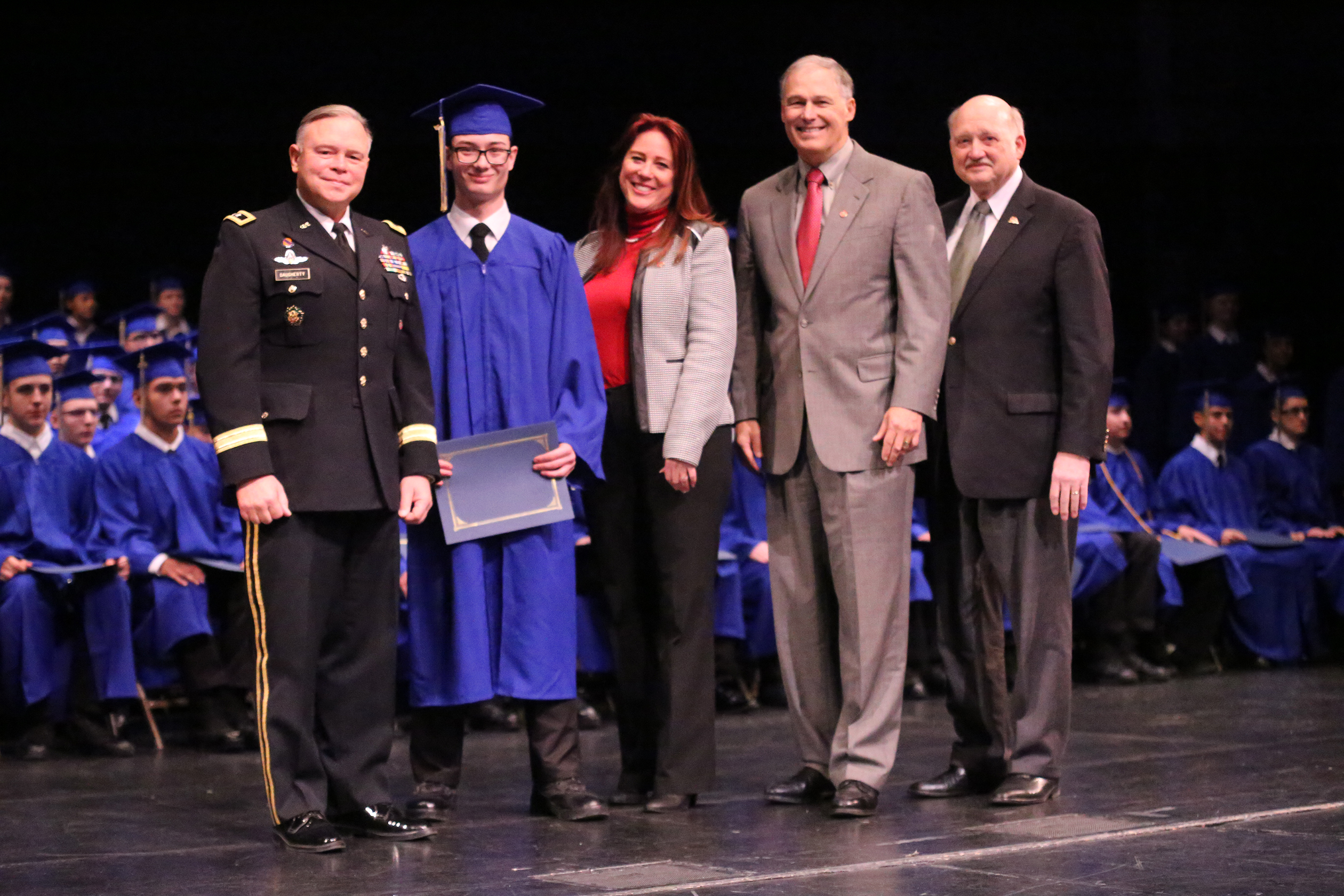 Perez stands with Major General Bret D. Daugherty, Secretary of State Kim Wyman, Gov. Jay Inslee and
former Major General Tim Lowenberg.
His mom would send him notes during mail call, sometimes with a simple phrase: Just Keep Swimming – a phrase Dory the fish often said in the Disney movies "Finding Nemo" and "Finding Dory."
"This proved to him that he could go to college, have a career, that anything was open to him," Michelle added. "I am so proud of him."
"This place is a challenge, but it's a challenge with unbelievable people and they really care," Michael Perez said. "They're some of the most amazing people in the world."
He notes that a speech by Commandant Chris Acuña really stuck with him, where the commandant compared each cadet to swords.
"When you come here, you're an ore of iron," Michael Perez said. "They put you in a furnace and they pound you and pound you and pound you until you're a beautiful blade. With that weapon in my hand, with me, I can slay any dragon that comes my way."
He added that if he can succeed at the Youth Academy, it proves anyone can: "This is a very good place. Just don't quit. You need to find the strength in your heart to realize this place will make you better in the long run."
---