What if flooding blocked I-5 again?
---
Planning for the worst kinds of winter floods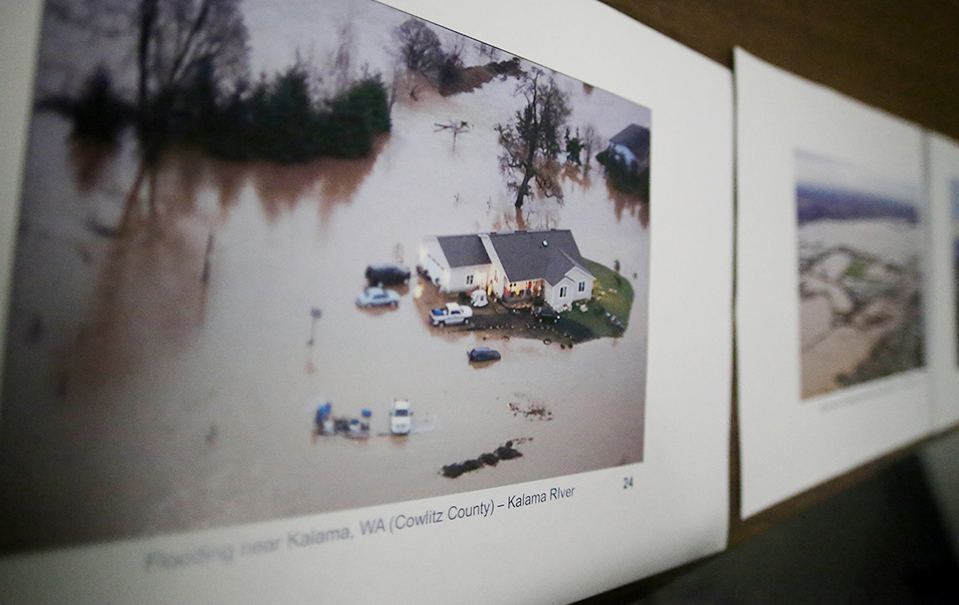 What if Interstate 5 was blocked by flood waters at both Fife and Chehalis? What if landslides and avalanches threatened every mountain pass and thousands of people were stranded?
It's a worst case scenario that dozens of state officials worked on during a tabletop exercise on Oct. 22, trying to figure out best strategies and how to cope with a potential winter flood disaster. It's all with the hope of being prepared ahead of such a disaster and to make sure the different agencies understand each other's perspectives and responsibilities.
Interstate 5 at Chehalis has been blocked twice in recent memory – once in 2007 and then, again, in 2009. Both times spurred evacuations. There's concern that given the right conditions, snow pack melt combined with intense rainfall during a short duration, it could happen again, although local officials have spent the past few years working on flood mitigation strategies.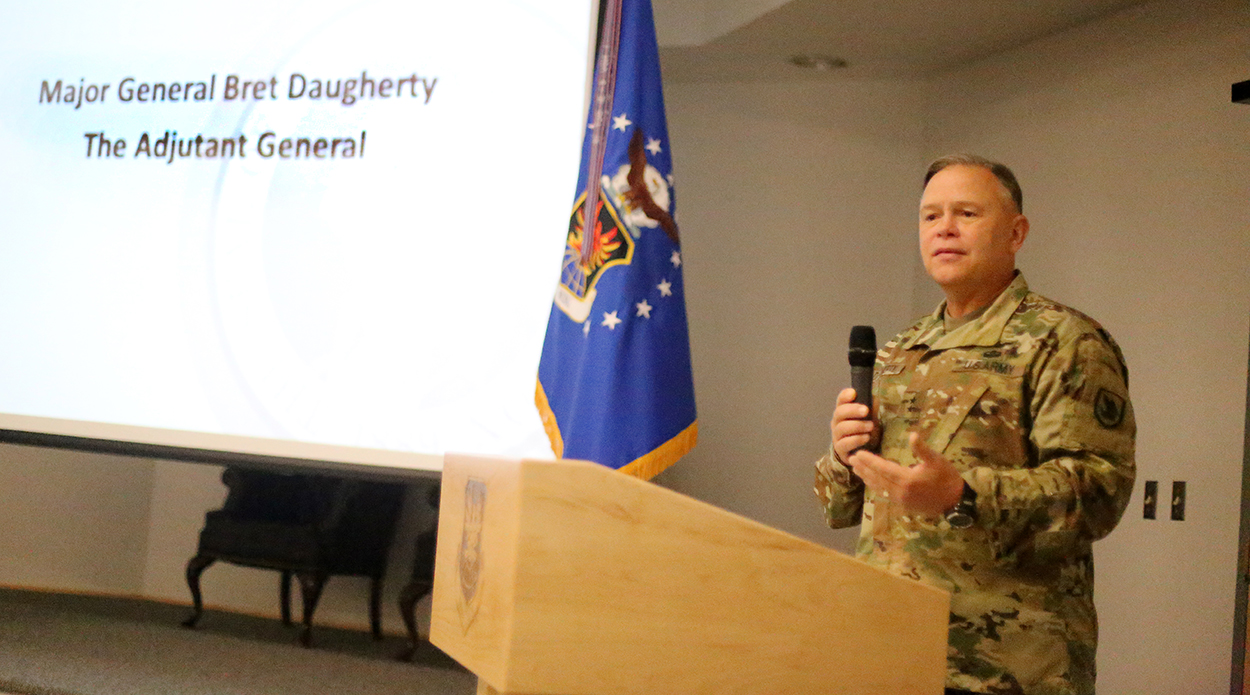 MG Bret Daugherty.
"We just finished up the worst fire season for the second year in a row and I'm so proud of the way this team came together and took care of the folks there in Central and Eastern Washington," Major Gen. Bret Daugherty, The Adjutant General in charge of the Washington Military Department, told attendees. "Now, we find ourselves between fire season and winter storm season. We're in an El Niño year, which means a warmer and a drier winter. It also means we can get the pineapple express and it was 2007 when we got hit with it last time so it just makes sense for us to get together no matter what weather pattern we're in and plan for that flood disaster."
To make the scenario realistic, the Washington Emergency Management's Training and Exercise section crafted the exercise and brought in climatologist Brent Bower of the National Weather Service to help present the scenario. It's possible advance warning of an impending heavy rain and potential flood could come with up to a 36-hour notice, giving first responders a chance to prepare. A Flood Watch would be issued first and, if the prediction got more accurate, a flood warning would be issued (read more about the watches and warnings here).
"If we know the flooding is imminent, I say let's not wait," said Washington State Patrol Chief John Batiste. "I say activate the Emergency Operations Center and let's start planning for the worst."
Lt. Phil Johnson with the state Department of Fish and Wildfire says the agency has a low flying aircraft for surveillance of potential flooding rivers to provide up-to-date information, rescue teams that could be prepped and keys to all of the logging road gates.
"Logging roads may be the best or only place to have evacuation routes to get people to high ground," Johnson notes.
Derek Sandison, the director of the state Department of Agriculture, noted that he'd want to make sure local food banks are stocked up in areas that could potentially be cut off.
"That's especially possible if we have some kind of notice," Sandison said.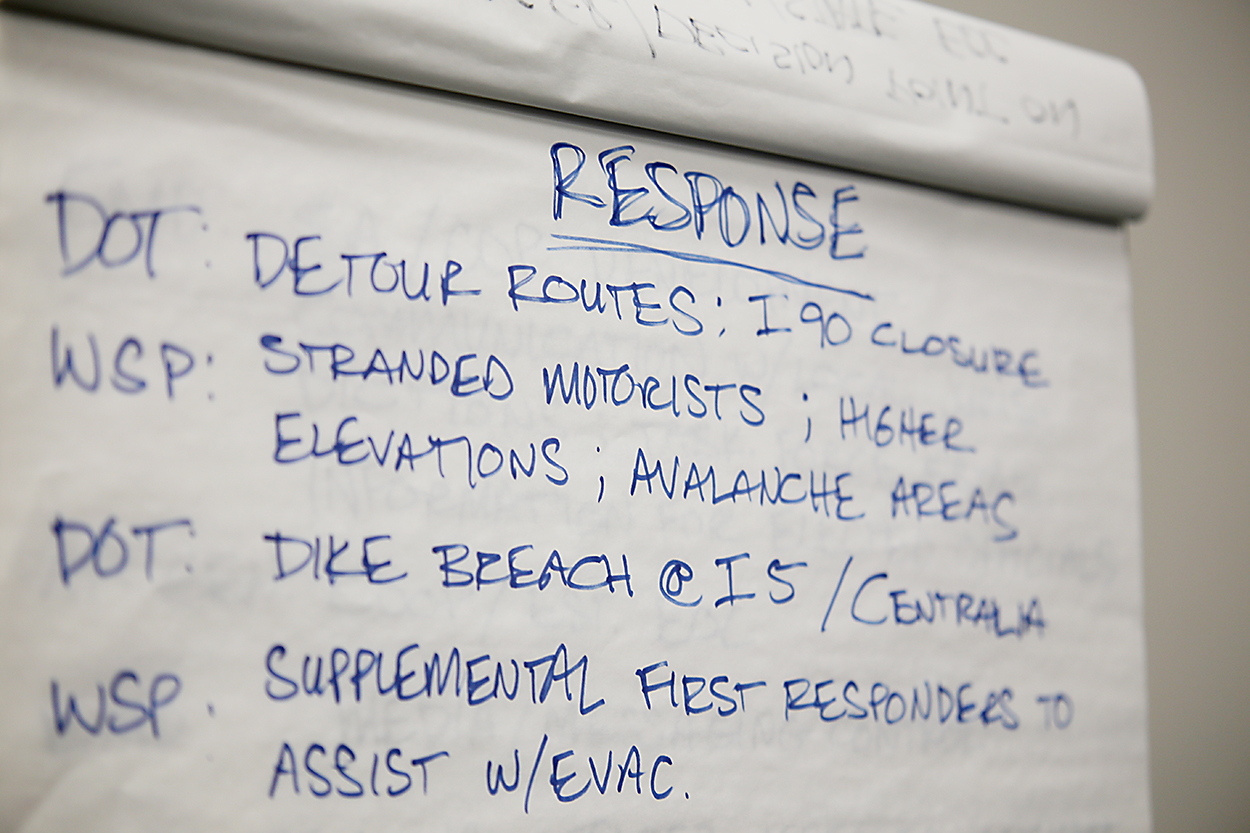 Other cabinet members and their representatives noted concerns about transportation, commerce, utilities, life safety with shelters, pets, prescriptions and protecting the most vulnerable among a host of other issues with a goal of not just saving lives, but getting parents back to work and children back to school. There was talk about how to save people stranded on Interstate 5 or on top of houses in scenes similar to the 2007 floods and to make sure help can be sent to hospitals that may only be accessible by air.
"Our first priority has got to be to keep employees and clients safe," said Sue Bush, who does emergency management for the state Department of Social & Health Services. "We need to be able to tell people where to go and how to get there."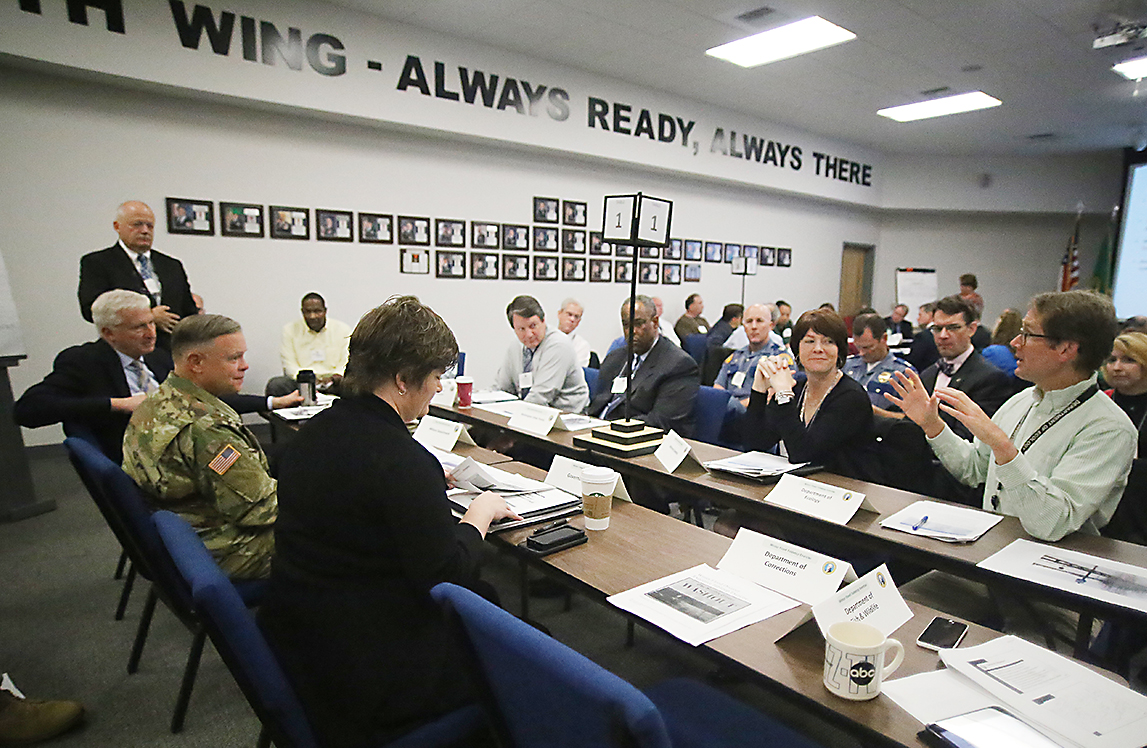 Gordon White with the state Department of Ecology talks about communication
strategies with other state officials, including EMD Head Robert Ezelle & MG Daugherty.
"We need to get on social media and own it, keep track of what concerns there are and be mindful of what others are saying," said Gordon White, a program manager with the state Department of Ecology in charge of shorelines and flood plain management.
"People want information right now and the technology has evolved to make that possible," Daugherty said.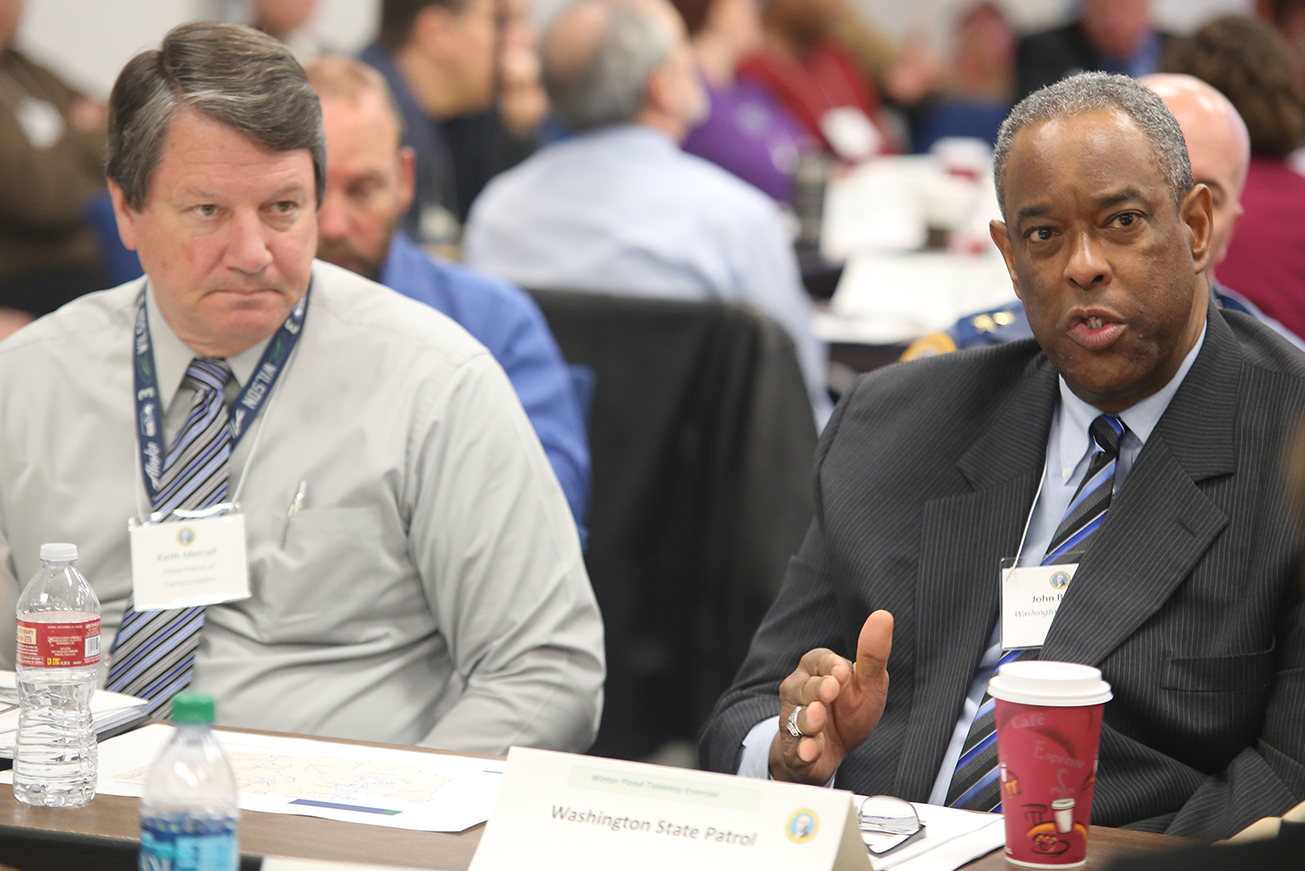 Keith Metcalf, deputy chief engineer, sits with State Patrol Chief John Batiste.
Batiste notes a recent change in state law allows the old fire mobilization rules to be used for any type of hazard, including flooding events. Fire mobilization requires approval from the State Patrol and has been used many times, including this past summer, to mobilize extra fire personnel to wildfires to help local jurisdictions, who can't handle a fire on their own.
"We need to know the trigger that it's worth it to the state to enact the all-hazards mobilization," said Daugherty.
"It should be a life safety issue," said Robert Ezelle, the director of the Washington Emergency Management Division.
"We also need to reach out to Charleston, South Carolina," which just went through a deadly flooding event, added Lt. Johnson. "We need to know their lessons learned because all this stuff is mapped out. We just need to localize it."
The session was the fourth cabinet-level tabletop exercise this year, others focusing on a potential oil train explosion, a cyber-attack and on the potential for a pandemic influenza.
"The challenge is to take all the great thoughts and ideas we had today and turn them into action items that we can all tackle now before this flood hits," Daugherty said.
---