Washington Army National Guard Prepares for Major Transformation
---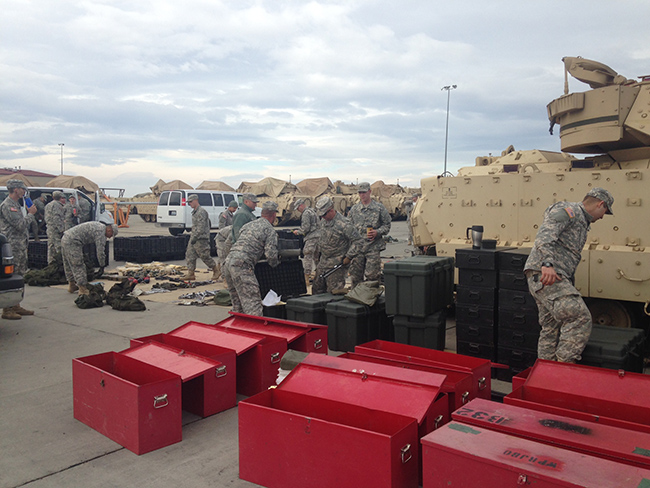 The Washington Army National Guard is in the midst of a major transformation.
Among the biggest changes, the 81st Brigade is transitioning from an Armored Brigade Combat Team to a Stryker Brigade Combat Team (SBCT) and the 56th Information Operations Group is establishing a new brigade-sized organization. These top level moves will have far reaching and long-lasting impacts on the entire Washington Army National Guard and its members.
For the 81st Brigade, the largest brigade-sized element in the Washington National Guard, there are a number of positive takeaways from the transition: equipment that is more cost effective and versatile, reduced travel for hands-on training, and better promotion opportunities throughout the ranks. For guard members, this move protects positions and secures the force structure into the future.
"With sequestration and the defense budget cuts, the National Guard is probably going to lose a Heavy Brigade Combat Team out of our force structure," said Maj. Gen. Bret Daugherty, the states adjutant general and commander of the Washington National Guard. "The 81st was basically in a death match with two other brigades to see who was going to survive and who was going to be cut. By converting to strykers, that takes us entirely out of that force structure cut and the 81st brigade is safe."
There will be some necessary changes though. For most guard members, this will come in the form of relocating from one duty/drill location to another; for others, it may mean adding an additional Military Occupational Specialty (MOS).
"In this two year [period] we're going to work with the soldiers to find the right fit, the right home, and the right opportunities for them," said Col. Dan Dent, Washington Army National Guard director of operations. "It's just going to take a little bit of time. It's going to be tough to get kicked off, but once it gets going it's going to streamline out."
The 81st is beginning the transition process now. Soldiers are starting to prepare the current equipment, getting it ready to return to the Army. And leadership is working with the ranks to determine possible relocations. It's expected that the entire cycle of equipment turn in, receipt of new equipment, training and relocation will take about two years.

Introducing the 56th Theater Information Operations Group
The Washington National Guard also just added a Major Subordinate Command (MSC) to its structure—the 56th Theater Information Operations Group (TIOG)—a brigade-sized element made-up of units that used to be under the 96th Troop Command. (See realignment chart below.)
The new MSC is home to five specialty units and was strategically established to meet the needs of the small structured organization.
"The potential for short overseas deployments and future training opportunities is going to increase because they have a headquarters that is better postured to understand their specific and special needs," said Maj. Tim Ozmer, force integration readiness officer.
Another commonality of these units is engagement in the Asia-Pacific region. A significant portion of the Washington Army National Guard's participation in this region comes from special forces, military intelligence and information operations units. Bringing them together will make it easier to synchronize efforts in support of commanders in the Pacific.
"Placing units with similar missions in the same MSC provides better opportunities to support one another," said Col. Curt Simonson, 56th TIOG commander. "This benefits our soldiers, the Washington Army National Guard and the commanders we support in the Pacific Theater."
The bottom line for most soldiers moving to the 56th TIOG is that there will be no significant impact on their lives. The most noticeable event will come in December when designated units will move into the Information Operations Readiness Center on Joint Base Lewis-McChord, a new 127,000 square foot facility designed to support the unique requirements of military intelligence operations.
Ultimately, this organization-wide transformation will enable continued service and opportunity for timely advancement and worthwhile training for every soldier in the Washington Army National Guard.
"Our troops are going to be able to look across the new formation and find opportunities," Dent said. "It's going to break up some logjams we've had…It's going to give these opportunities for everyone we have to serve, they're just maybe going to be in different places or different jobs or locations."
For the latest information on the transformation, follow the Washington National Guard on Facebook at facebook.com/washingtonguard.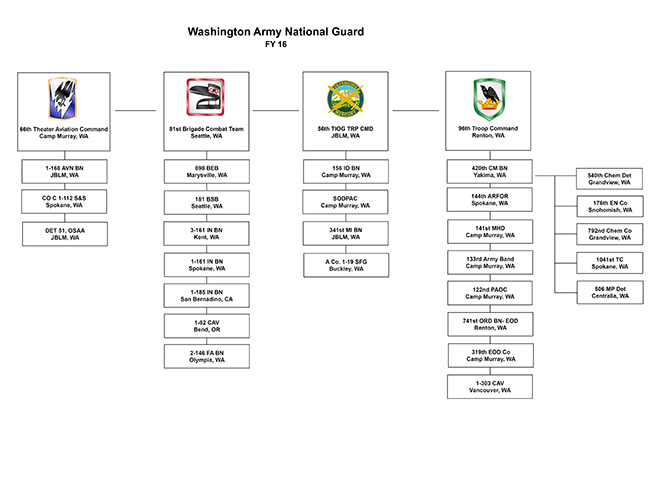 ---