National Guard to break ground on new facility on Camp Murray
---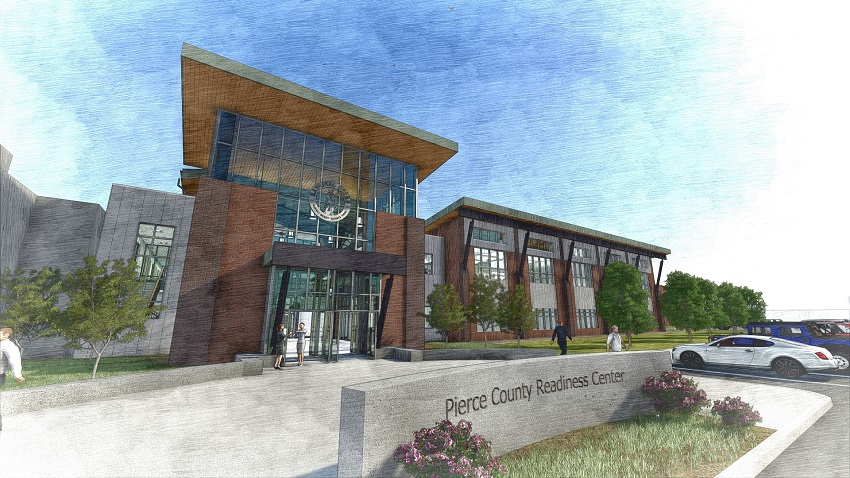 A rendering of what the Pierce County Readiness Center will look like on Camp Murray.
National Guard to break ground on new facility on Camp Murray
CAMP MURRAY, WA - The Washington National Guard will break ground on its new Pierce County Readiness Center (PCRC) in a ceremony scheduled for 1:30 p.m., Wednesday, Feb. 18 on Camp Murray. The PCRC will replace the old Tacoma Armory, which was sold in 2013.

The Pierce County Readiness Center will provide guardsmen from multiple units a new facility to perform their full-time and traditional duties, including critical training to help prepare for state and national disasters.

The new building, which will be built to meet LEED Silver environmental rating standards, will include special purpose and administration areas, an assembly hall, locker rooms and shower areas, as well as support functions associated with the facility.

The $28 million construction project was awarded to Absher and Tetra Tech after evaluating a number of competitive bids. Construction of the new 81,000 square-foot facility will create more than 300 local jobs and is scheduled to be complete by July 2016.
Interested media who want to attend can RSVP by emailing CPT Joseph Siemandel, State Public Affairs Officer at joseph.f.siemandel.mil@mail.mil.
The citizen-soldiers and airmen of the Washington National Guard are dedicated to the mission of safeguarding lives and property in Washington State, and serving as sentinels for freedom overseas.
---