JSS information: Santa Photos event in Kent
---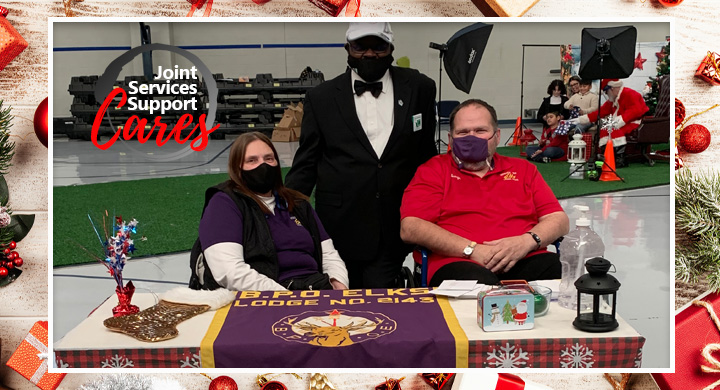 Seated in the picture above are; Burien Elks Chairman: Byron Saunders, (standing); Burien Elks Secretary: George Harper, (right) and a member of the Burien Elks Lodge (seated left)
The Burien Elks Lodge, Santa & Santa's Volunteers presented Christmas and photos with Santa in Kent, Washington, Sunday, December 5, 2021 from 1400 – 1700 at the Washington National Guard Kent Armory.
Kent, WA-With the help from community partners, (Burien Elks) and the many Joint Services Support volunteers, the "Christmas & photos with Santa event in Kent" was a huge success. With a total of 30 National Guard families of deployed Service Member's, non-deployed Service Member's and Veteran families in attendance, each family receiving free photos with Santa. "This event went off without a hitch," said event coordinator and Military & Family Readiness Specialist Cortney Holbird. "Our community partner, Burien Elks and numerous volunteers really stepped up and made this first time event a special one," added Holbird.
Upon entering the event site, families were welcomed to choose gift items from the many different resource tables available to them, compliments of Joint Services Support and WANGY Child &Youth Services. Each attendee had the opportunity to meet the Burien Elks lodge representatives where they were graciously offered gift cards for holiday meals. Families with young children were then greeted by Santa, each receiving an individually wrapped gift where upon each had their photos taken with Santa. Parents then were able to shop for stockings and gifts at the many resource and toy tables located throughout the event site.
---