Guard members reflect on history, see opportunities in future during Black History Month observation
---

Black History Month is an annual observance when the achievements by African Americans are recognized and celebrated. For nearly 160 years, African American soldiers and airmen have played a pivotal role in the Washington National Guard, in both combat overseas and at home in our state.


"At all points in our organization's history soldiers and airmen of all color, gender and backgrounds have played a key role in our successes and have helped shape a very bright future for our Guard," said Maj. Gen. Bret Daugherty, the adjutant general. "We are proud of every member for their service to community, state and nation."

First officially proposed in 1970, Black History Month became an official holiday in 1976 when then President Gerald Ford recognized Black History Month during the celebration of the United States Bicentennial. He urged Americans to "seize the opportunity to honor the too-often neglected accomplishments of Black Americans in every area of endeavor throughout our history".

For the Washington National Guard, the recognition of Black History Month means reflection, celebration and a chance to grow and learn.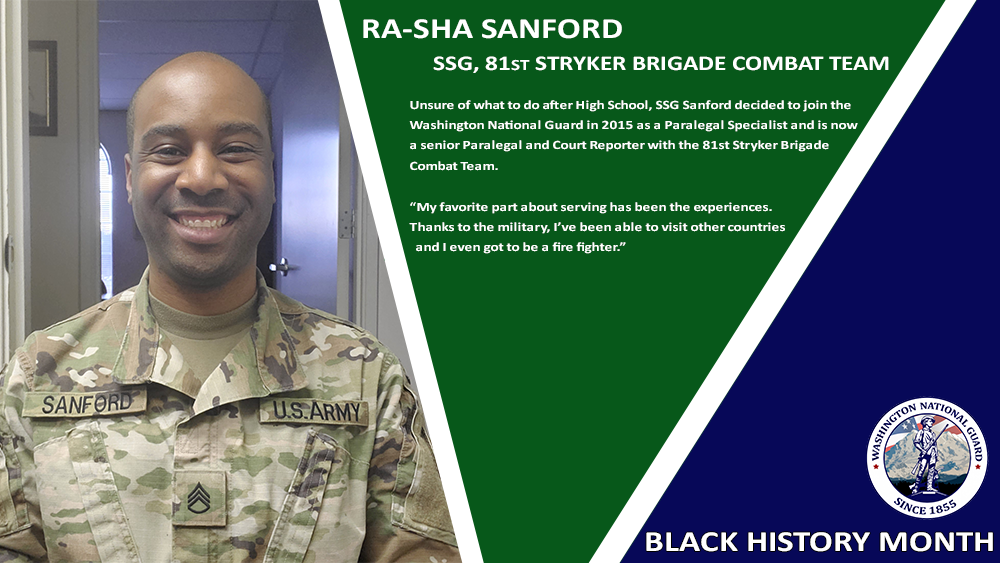 "I think about what my people went through and where we are now and by no means is the journey complete, but I think that things like this are crucial," said Staff Sgt. Ra-Sha Sanford, a senior paralegal non-commissioned officer and court reporter with Headquarters and Headquarters Company, 81st Stryker Brigade Combat Team. "Maybe it doesn't have a major effect, but it is something. At the very least it provides an opportunity for learning and the exposure to different ideas and ways of life."

Spc. Bhagirath Bhatt, a human intelligence collector with the 341st Military Intelligence Battalion echoes the same sentiment.

"I feel that this gives us a platform to speak from, educate from, allows us the ability to truly reflect on the traumas past and present, all while keeping our eyes steadfast on manifesting change in the future," said Bhatt.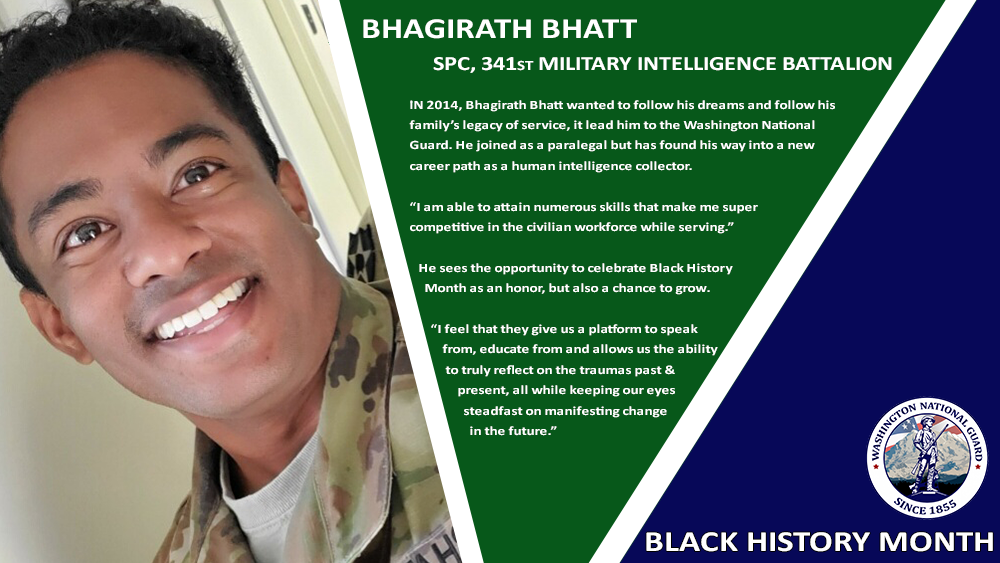 The Washington National Guard's history is scattered with stories of the accomplishments of African American service members and the impacts they made while in uniform and following their time in the Guard.
One such story from our past features two Guard members who would gain national recognition for their musical talents. In 1947, Robert Blackwell was an inspiring musical producer and performer in Seattle. To continue developing his skills he joined the Washington Army National Guard's 41st Division Band, becoming the leader of the band and promoted to Warrant Officer. Blackwell had made relationships with young musicians in the Seattle area. One of the young inspiring performers was a then 14-year-old Quincy Jones.

In a 2018 GQ article, Jones admitted to lying about his age, claiming to be 18 so he could join his friends on weekends and in the summer to perform with the 41st Division Band.

"We used to go to Fort Lewis and Fort Lawton in the summertime," Jones said. "and you'd smell the racism."

Jones and Blackwell would both go on to have award winning careers following their time in the National Guard. Through shifts in force structure and changes, the 41st Division Band led to the foundation of today's 133rd Army National Guard Band, which continues their tradition.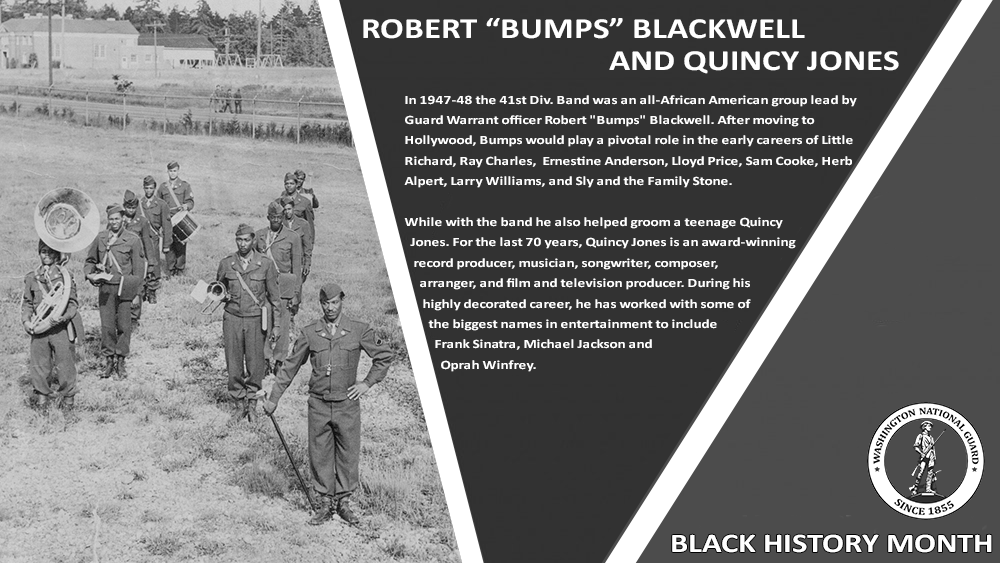 "This observance means to me a celebration of every single person who is a part of the African culture. It is representative of our struggles, our resilience, and our triumphs," said Sgt. 1st Class Tramal Williams, a recruiting and retention non-commissioned officer with the Recruiting and Retention Battalion. "It shows that we are all connected, that we all share the same problems, and that we can all work together to find solutions. It isn't where you start it is where you finish."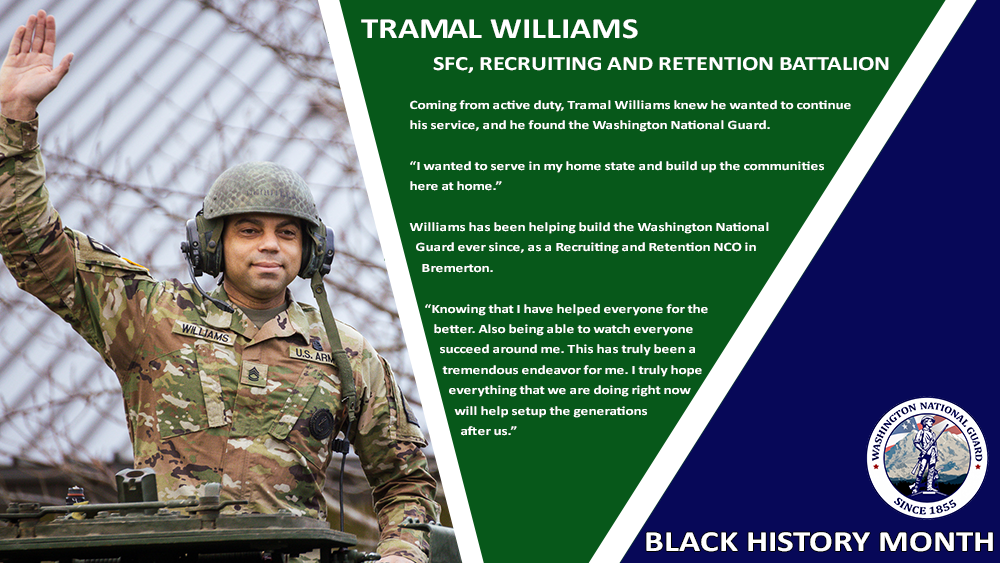 That statement was true for Brig. Gen. Victor Langford III, who served in the Washington Army National Guard from 1972 until his retirement in August 2001.

In 1972, Langford, who was already a well-known and seasoned chaplain, joined the Washington Army National Guard and was assigned as the 3rd Battalion, 161st Infantry Regiment Chaplain.

"When I started in 1972, I had no idea where the journey would take me," said Langford in a 2018 interview with podcaster Richard Stewart. "I knew I just enjoyed being in the military."

Langford took every chance to gain knowledge, attend schools and serve troops as he would become chaplain for two battalions, a brigade and ultimately the state chaplain before being selected to attend the U.S. Army War College, becoming the first National Guard chaplain to attend the school.

"I was the first colonel chaplain in the state," said Langford. "In 1995, General Barlow, the adjutant general asked who was interested in attending war college, which was usually for line officers who commanded troops. But I said I would go."

Langford completed war college in 1997. When the board for General Officer came up, he was clearly the most qualified, but was not a shoe-in for the promotion.

"I had the schools, the rank and was the only one with War College, but they didn't want to select me," said Langford.

After a review of the promotion board's recommendation, it took the chief of the National Guard to step in and ensure that Langford was promoted. Langford was appointed as assistant chief of chaplains for the Army National Guard and promoted to the rank of Brigadier General in 1998, serving three years in the position before retiring in August 2001.

"If I didn't have to leave, I would have stayed. I loved the military," said Langford.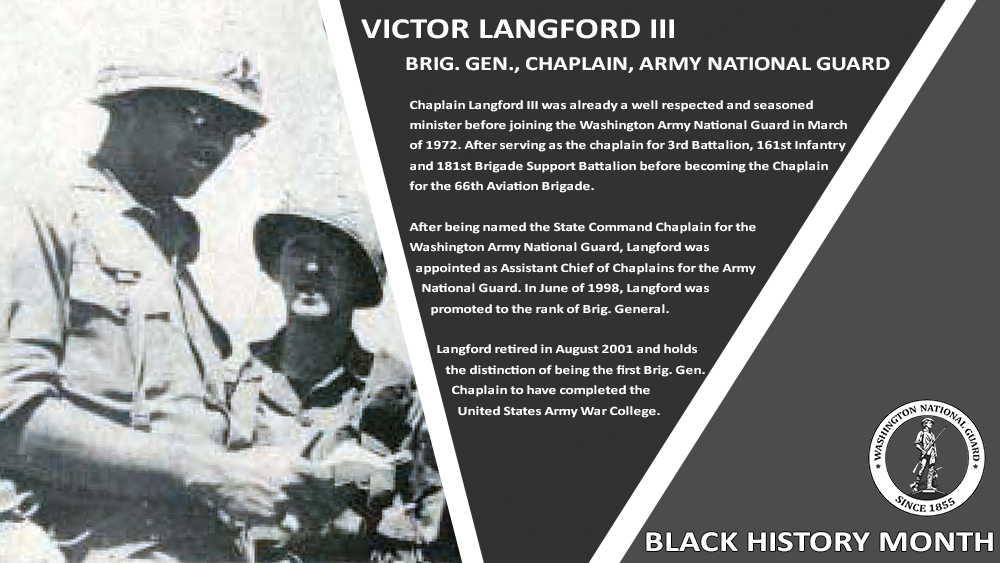 Langford is recognized today as the first Black General officer in the Washington National Guard. A few years later Brig. Gen. Bruce Linton, then commander of the 66th Theater Aviation Command, followed in his footsteps.

Linton immigrated to America as a child, coming from the Caribbean nation of Barbados as a teenager with his family.

"I would have never had the opportunity to do what I do now. That is why (service) is so important to me," said Linton in a 2018 article after becoming chief of police for the city of Tukwila.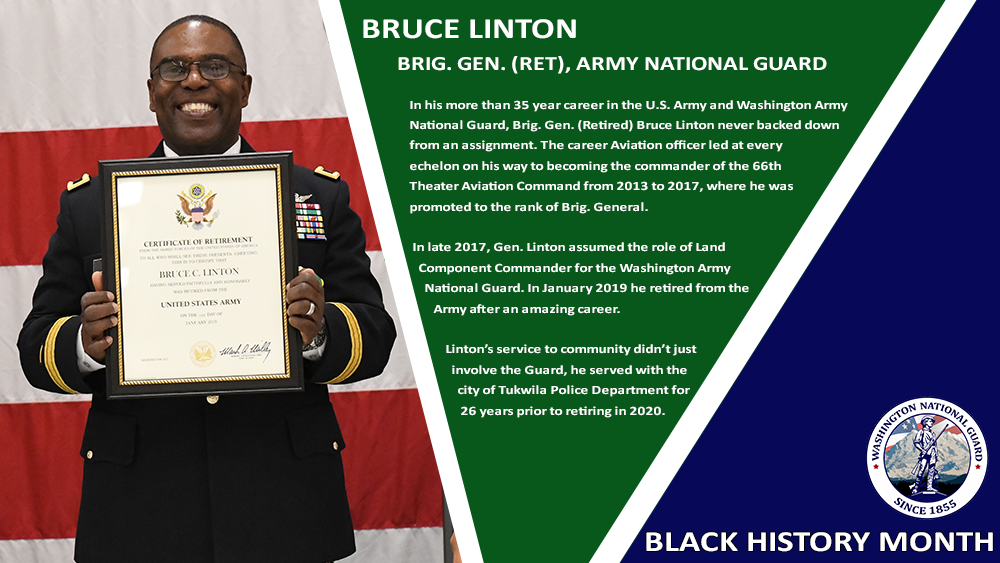 Staff Sgt. Catherine Njuguna, a medic with the 194th Medical Group is finding that same opportunity today with the Washington Air National Guard. Originally from Nairobi, Kenya, Njuguna joined the National Guard to serve her new home, seek education benefits and learn new skills.

Since joining in 2014 she has deployed to Hawaii, Qatar and returned home after deployment to assist during the COVID-19 pandemic with administering vaccinations.

"This observance to me means acknowledgement of the black culture and history, as well as the appreciation of it," said Njuguna. "Different cultures can teach us different views and how to accommodate one another, hence the Black history month gives others the opportunity to learn and celebrate black history."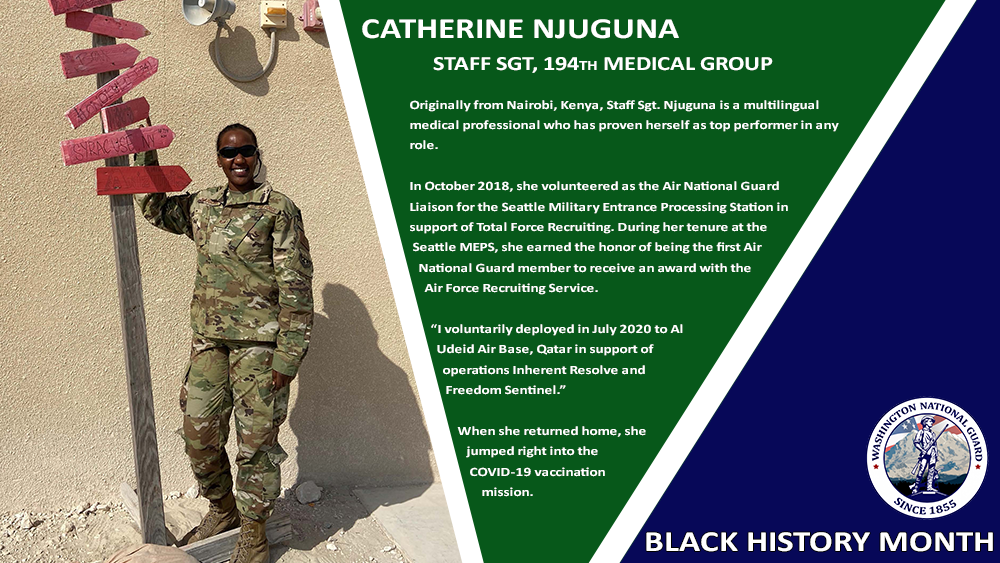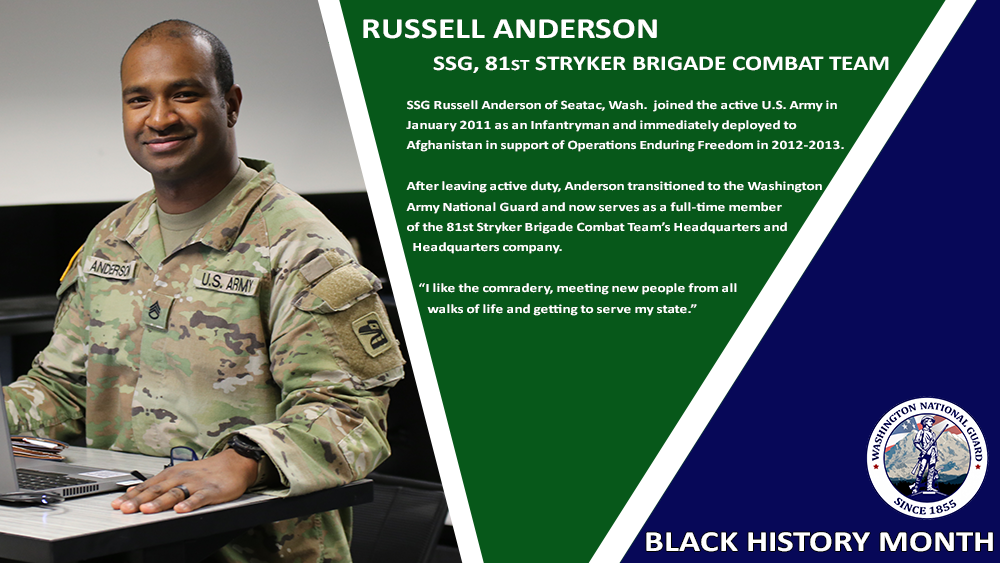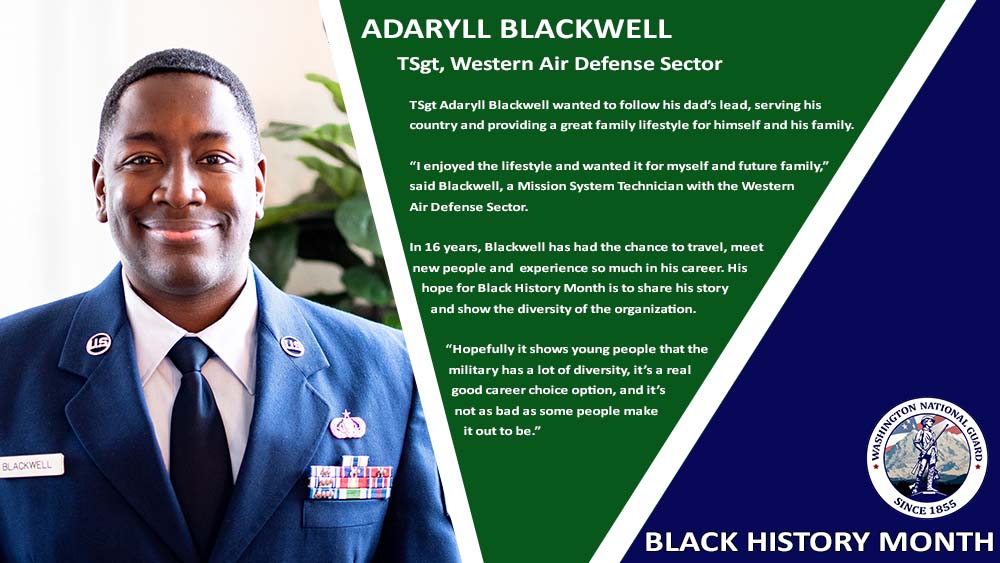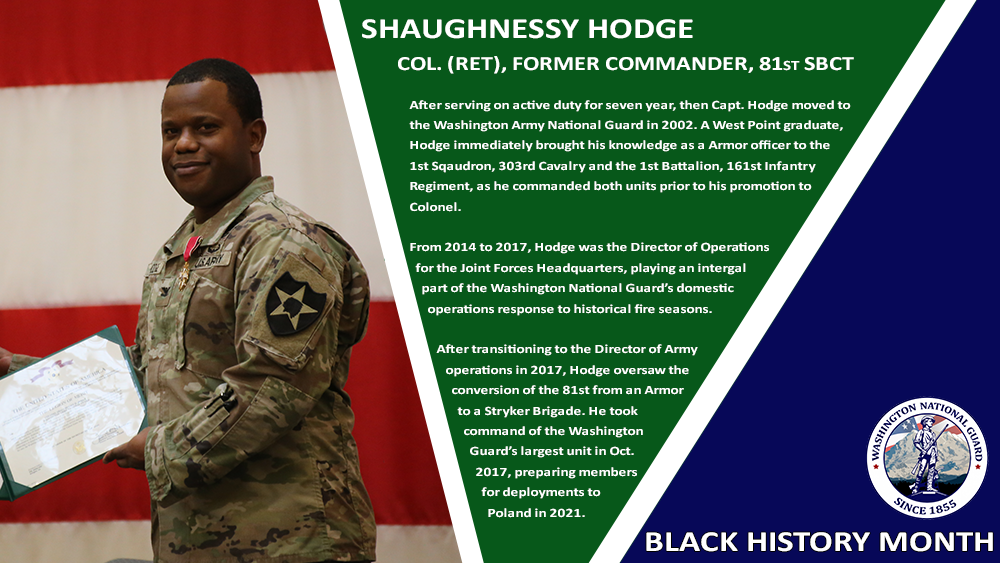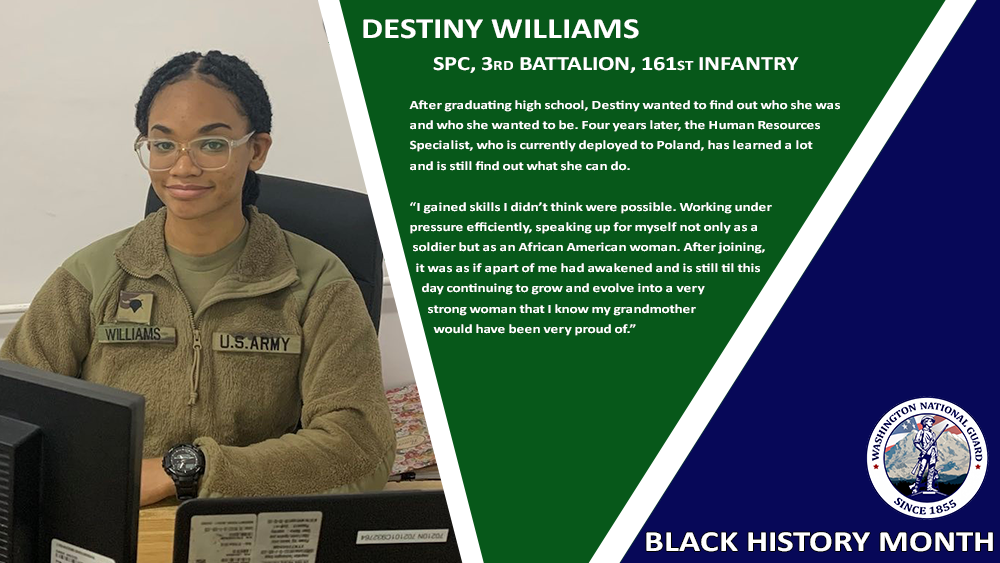 ---