ESGR Boss Lift shows employers the "Guard Life"
---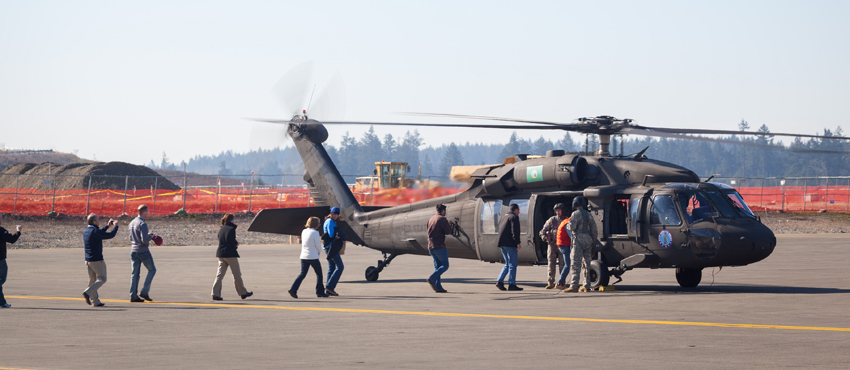 Last year, the Washington National Guard responded to not just one, but two major state emergencies with the State Route 530 Landslide in March and the worst wildfires in our state's history in July and August. These missions took Guardsmen away from their families and friends, as well as civilian jobs for extended periods of time.

No unit was called to serve longer on state active duty in 2014 than the 66th Theater Aviation Command. The pilots and crew members spent an astounding 43 days in Okanagan, Chelan and Kittitas counties fighting the massive wildfires that burnt a total of 375,000 acres of central Washington. During that time, Guard pilots flew more than 500 hours in the air, dropping more than 2 million gallons of water, with the mission of protecting lives and property.

These missions don't happen without a strong support system in place. Family, friends, employers and co-workers are that support system and to show their appreciation, the Guardsmen of the 66th TAC invited their employers to take part in a special Employer Support of the Guard and Reserve (ESGR) Boss Lift on March 7.

"The Boss Lift allowed the Raptor Battalion to take an opportunity to reach out to the employers of Guardsmen to witness the capabilities of their Citizen-Soldier employees and thank them for supporting them as they perform their National Guard commitments," said Major John King, Operations officer for the 1-168th General Support Aviation Battalion. "We recognize that employers play an important role in support of our Aviation Soldiers, and without them, we would not be able to respond in times of state emergencies."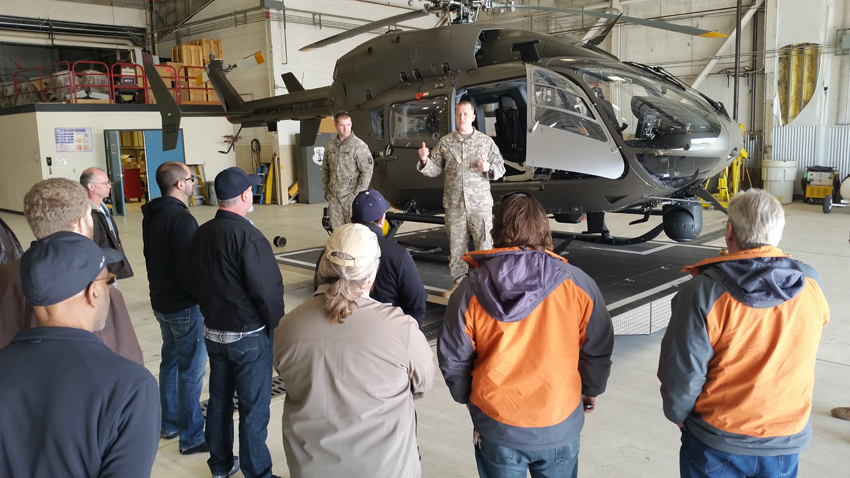 The ESGR is a Department of Defense office, established in 1972 to promote cooperation and understanding between Reserve Component Service members and their civilian employers and to assist in the resolution of conflicts arising from an employee's military commitment.
The reason this Boss Lift was special though, was because, for the first time, units in both Eastern and Western Washington coordinated their airlift missions together, showing appreciation to employers across the entire state of Washington. Employers received first-hand experience of what their citizen-soldier does during their drill or annual training weekend and also learned more about the work it takes get helicopters off the lift line and in the air.

"The Boss Lift give the employers exposure to the guard, it allows a commander to host and showcase the unit's mission," said Ken Schwarm, Program Support Technician for Washington state's ESGR program. "The Boss Lift encourages participation by employers of the Guard and Reserve to attend for a series of briefings and hands-on exposure to military life."

Recognition for the employers is a big part of what ESGR does and there are a few ways that all guardsmen can recognize them.

"Nominate your employer, supervisor, manager for the Employer Support of the Guard and Reserve Patriot Award," said Schwarm. "An employee serving in the National Guard or Reserve, or the spouse of a Guard or Reserve member, may nominate individual supervisors and bosses for support provided directly to the nominating Service member and his or her family."

In January, the Washington National Guard was on site when Colonel Anthony Bolante, Director of Staff, 66th Theater Aviation Command, surprised his employer at the Puget Sound Business Journal with the Patriotic Employer Award from the Employer Support of the Guard and Reserve.

To learn more about the ESGR programs or how to nominate your employer, go to http://www.esgr.mil/Contact/Local-State-Pages/Washington.aspx .
---