Earthquake experts field dozens of questions online
---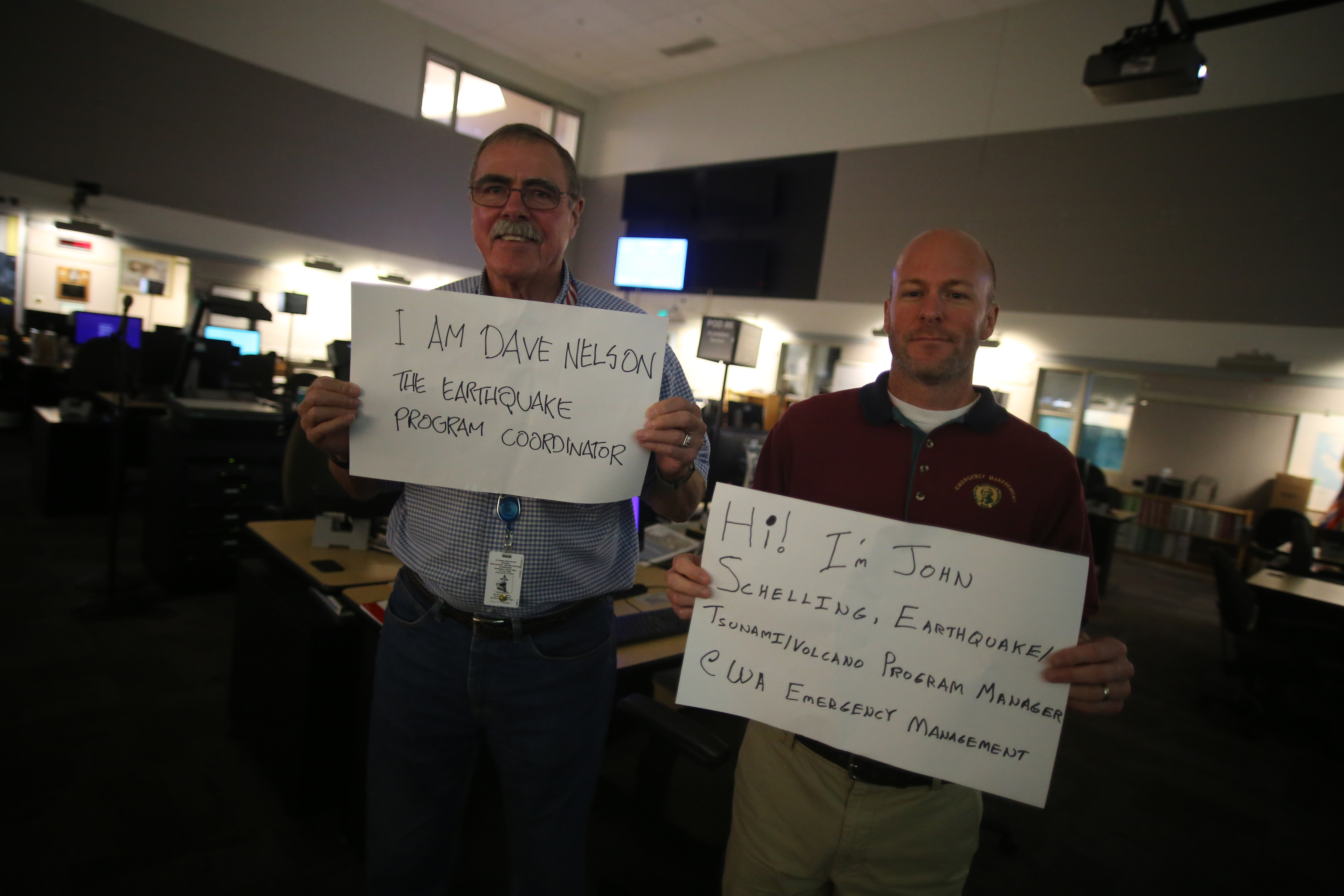 Earthquake experts field dozens of questions online
We were proud to participate in a reddit Ask me Anything on Oct. 15, the day of the Great Washington ShakeOut, drawing more than 850 comments and dozens of questions about earthquakes. Thank you to the public for participating and for reading. Hopefully this we can do it again sometime.
You can find the entire string here. https://www.reddit.com/r/IAmA/comments/3ovsv1/iama_pacific_northwest_earthquake_experts/
Among those participating were:
Paul Bodin, a seismology researcher at the University of Washington and manager of the Pacific Northwest Seismic Network
Jim Hutchinson, the catastrophic incident response planner for the Washington State Military's Emergency Management Division
Emory Montague, R&D Engineering Manager for Simpson Strong-Tie, an expert on structural engineering during earthquakes
Rosanne Garrand, Public Education Program Coordinator of the Washington state Emergency Management Division [http://mil.wa.gov/preparedness]
Dave Nelson, earthquake program coordinator for the state Emergency Management Division; and
John Schelling, Washington state's Earthquake/Tsunami/Volcano Programs Manager
In supporting roles we also had Tabitha Laird, tsunami program manager and Steven Friederich, Digital Media Coordinator for the Washington Military Department providing technical assistance and hunting down links on the website.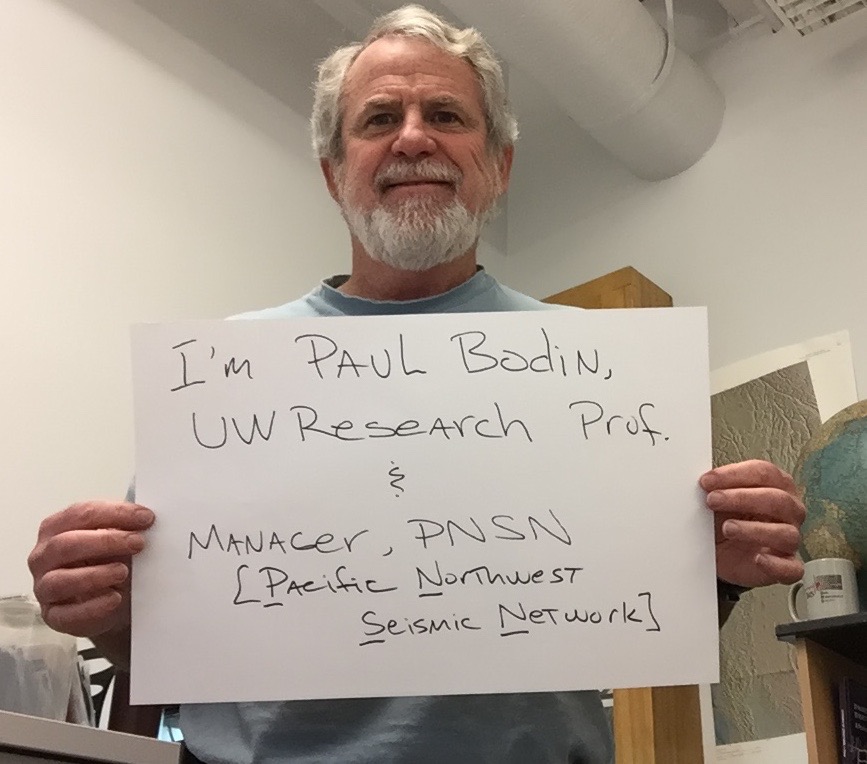 Among a select choice of questions, some of the most popular as voted by readers:
Is there any likelihood that "The Big One" could trigger volcanic activity along the Cascades? How would response to a subduction zone earthquake, and tsunami change if you had to deal with a major eruption at the same time? Is there any extra preparations one could make to deal with that hopefully unlikely situation?
I don't know if this has been estimated, but I doubt it. However, it is highly improbable. At least if you're asking if shaking from a large earthquake somehow releases magma to the surface. In our experience globally there are anecdotal accounts of this happening (big earthquake followed by eruption), but making even statistical statements is difficult. And proving causation very difficult indeed. At any rate there have been many large subduction zone earthquakes and very few eruptions that could have been associated with them, so the likelihood is minimal. Also, there are 9 dangerous Cascade Volcanoes, so whatever miniscule chance of triggered eruption from a Cascadia earthquake would presumably be spread across all of them, and reduce the individual odds almost an order of magnitude! That said, there's almost 100% chance that the next Mt. Rainier eruption will be accompanied by LOTS of earthquakes as magma works its way up to the surface, breaking rock as it goes. But in these cases the earthquakes are part of the eruptive process, not a trigger as such. – Paul
One of the things that occurs is that the 'cracks' that form the crustal 'plumbing' for water and other liquids gets rearranged by an earthquake. The affect wells and springs, for example - sometimes reducing their flow and sometimes increasing the flow. Eruptions also depend on internal magma pressure, temperature and other factors so there's not really a direct link.-- Jim
I've heard conflicting arguments about whether or not there would be effects from tsunamis in Seattle. From my understanding, the coastal tsunami would have no impact on Seattle, however, is it true that there would be "mini tsunamis" in Puget Sound or in our lakes? If so, what damage might they cause?
We have been working with NOAA's Pacific Marine Environmental Laboratory for the past year on modeling the effects of a Cascadia Subduction Zone tsunami within Puget Sound. While the results are still preliminary, there are definitely some areas that see inundation. Earthquakes can also trigger landslides, both above and below the water, and there are several examples and research of this happening from previous earthquakes. So, the same advice applies to all of Washington's 4 coast's (Pacific Ocean Coast, Strait of Juan de Fuca, Columbia River estuary, and Puget Sound)...if you feel the ground shake, move inland and to high ground until you know it's safe to return. – John
I've read that our current ability to predict earthquakes is shaky at best. What are your thoughts?
Predicting when any individual earthquake occur is out of our reach now. Although there are some enticing recent observations from large earthquakes in Japan and Chile that earthquakes were preceded by observable deformation. Whether this is a general feature of large subduction earthquakes or if similar deformation occurs that is NOT followed by an earthquake remains to be seen. –Paul
"Shaky" may be an upgrade in predictive ability! We can measure a lot of things that are related, though - bulging of the surface of the earth, very small earthquakes, changes in the fume chemistry of volcanos. We can't really correlate in a way that is actually predictive - the movie San Andreas notwithstanding. – Jim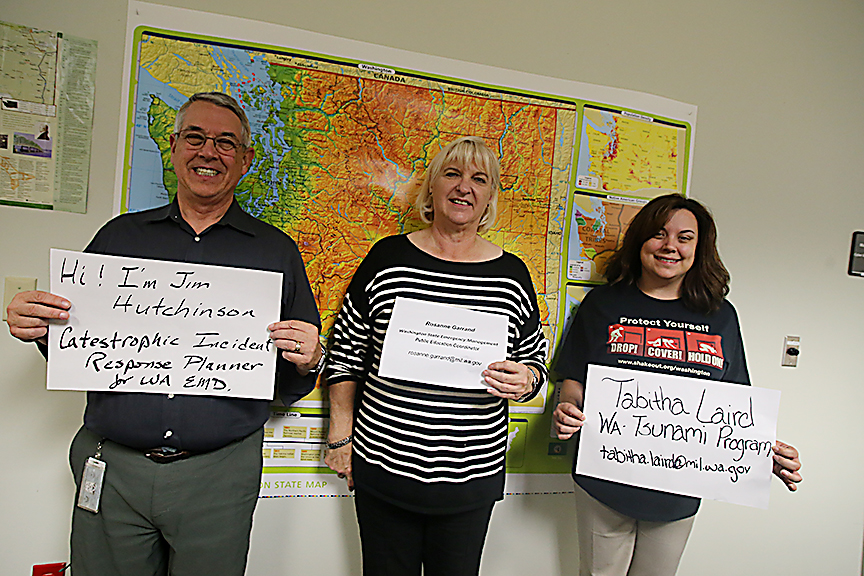 Good morning from UW! Are there currently any plans for a region-wide earthquake early warning system, much like what Japan uses today?
Yes indeed. We are testing an early warning system for the past couple of years in California, and past year in Oregon and Washington. We anticipate a public "roll-out" of the prototype, including the PacNW in mid-2016. The system is called ShakeAlert. More at http://www.shakealert.org – Paul
The early warning system is developing as technology and budgets allow. More information regarding the PNSN Early Warning System here: http://pnsn.org/pnsn-data-products/earthquake-early-warning ~Tabitha
Paul can give you a better read on the status of early warning systems, but any deployment will take time & $$ to fully deploy - for example retrofitting elevators in commercial buildings. There is no real timeframe for 'the big one' - we really don't have a method of predicting quakes which is why preparedness is so important. -- Jim
Sure. California's prototype production system will be ready for unveiling in "a few months". Our system in the PacNW lags until at least Summer '16, as we test how to best integrate with the Californians. We are working with a diverse group of users who receive our alerts to find out how they can best use them, and what changes we need to make. This is ongoing. I guess I should add that the system in Mexico has been operating for more than a decade, and Japan's system is based on at least a thousand seismometers onshore and now an offshore cabled sensor network. But both areas have experienced recent devastating subduction earthquakes and Japan has a huge risk. Our hazard level is lower here, but we want a system in place BEFORE the next earthquake, not installed regretfully AFTERWARD. -Paul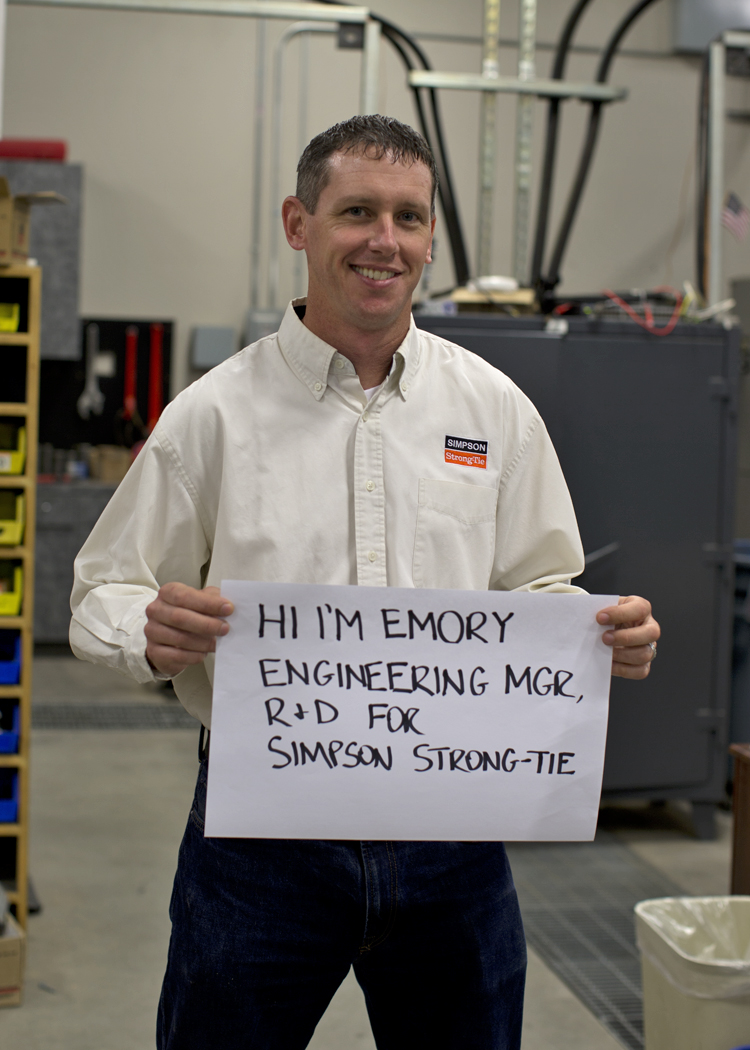 What kind of damage is likely to happen to a 100+ year old wood frame house that has not been retrofitted for earthquake, i.e. bolted to the foundation in the event of a subduction zone quake or a Seattle Fault quake?
The main damage that happens to homes like these are sliding off the foundation, cracking and if you have a fireplace, the chimney may be vulnerable to collapse. Here is a video about a business owner's building during the Napa Quake that shows how you can retrofit a building like this and how it can reduce the potential for seismic damage: http://www.strongtie.com/videolibrary/earthquake.html -Emory
Lots more questions and answers in the full Ask me Anything
---