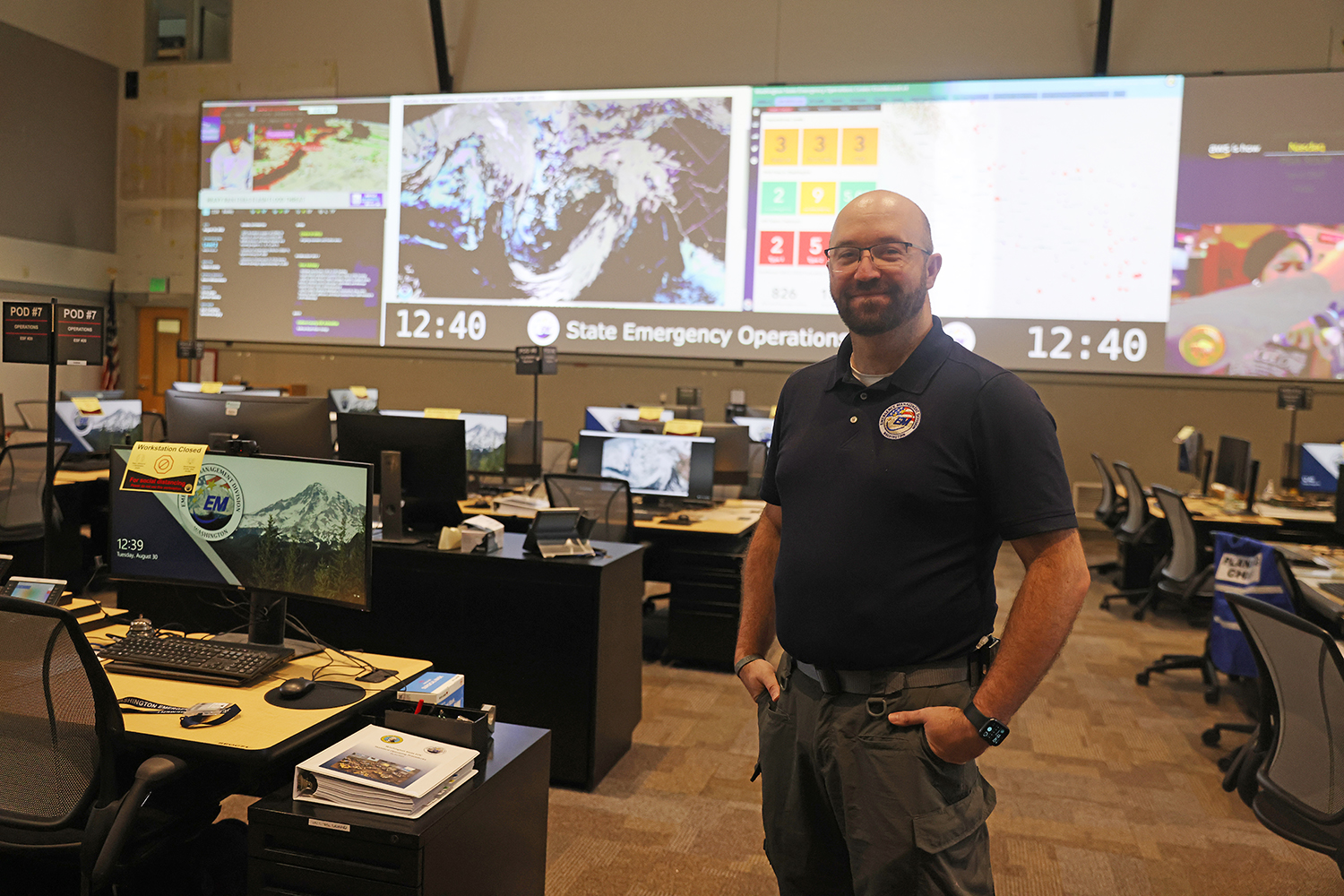 Big and small changes at State Emergency Operations Center
---
The Washington State Emergency Operations Center (SEOC) is getting some necessary upgrades following years of constant activations.
"It's been a busy few years," said SEOC Response Section Manager Kevin Wickersham. "In the past year or so, we've made large and small changes to streamline operations, dedicate staff time and improve our technological functions."
The Emergency Management Division of the Washington Military Department manages the SEOC located on Camp Murray near Tacoma, Wash. When an emergency occurs, numerous agencies at the local, state and federal levels quickly gather at the SEOC to collaborate and respond to help protect life, property, the environment and the economy.
"We strive to integrate all state agencies into the SEOC," said SEOC Manager Will Vance. "This facility belongs to everyone, not just the Emergency Management Division. We want to make sure we have technology in place to make to it work for everyone, regardless of the emergency."
Extended activations for civil unrest, wildfires and floods, along with the longest SEOC activation in the state's history for the COVID-19 pandemic, unveiled several needed improvements – both to the structure of the SEOC and operational strategies.
The physical changes focused on enhancing technology to improve functionality for remote users – including a shift away from desk phones to computer based soft phones that use desktop software, mobile apps, or an internet browser–based application via Microsoft Teams. Additional upgrades include an updated audio/visual system that allows for remote personnel to be able to speak directly to staff in the building during briefings, updates to the online emergency information sharing and resource tracking application (WebEOC), enhanced GIS capabilities, and new screens and dry erase boards. Additionally, each workstation is now equipped with a webcam and headset to provide quality audio/visual participation in remote meetings and a cache of supplies is now available to make sure needs are met in the building.
"Small changes can make a big difference to ensure our responders and team members have the tools they need to get the job done," Wickersham said.
Along with facility improvements, there has been a shift in staff resources. Six new full-time project positions now provide continuity for the command staff. These include an SEOC manager, planning section chief, operations section chief, and logistics section chief. In previous activations, EMD and other state agency staff would rotate between SEOC work and their regular positions. In addition to staffing in the SEOC during emergency situations, the full-time resources allow for focus on training needs, incident close-out reports and documentation to support long term recovery and planning. Additionally, full-time staff are completing after action reports and continuous improvement planning to ensure lessons learned are captured and incorporated into the standard operating procedures (SOP).
"We want to make sure we are capturing the good and bad lessons learned from past responses – this makes us better and stronger moving forward," Vance said. "This includes being sure our structure and decision-making processes align with our current operating environment."
---