The Washington Youth Academy's mission is to provide at-risk youth a quality education, positive values, and life and job skills training that will change their lives and give them hope and opportunity for a new future. This is a FREE Life Intervention, Credit Recovery Program and, for half a year, requires the cadet to live in housing we provide in Bremerton, Wash., but any resident of Washington state can attend.
The program incorporates a highly-structured format, with an emphasis on student discipline and personal responsibility to provide a positive, safe and secure learning environment.
Due to the COVID-19 virus and restrictions put in place by the state and county, we will not be starting a new class, July 18, 2020 as scheduled. There is a slim, but unlikely possibility that this class will start late August, early September. If a second class in 2020 doesn't happen, our next class will be Jan. 16, 2021. It's expected that the capacity of the next few classes will be significantly reduced due to social distancing requirements. We recommend completing your application now, so that you can be prepared and considered for admission to any upcoming class.
While a July class is no longer an option, urgency remains in getting a WYA application submitted. We already have enough applications to fill half the available seats in the next class. Applications submitted first will be considered for the remaining seats. Apply NOW to make sure you are in the running for the next class.
Based on the small possibility that the public health posture changes in August or September, there remains a slim possibility that another 2020 class could be convened. Those youth who apply NOW will be considered for those seats, should they become available!
An application does not commit a youth to attend. It is a door opener. While many families and youth are seeking ways to earn credits, those who have already applied to the WYA for the opportunity to earn eight credits in 5 ½ months will be the first considered for this unique and robust opportunity.
Most importantly the WYA puts the health and safety of our students first. During this time, we are adjusting our campus to meet Department of Health requirements to keep our students safe. Apply NOW to the Washington Youth Academy for a challenging and productive adventure towards becoming the successful men and women of the future.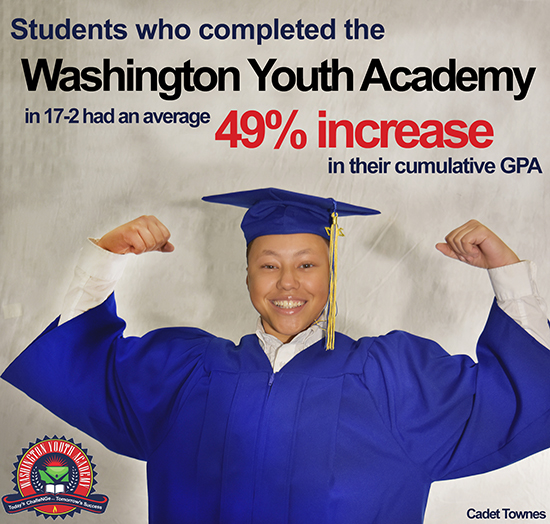 Completing this form will allow admission staff to contact you. Please fill out the form below and we will get back to you as soon as we can. For frequently asked questions, visit here. More information about the Academy can be found here.