Business Re-Entry Registration
Respected colleagues,
The Cybersecurity and Critical Infrastructure Protection (CCIP) unit would like to inform you of the suspension of the Business Re-Entry Program pending the onboarding of a new unit manager. This manager's responsibilities will work with all of you directly to re-enroll those that have lapsed memberships and provide a new direction for the program seeing as the COVID-19 pandemic has ended. For the time being, if you have a lapsed membership see this as our notice that it will continue to be valid until established otherwise by the unit manager.
For those interested in the program for future disaster or economic communications, feel free to contact our unit at ccip@mil.wa.gov.
We hope all of you will accept our deepest appreciation as we move forward.
With gratitude,
Cybersecurity and Critical Infrastructure Protection Unit
The Washington Business Re-Entry (BRE) registration system provides statewide consistency in identifying business representatives with a critical need to access facilities or infrastructure located within a disaster impacted area. It serves businesses by informing emergency managers at the state, county and city level about the access and re-entry needs of businesses affected by a disaster.
Before registering with the system at the link below, please carefully read the information contained on this web page. You may also read the BRE Registration program document (PDF) in full. The BRE Registration system fits within the broader WA Re-Entry Framework (PDF).
IMPORTANT NOTE: The BRE Registration system is specifically intended to provide access to communities and facilities. If you are a freight mover seeking priority access through a detour route during a major transportation disruption, you need to apply for Washington State Department of Transportation (WSDOT) Commercial Vehicle Detour Pass: The Detour Pass Homepage
How it Works
BRE Registration is a voluntary information sharing system that provides standard access/re-entry protocols for use following a disaster or incident. Private sector organizations (businesses) participate by registering at any time (not just in the event of a disaster). Registration information will be confirmed annually, and accounts will remain active indefinitely if the business responds to annual verification of information and does not violate the conditions of the program. EMD provides local (city & county) emergency management organizations access to a database of registrations to make informed decisions when conducting re-entry operations. This provides a statewide standard process, with the goal of simplifying the identification of businesses with a need to access affected communities or damaged infrastructure/ facilities. The BRE Registration program expedites business access to impacted areas to enhance response and recovery operations, strengthen the resiliency of the commercial sector and support economic recovery. However, BRE Registration does not grant or guarantee right of access. Access remains solely within the control of the county or city with authority over the affected area.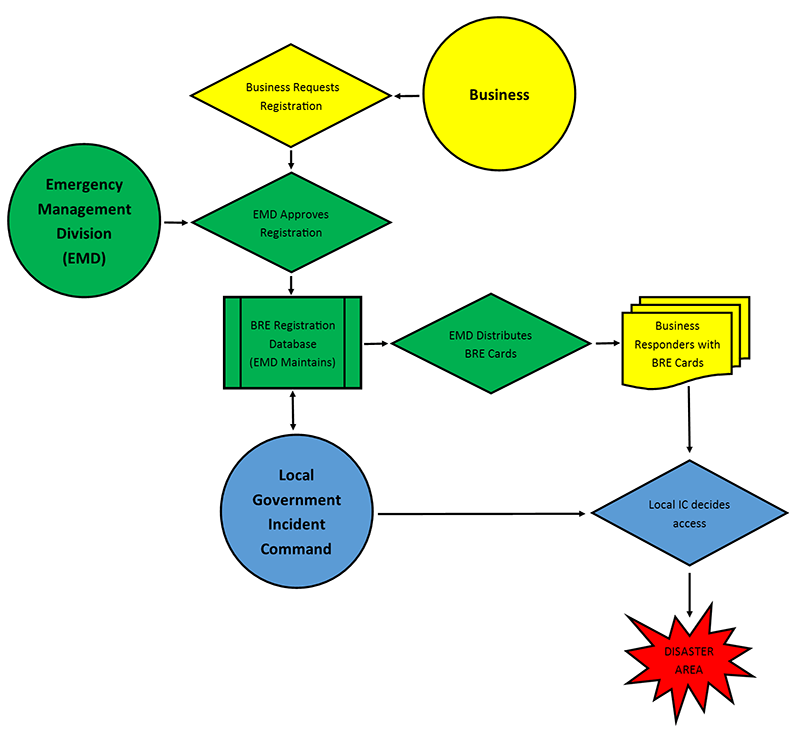 Who Should Register
BRE Registration is designed for private sector organizations with a need to conduct response and recovery operations, protect critical infrastructure, perform damage assessments, complete essential repairs and/or preserve critical business functions. Private sector organizations that fall within the following categories are encouraged to register for the program:
Association with an owner or operator of "critical infrastructure" qualified under one of the 16 Critical Infrastructure Sectors as defined by the Department of Homeland Security;
An Insurance provider with policies impacted by the disaster/incident; or
Businesses with an immediate need to access infrastructure/facilities to preserve critical business functions or perform damage assessments. "Critical business functions" may include a wide range of business actions, activities, or processes. These functions are critical to business operations and their restoration or maintenance may be time sensitive.
Disclaimers
BRE Registration does not grant, provide or guarantee any right of access to any area at any time by any organization. EMD has no authority to grant entry or access to any area and neither BRE Registration, nor the issuance of BRE Registration Cards grants, authorizes or guarantees re-entry or access to any area of the state by any BRE registered organization. Authority to grant re-entry or access to any impacted area resides entirely with the authorized government officials responsible for exercising control over the impacted area. Access may be revoked at any time once granted by local authorities. Surrender BRE Registration Card if requested by an authority from any level of government.
BRE Registration is a voluntary program. Private sector organizations who participate are voluntarily submitting their information to EMD. Local governments who wish to utilize the program to assist their decision-making during re-entry operations do so voluntarily and are not bound by law to observe the BRE Registration program.
EMD will actively share information gathered from BRE registered organizations with local government officials. EMD will not actively share information gathered from BRE registered organizations with the general public, however all information contained in this database is a public record subject to public disclosure under the Washington State Public Records Act, RCW 42.56. EMD will comply with all public disclosure requests.
EMD neither encourages nor discourages any private sector organization, its officers, employees or agents, about seeking permission to access any restricted area following a disaster/incident through appropriate authorized local government officials. Such access may include risk of injury to persons or property, or death, that should be carefully evaluated by the organization at the time access is sought.
EMD does not guarantee the accuracy or reliability of any information submitted by registering organizations or of any BRE Registration Cards presented by any person or organization. Users of the BRE Registration program information and Cards are solely responsible for reliance on any BRE Registration program information used and BRE Registration Cards presented. Each private sector organization who voluntarily registers for the program is responsible for the accuracy of the information submitted.
If fraudulent activity is discovered, EMD may change the registration status of BRE registered organization(s), request the destruction of corresponding BRE Registration Cards, and notify local government users of the changes via the BRE Registration database and/or direct communication.