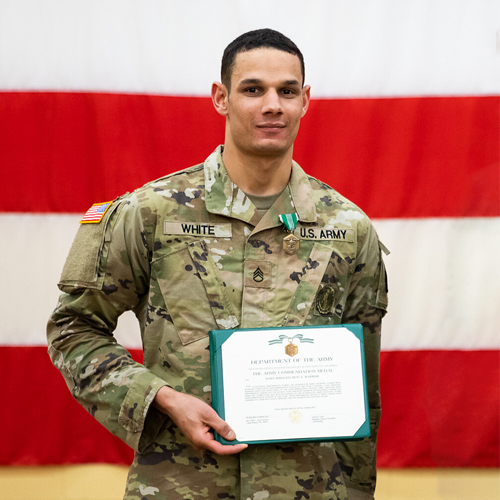 Stormy White
Recruiting and Retention Noncommissioned Officer
Washington Army National Guard
Q: What brought you to the Washington Military Department?
A: I previously served seven years on Active Duty. I love serving but I wanted total control and flexibility over my career in the military. Serving in the National Guard allows me to serve where I live, wherever that may be. WA is an absolutely beautiful place; couple that with doing what I love- serving in the military, it gets no better than that.
Q: What has surprised you most about working here?
A: The most surprising thing about the WMD is the abundance of dynamic personalities and characters. The majority of the people that serve in the Guard are part-time, which means that they have full-time civilian jobs. It's very interesting to hear about all of the different jobs, hobbies, experiences, and perspectives our service-members share. There are some really cool, talented, smart people in WA State.
Q: What's the most inspiring part of your job?
A: The most inspiring part of my job is that I get to change lives. I get to give citizens that want to do better for themselves an opportunity to do something they can be proud of, a sense of being a member of a team. I also get to help others pick up a new hobby, doing something fun part-time while they hold down their full-time jobs. Seeing them grow both personally and professionally is awe-inspiring.
Q: What motivates you to work hard?
A: Seeing people become successful not only in our organization but in the civilian workplace as well. I love seeing citizens become Soldiers… then Super Soldiers! I also love seeing citizens become Soldiers, then land the job of their dreams. Both lead to phenomenal success stories and seeing the people around me succeed is what keeps me at it.
Q: What's the biggest challenge you face in your work and how do you tackle it?
A: The biggest challenge I face in my line of work, as a Recruiting and Retention NCO are the uninformed and misinformed. The National Guard offers amazing opportunities to pay for in-state tuition, provide a competitive edge in the civilian workplace, provide trade experience to skip minimum wages, or just be there as a back-up in a time of need; all for less than 60 cumulative days of service per month, on a part-time basis. There are so many people out there that are either unaware of these great opportunities, which is where my work is cut out for me (find them) but there is also a very large population of people who are misinformed on what the National Guard is and often compare us to sister services or components. We are very different and I'm on a mission to inform the uniformed and recalibrate the misinformed.
Q: What do you wish other people knew about the Washington National Guard?
A: I wish people knew that for less than 60 cumulative days of service per year, as a National Guard service member, you are eligible to have a graduate degree paid for at any public school in the state and get paid to do it. Or service members can get their student loans repaid, up $50,000, enroll into healthcare plans as low as $48 per month for single Soldiers and $211 for families, and even earn the eligibility to buy a home with $0 down with competitive interest rates. In the National Guard, you will be a part of an organization where a challenge will always be available to you if you want it, no matter how good you get at your job. You will be surrounded by people who share different experiences, perspectives, and lessons learned through life but are able to align their morals and ethics to work as a team and accomplish any mission with success. Their life experiences can and probably will shape their future and the future of this organization.
Q: Flashback to when you were 10 years old. What do you want to be when you grow up?
A: When I was 10 years old, I knew I wanted to serve in the military. I grew up with a father in the Marine Corps. I was always interested in what he was doing, where he was going. I remember when I was nine years old, my mother, sister and I took my father dinner at work. He was covered in face paint and had been rappelling from helicopters all day and night. Years later, it's awesome to have just graduated Air Assault School, where I had very similar experiences.
Q: Do you have any skills/hobbies/talents that most people don't know about?
A: I'm an endurance athlete. I like to challenge myself in many events that go the distance. I really enjoy running, cycling, kayaking, and distance hiking. I enjoy the half marathon, cycling around Tacoma, mountaineering, and I've even kayaked over a portion of the Puget Sound. I don't really do these things to compete with anyone but myself. I'm always trying to improve, physically and intellectually. Wins along the way just come with development. I think everyone should try to be the best versions of themselves.
Q: Aside from necessities, what one thing could you not go a day without?
A: Note taking material. I believe life is about evolving and taking notes on experiences help reflection and influence the future.
Q: Do you have a favorite quote or mantra you live by?
A: Always do your best.
See more of Our People.