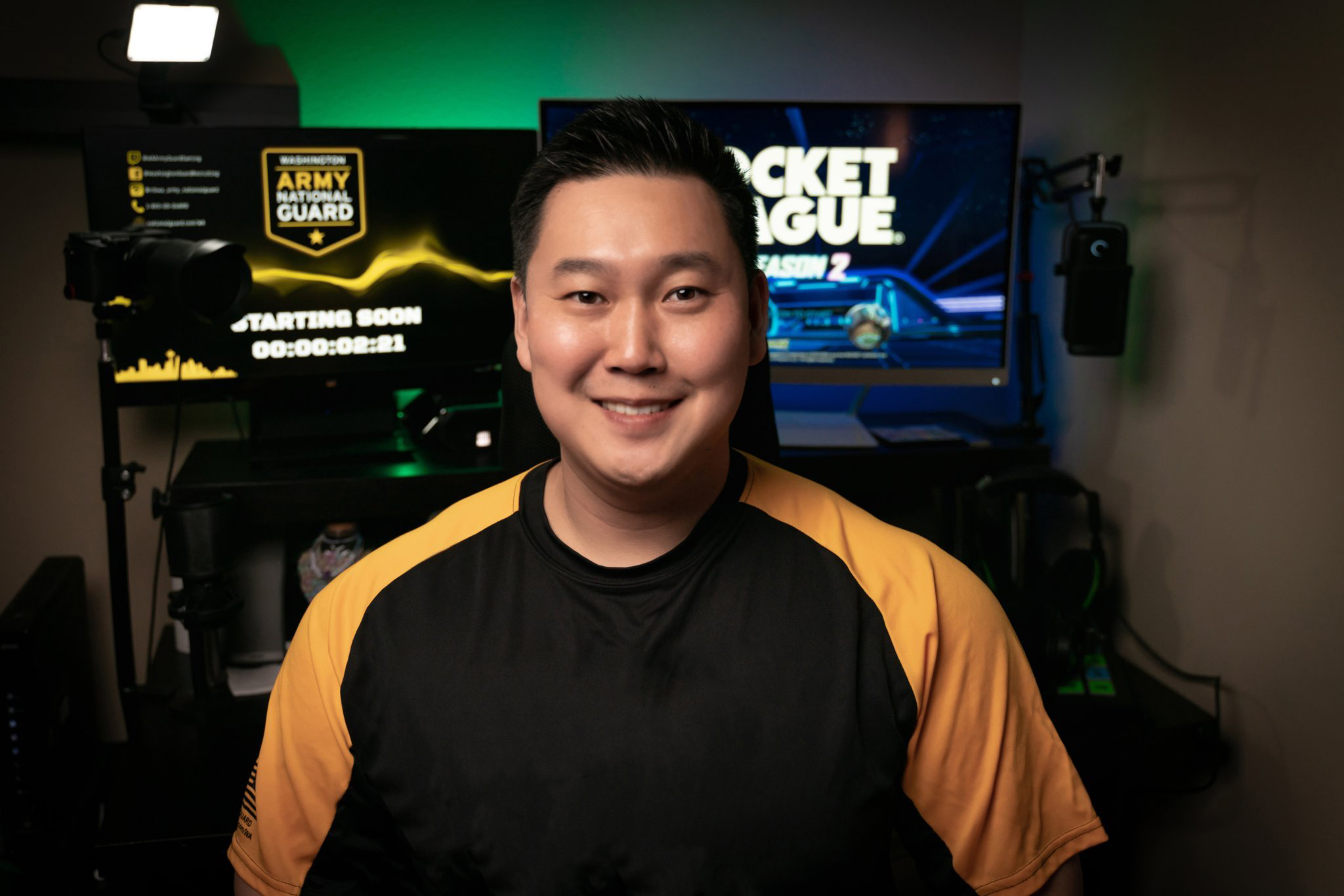 Peter Chang
Public Affairs Specialist
Communications/Public Affairs Office
Q: What brought you to the Washington Military Department??
A: Transitioning out of the active Army component, I knew I wanted to work in a field that was connected with the Washington Military Department. I started as an Electronics Technician at the Unit Training Equipment Site on Joint Base Lewis-McChord. After working there for three years, I had the opportunity to turn a hobby (photography and videography) into a career by working with the Recruiting and Retentions Battalion marketing team as a Public Affairs Specialist. After a year at RRB marketing, an opportunity to work under a larger umbrella opened up with the Washington Military Department Public Affairs office where I work now.
Q: What has surprised you most about working for WMD?
A: Working with the Washington Military Department has opened my eyes to all the work that happens behind the scenes and also how much we do to help our community. It's interesting to see how all the dots connect.
Q: What's the most inspiring part of your job?
A: As a Public Affairs Specialist, I have been blessed to cover a wide range of events. It is here that I meet various people with so many great stories to tell. I truly feel honored that I am able to tell the diverse stories of those in our organization.
Q: What motivates you to work hard?
A: Passion. I believe when you are genuinely passionate about the job that you do and the organization you are associated with, you want to be your best and work hard.
Q: What do you wish other people knew about the organization?
A: I wish people knew all the interesting stories that each individual has to tell. There have been people I worked with for years and I still find new things about them when taking the time to listen. If we all take a little time and effort to listen, we make a connection and also an understanding of that person, ultimately making the team and organization stronger.
Q: Flashback to when you were 10 years old. What do you want to be when you grow up?
A: I was really into space at that age and wanted to be an astronaut. I even did a project on the former senator and astronaut John Glenn.
Q: Who was the most influential person in your life? What made them so impactful?
A: My parents definitely were the most influential in my life. They immigrated from South Korea to the United States in 1978 not understanding the culture or the language. Their determination to adapt, overcome and succeed has always influenced me to be a better person and work harder. As a kid, I used to think that my parents never slept and only worked, whether it was working around the house or out working.

Q: Do you have any skills/hobbies/talents that most people don't know about?
A: Besides my love for photography and videography, I also have a love for music. I have been playing the piano since 2nd grade, clarinet since 4th grade, and the drums starting 9th grade.
Q: If you could only eat one meal for the rest of your life, what would it be?
A: My favorite dish interpreted in English is called Army Base Stew. In Korean, it is pronounced boo-dae-jji-gae. It is made with ham, sausage, spam, baked beans, kimchi, instant noodles and red chili paste. The dish was created shortly after the armistice that ended the Korean War, using the surplus foods from U.S. military bases.
Q: Aside from necessities, what one thing could you not go a day without?
A: I know I can go a day without this, but I never want to and that is my family. It's my wife and kids that keep me motivated every day and give me a purpose.
See more of Our People.