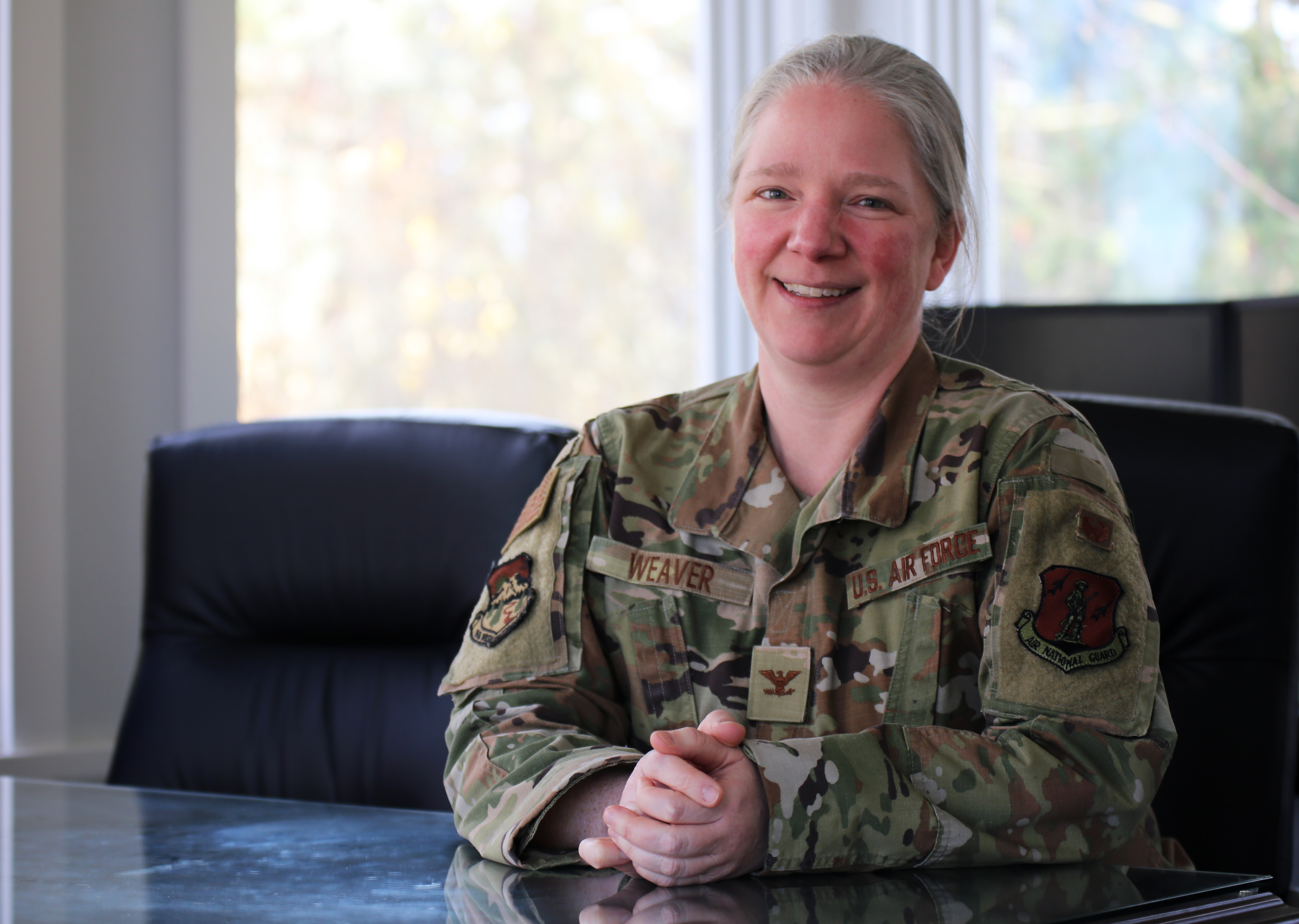 Col. Lisa Weaver
Director of Operations
Washington Air National Guard
Q: What brought you to the Washington Military Department?
A: I joined the WA ANG one month before I graduated from college. Like many, I had no idea what I wanted to do when I grew up. I knew I didn't want to be full time military, but the savvy ANG recruiter sold me on neighbors-helping-neighbors (i.e. DOMOPS) in a part-time capacity. I don't think I really understood I was joining the Air Force until I arrived at Basic Military Training.
Q: How long have you worked here?

A: I enlisted right here on Camp Murray in 2000, in the same squadron – though it was called something different then – that I later commanded as a Squadron Commander from 2017-2020. I had the privilege in my very early career to work directly for two visionaries and legends of Washington State and NGB – Major General Frank Scoggins and Major General Timothy Lowenberg. I commissioned in 2003, and the drill after I came back from school, I got the news that we were reorganizing the Washington Air National Guard in Western Washington into a wing. I was asked to help draft the package back to NGB to stand up what eventually – four years later, and a few subsequent name changes – became the 194th Wing, but right after the Wing was established, I elected to take a full-time tour at McGhee Tyson ANGB as a commissioning instructor at the Academy of Military Science in Knoxville, Tennessee. I became part of the cadre that moved the schoolhouse from Tennessee to Maxwell AFB, Alabama to co-locate with the U.S. Air Force Officer Training School (and eventually combine the two schoolhouses). Not quite ready to come home, I joined the Alabama Air National Guard in Birmingham, Alabama (Roll Tide!), but opted to return home to Washington in 2014. I came back to Camp Murray and have stayed here, moving between Headquarters and the 194th Wing (all grown up now!) and back again a few times.
Q:What motivates you to work hard?
A: The amazing men and women I work with every day. We take it for granted but spend a little time out in the "civilian" world and it becomes apparent that the entire team here is above the norm in almost every way. I have the privilege of working with the best of the best of our society every day. Surround yourself with amazing people, and you can't help but strive to meet that standard.
Q: What's the biggest challenge you face in your work and how do you tackle it?
A: We have an exceptional responsibility to our community and our nation, and it's easy to forget that we're still individuals who need to take care of ourselves so we can remain strong for others. Setting boundaries – and sticking to them – is hard, but crucial to maintain the level of readiness we owe our fellow citizens.
Q: Do you ever think about the impact your work has on Washington residents? How does that make you feel?
A: Honestly, this is what keeps me motivated and putting on the uniform. The dual mission of the National Guard means that we have a very real impact on the citizens of the United States, the world, and also very locally at the state and community level. Whether it is through domestic operations, State Partnership Program or our other federal missions, we touch the lives of thousands or even millions throughout our careers in direct and very real ways. It is humbling and awe-inspiring and makes it very clear that what we do is so much more than just a job.
Q: Flashback to when you were 10 years old. What do you want to be when you grow up?
A: Probably a veterinarian or anything to do with animals. Or a princess. Definitely not in the military.
Q: Do you have any skills/hobbies/talents that most people don't know about?
A: I am a competitive ballroom dancer, but many people have figured that out by now. Most people either don't know or have long-since forgotten that I was a vocal musician all through my childhood and college (and briefly here on Camp Murray). And these days I am also a historian and professional genealogist.

Q: Aside from necessities, what one thing could you not go a day without?
A: If I can't go a day without it, then it's a necessity!
Q: Do you have any pets?
A: Stitch the cat was a stray who adopted us in November 2021, at a particularly dark time in life when we needed him most. I named him Stitch after the character in the Disney film "Lilo and Stitch" when he was still a stray showing up on our doorstep every day to harass the squirrels and beg for food, because he is cute and fluffy and also a menace. Little did I know that he would adopt us and make our little and (then) broken family better. And because he is young and active and needed a friend, we adopted a kitten for him a few months later, who we named Sirius, who is part Siamese and lives up to the name menace in ways Stitch couldn't if he tried. Stitch is the best "big brother" in the world and Sirius is the most obnoxious little brother who has learned everything he knows from Stitch. They're now bonded and inseparable.

Q: Do you have a favorite quote or mantra you live by?
A: Many, but lately: "Tomorrow is not promised." While we should always plan for the future, we should all know in our profession that no plan survives first contact. So treat every moment like the last, tell the people you love that you love them, spend time with people while you can, do the things you want to do before you die, and don't wait until "retirement" or "someday" to live the life you want.


See more of Our People.