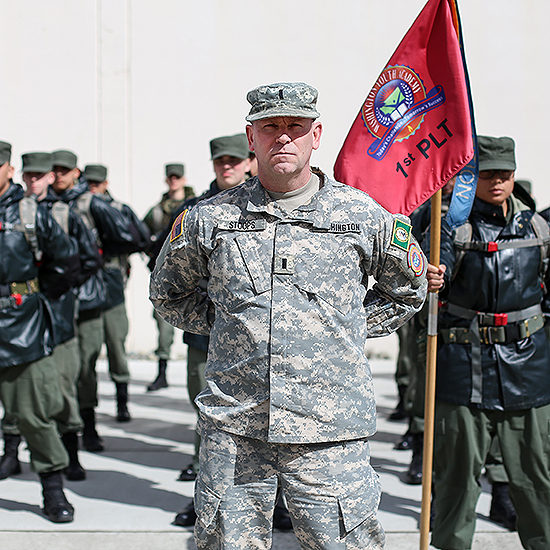 Darrell Stoops
Cadre Supervisor, 1st Platoon Wolfpack
Washington Youth Academy
Q: How long have you worked here?
A:I have worked at the WYA since Jan 2009.
Q: What do you feel are the greatest benefits to working for the Washington Military Department? What about the Youth Academy specifically?
A: After 20 years of being in the Air Force I love the idea of still being associated with the military. Specifically about the Youth Academy I enjoy giving back to the community.
Q: What's the most interesting/significant project you've worked on while with the Washington Youth Academy?
A: Hard to focus on just one project because we are always looking for better ways to do things. We have grown a lot in so many areas since the first Cadets came through the door. Right now, the biggest thing coming up is our Cadet Team Building Exercise (TBEX). It's the time of the cycle when the Cadets get to go off campus and camp and participate in a whole series of Team Building events. It's normally one of the best memories Cadets have at the Academy and our platoon is in charge of set up.
Q: Which value do you need to embrace most in your job, and why?
A: It's tough to just come up with one when so much is required. We are trying to set the example for these at-risk youth, and some of them haven't had many positive role models to choose from. I think first and foremost is integrity. Without integrity, you wouldn't be giving your best for cadets and they would see right through you as someone who can talk the talk but not walk the walk.
Q: What do you find most challenging about the work you do here?
A: Having rational detachment from the heartbreaking issues some of our cadets have to endure. We do our best work by getting to know our cadets and in the process we become emotionally invested in helping them succeed. Unfortunately, we can't reach every cadet or they go back to environments that don't set them up for success.
Q: How is working for WMD different from previous work you've done in your field?
A: Biggest adjustment was being told to leave on time…military mindset was you stayed 'til the mission is done. Fortunately, I'm now salaried and can stay if I need to (:
Q: Do you ever think about the impact you have on youth you serve? How does that make you feel?
A: Constantly, not a day goes by we don't think about how we are going to impact the cadets. Almost every action we do, we have to ask ourselves, "Is this something that is going to help this cadet?" We also often think about our past Cadets and try and find out how they are doing. The success stories really drive us, let us know that we have made a difference. It's pretty tough emotionally when we have to dismiss a cadet knowing that they need this place, but it always seems that afterward we will find out a former Cadet has earned their High School diploma, gone on to the military, working a good paying job, or have graduated from college. The growth you see in the Cadets during the residential phase can be pretty amazing as well. They come in scared and filled with self-doubt and they leave confident and ready to take on any challenge. Their success is the best pay you could ever receive.
Q: Did you have any key mentors or people who deeply influenced who you are, what you believe in and what you're committed to in your work and life? Tell me about them.
A: So many I couldn't really put them all here. First and foremost, my father. He taught me the importance of integrity, hard work, respect and love for my country. Numerous great mentors in the U.S. Air Force. Here at the Academy it would be Lt. James Byass-Roscoe and Master Sgt. Carlos Arturet — both of whom have moved on to other things but I still stay in contact with.
Currently at the Academy it would be Maj. Acuna, great boss and someone I know I can bounce anything off of to get a fresh perspective.
Q: Do you have a favorite quote or mantra you live by?
A: Once again many:
• "Early is on time, on time is late, and if you're late you're wrong."
• "Leave it better then you found it."
• "The day you stop learning is the day you start dying."
Beyond the quotes, I'd say go to bed knowing you can look yourself in the mirror and know that you gave it the best that you had.
See more of Our People.